The same year that Paphos celebrates being European City of Culture, the town and its wider province are helping to drive tourism and property sales in Cyprus.
Cyprus enjoyed a nearly 15% rise in tourist arrivals in the first nine months of 2017 compared to 2016, according to the Cyprus Tourism Organisation. Looking closer, between January and end of September this year, the sun-drenched island welcomed just over three million tourists – compared to 2.61 million last year.
During the same period, the number of British visitors increased 8.9 per cent year-on-year, namely from 145,000 to 166,000. If current levels continue, tourist arrivals in Cyprus for 2017 should surpass the record 3.2 million achieved in 2016.
Cyprus was ranked as the seventh most popular place for Brits to move to or buy a holiday home in Europe.
Turning to property, earlier this year Cyprus was ranked as the seventh most popular place for Brits to move to or buy a holiday home in Europe. The same survey, by Rightmove Overseas, also highlighted Paphos as the UK's favourite area in Cyprus, followed by Famagusta, Limassol, Larnaca and Nicosia.
Recent statistics from Cyprus's Department of Land and Surveys (DLS) support the popularity of Paphos and reveal a 78% rise in property sales there during September 2017 compared to the same month last year. Foreigners, in particular Brits, are helping to drive the recovery in the Cypriot market – transactions by non-Cypriots rose 24% year-on-year in September.
Sales across all of Cyprus were up 18% for the month, mirroring similar increases recorded in the summer months. As a result, during the first nine months of 2017, transactions in Cyprus increased by 19% compared to the same period in 2016.
Tax rates are lower than in the UK, and Cyprus is especially kind to pensioners.
Besides the year-round sunshine, Cyprus's friendly tax system is also attractive to British expats. As a general rule, tax rates are lower there than in the UK, but the island is especially kind to pensioners. Cyprus allows foreign retirees to choose how their pension is taxed – either a flat rate of 5% after the €3,420 tax-free threshold or at the normal rates of income tax.
In Cyprus, where English is widely spoken, your first €19,500 of income is tax free, after which a sliding scale is applied, starting at 20% and reaching 35% for income over €60,000. Thanks to the UK/Cyprus double tax treaty, moreover, income from UK sourced pensions, whether it's State, occupational or private, is only taxable in Cyprus.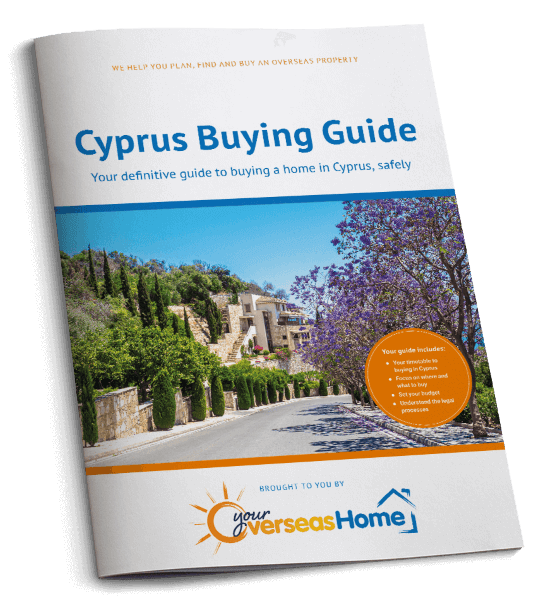 The Cyprus Buying Guide takes you through each stage of the property buying process, with practical recommendations from our experts who have been through the process themselves. The guide will help you to:
✔

  Ask the right questions
✔

  Avoid the legal pitfalls
Download your free guide to buying in Cyprus