This seaside town in Cyprus has lots to offer, never more so than in its year as a torch-bearer for culture.
If you're considering buying a home in the Cypriot sun, did you know that Paphos, the city that's the firm favourite for British buyers, is also the European Capital of Culture in 2017? As well as being able to enjoy a lot of shows and exhibitions over the next 12 months, the award comes with a promise of investment and a lasting legacy that will spread far beyond the city and long into the future.
Firstly, let me tell you a story. As you should know if you've been following my newsletters, Aphrodite, Greek Goddess of Love, was born from the waves off south-west Cyprus. The sculptor Pygmalion was so in thrall to her that he carved her a statue of a beautiful woman, and when he kissed the marble statue she came to life. Her name was Galatea, and the child they had together was named Paphos.
Several millennia later, Paphos is getting recognition for being a city of culture as well as its natural beauty as one of the most spectacular harbours in the Mediterranean.
Intellectual and entertaining
This weekend the city of just 60,000 inhabitants takes over as joint European Capital of Culture (along with Denmark's Aarhus). By achieving this prestigious tag, Paphos – or Pafos2017 – will be inspired by its classical heritage for a year-long "open-air factory of culture". It's a real chance for the islands 5th biggest city to demonstrate that there is more to Cyprus than just sun, sea and sand, although it delivers rather well on those fronts too.
European City of Culture is one of the most prestigious cultural events in the world.
Perhaps you're thinking: can it be that big a deal if Hull – once voted worst place in Britain to live – has been named a 2017 European City of Culture too? Well yes, it really is. Launched in 1985, this concept is one of the most important cultural events in European and indeed the whole world.
There's a plethora of entertaining events planned for the year. More than 300 dance, music, theatre, art, cinema and other events will light up the city and its surrounding area under the motto 'Linking continents, bridging cultures'. The evidence is that British people who like a slightly more intellectual book while on the sunlounger have been turned on: UK forward bookings for 2017 were up 14 percent, according to the Cyprus Tourism Organisation.
Long-term investment
It's all bound to perk up the property market too. The objectives of Pafos2017 extend well beyond a 12 month party, with tourism and cultural benefits expected to continue into 2018, 2019 and on, building Paphos's economic prosperity.
An increase in visitor numbers will increase both property values and rental appeal
More than €25 million has been spent on infrastructure projects: public squares, archaeological sites, the old commercial centre and roads all being renovated. The dilapidated cinema has been turned into a swanky new cultural centre – could you be watching movies there in a year or two?
An increase in visitor numbers will increase both property values and rental appeal.
Buying in Cyprus in 2017 will mean you'll be able to enjoy a perfect combination of culture and more traditional British holiday pursuits. If you have any questions or concerns at all about making your dreams of moving to Cyprus a reality, give the Resource Centre a call today on 020 7898 0549.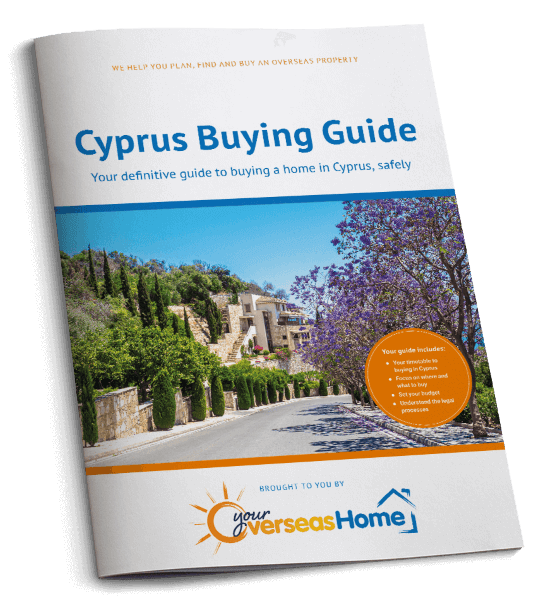 You can get all the advice you need to buy a house in Cyprus from our online guide, but you can also download it in PDF format — ideal for printing or reading offline. Simply complete the form on the right to access your copy.
✔

  Ask the right questions
✔

  Avoid the legal pitfalls
Download your free guide to buying in Cyprus