With Cyprus experiencing unprecedented economic growth in recent years and the tourism industry going from strength to strength, the level of overseas investment on the island is skyrocketing. This is great news for property buyers, who are entering a market awash with modern apartments and first-class leisure facilities.
A recovering economy and booming tourism industry is helping Cyprus to turn the heads of heavyweight property, leisure and retail investors from around the world. We're not just talking about a couple of million euros to build a few houses; these are the type of people and organisations with grand plans and deep pockets.
Overseas property investors are keen to cash in on one of Europe's top-performing and most resilient economies.
Economic recovery
The island has demonstrated its bouncebackability following the painful €280 million bailout loan from the International Monetary Fund in 2013. Since then a return to growth in 2015 was backed up by a positive performance in 2016 and consecutive credit rating upgrades. And with GDP expected to grow by 3% this year and remain steady until at least 2021, the long-term outlook is a positive one.
If you are ready to invest in property in Cyprus, you'll have a few financial matters to sort out. For advice on getting the best currency deal download the Property Buyer's Guide to Currency. 
Record tourism figures
The economy has been helped in no small part by the islands tourism industry, which has been smashing records over the last couple of years. Last month alone tourist arrivals exceeded the half a million mark for the first time, reaching 531,000. This impressive figure comes off the back of a record-breaking 2016, when a staggering 3.2 million tourists visited Cyprus – a 20% increase (500,000 visitors) on the previous year. And with initial figures for 2017 indicating it will be another table topping year, it appears people can't get enough of the Cypriot sun.
Overseas investment
These factors have combined to paint a positive picture of the islands investment potential – something the Cypriot government is keen to promote – and in doing so helped boost the domestic property market.
Overseas property investors are keen to cash in on one of Europe's top-performing and most resilient economies, in which foreign direct investment increased by 9.1% last year. This trend, and the large-scale development projects it spawns, is expected to boost economic activity further and change the face of the island.
Limassol is set to be home to Europe's first integrated casino resort.
So let's take a quick look at some examples of property and land development projects that are in the pipeline, thanks to overseas investment:
• Limassol is set to be home to Europe's first integrated casino resort, after Hong Kong-listed Melco International and the US's Hard Rock signed a contract in June. Totalling around €500 million, it will become the island's largest tourism related investment, and is expected to attract around 300,000 visitors a year. The ground-breaking development will sit alongside a number of large-scale luxury residential and mixed-use tower blocks, which have already changed the skyline of this port city.
• An Egyptian billionaire has invested a significant sum in a €220 million luxury marina that is currently being constructed in the party town of Ayai Napa. The development will contain 600 berths, retail outlets and private beach club, as well as a range of luxury properties.
• Nicosia's two biggest malls have recently been acquired by the South African based Atterbury Group.
This injection of overseas investment in Cyprus is reflected in a surge in the number of building permits being authorised by the authorities. According to the Cyprus Statistical Service, the number of new home building permits issued on the island rose by 56.8% in January 2017, compared to the same period in 2016. If you're thinking about moving to Cyprus, you'll have plenty of hi-spec modern properties to choose from.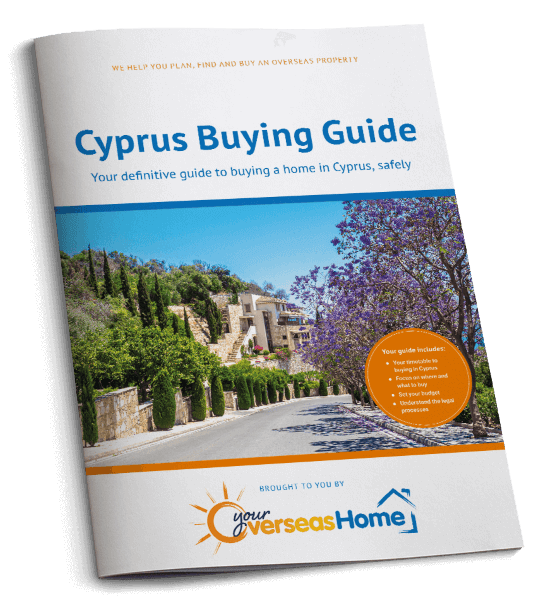 The Cyprus Buying Guide takes you through each stage of the property buying process, with practical recommendations from our experts who have been through the process themselves. The guide will help you to:
✔

  Ask the right questions
✔

  Avoid the legal pitfalls
Download your free guide to buying in Cyprus