I remember thinking on one rainy, windy day in England back in 1994, what must life in Cyprus be like? I hadn't even visited it on holiday. All I knew about it was that the island is divided and its inhabitants in the south, where I was destined to go, are Greek Cypriots. Oh yes, and I had a look at a map of Cyprus and I remember thinking it looked something like a violin!
Why am I writing this? Well, because I want you to know that I too was once in the same position as you. I was going to live in Cyprus – permanently. But I didn't know anything much about it. Many others feel exactly the same, whether they're buying a holiday home, moving full time or retiring. Whatever your reasons, you want to be happy here. For me, I remember saying to myself, 'What if I'm not happy there?' I know what thinking that feels like, and so I am going to tell you about some things I love about life in Cyprus. If I had known then what I know now, believe me, I wouldn't have been so worried!
So, if you're ready, let's begin, as we say in England!
1. Fresh, delicious fruit
Okay, don't laugh! I know it's a strange thing to start with, but you know what, it was the first thing I came to love when I began my new life in Cyprus. I'd always been a fan of apricots. However, I only knew the tinned variety that my Mum used to buy at Tesco's. There might have been a picture of fresh ones on the tin.
Somehow, though, they were never quite the same as the picture when they came out of the tin. Well, Cyprus apricots are always freshly picked, usually by hand by the local Cypriot farmers who grow them in their orchards. And yes, they always look like the picture above. It's the same for all the fruit – and the vegetables too. From bright juicy oranges and lemons and grapefruit, right down to the humble potato, they all have that wonderful fresh taste about them.
2. A warm welcome
Cyprus is certainly welcoming! They thrive on providing excellent hospitality to tourist visitors and non-Cypriot residents alike. When I first came to live in Cyprus, I naturally visited the tourism office. I discovered that it was filled with hotel brochures advertising hotels' services to tourism. And the local Greek Cypriots have certainly practised the art of hospitality over the years! Tourism still remains a large contribution to the Cypriot economy.
Almost any overseas property owner will tell you that they wished they'd sorted their finances right out at the start. It's much simpler than you think – download the free Property Buyer's Guide to Currency to find out how to make safe transfers without the risk of losing thousands of pounds to a sudden drop in the exchange rate.
Limassol, where I live, has more than 200 hotels and tourist accommodation businesses. Many on or near the seafront are 5* ones, which speaks for itself. The views from the hotel rooms are amazing! And the staff really know how to look after you, especially when you're British. It's as if they remember how the British used to live when Cyprus was a British colony. They do their best to incorporate "Britishness" into their hotel experience. And you don't just have to stay there. You can go to a hotel just to have a coffee if you like – and you will still get 5* hotel treatment!
3. The blend of Greek and British culture
I know you might think that you wouldn't be able to cope with the different life in Cyprus. I really get that, because I felt exactly the same at first. Yes, the Greek culture is strong here, but there is a warm blend of what I call "Britishness" too. Maybe it's because of the fact that it's left hand driving here like Britain, so already there's no need to worry about how to drive here? Maybe it's because the Greek Cypriots speak English well, so you don't have to worry about being understood?
Or it might even be because you can buy most of your favourite English foods and some products in the stores here? Whatever the reason, and there are more, this is definitely why I call Cyprus wonderful.
4. The gloriously mild winters
One of the great positives of life in Cyprus is the very mild winters.
Even in late afternoon in October, you can go for a swim in the warm blue sea water of the Mediterranean. The water temperature is an average of 25°C. It's just pleasantly warm and at the same time refreshing from the hot temperature of the early afternoon. And you certainly don't have to be worried about being cold when you come out of the water either. No more shivering like you would on the beaches in the UK!
Even in late afternoon in October, you can go for a swim in the warm blue sea water of the Mediterranean.
The air temperature's still warm in October, with an average of 22°C. You can comfortably do a spot of sunbathing on the sandy beaches if you like. Then, after you've taken in enough sun, you can think about going for a lovely evening meal. I love the way you can smell the wonderful seafront kebab restaurants cooking up their fantastic grilled fare. Believe me, the smell of authentic Cypriot kebab cooking away just can't be beaten. Cypriots love their food! And they give you plenty of it! And of course, beers, including Cyprus's own locally made beer, Cypriot and imported wines, local, traditional, and imported spirits are on hand for you to drink with your freshly cooked meal.
Coming out to view properties? Make sure you know what to look out for with your free Viewing Trip Guide. 
If you are feeling energetic after those huge food portions, there's always nightclubs in the area that's known locally as "the tourist area". You can mix with the local Cypriots and dance the night away until the early morning hours if you like!
5. Sun on the coast and snow in the mountains
Believe it or not, the Troodos Mountains is where we get snow in Cyprus! We get snow in the winter months up here, usually from December until March. The good thing is that you can still walk when there is snow on the ground! I'll never forget that beautiful first feeling when I stepped on what I always call the Mediterranean snow! The brilliant whiteness contrasts sharply, lying along the dark green of the pine branches. This sight is not to be missed. This is the only time that I need to dig out my winter woollies – and don my bobble hat, coat, and gloves – and I'm ready to build a snowman and throw snowballs! And if that isn't your preferred activity, there's more! If you enjoy skiing, there is the Cyprus Ski Club, as well as specially made ski slopes, complete with ski lift.
And to round off my trip to the Troodos Mountains, I always make a point of stopping off at the village of Kako Petria on my way back to Limassol. This is a very popular stopping place for visitors to or from the mountains. You can get a lovely warm coffee, tea or hot chocolate at the quaint roadside cafes there, some with open fireplaces, in the winter months, or ice cold drinks, such as the traditional Cypriot Frappe (iced coffee) in the summer. And you can also have alcohol drinks too – the village red or white wine is my recommendation to you! You can eat a tasty snack or kebab, or even have an English breakfast there! You will always feel fully refreshed, ready to continue your journey onwards or downwards!
Ready to start your new life in Cyprus?
If you're just starting thinking about your new life in Cyprus, you're in luck. Back in the 90s, moving abroad meant piecing together bits of information that was often out of date. Nowadays, it's much easier – and our free, comprehensive Cyprus Buying Guide is just a click away. It contains all the information you need to make your purchase safe and stress-free. And if you have any questions, do give your Cyprus specialists a ring on 020 7898 0549 or email [email protected]. Happy property-hunting!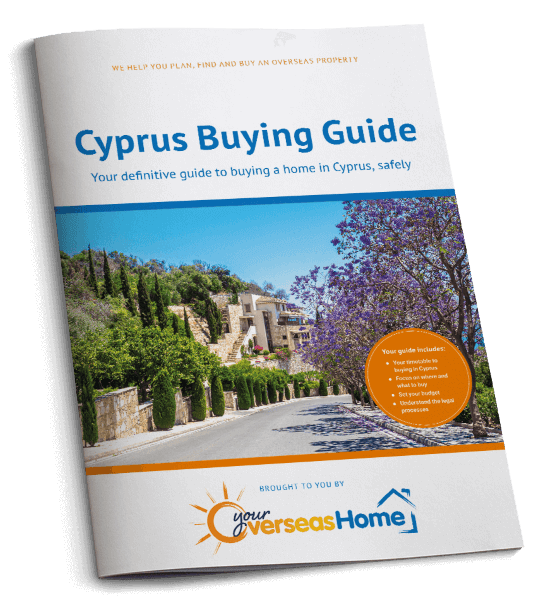 The Cyprus Buying Guide takes you through each stage of the property buying process, with practical recommendations from our experts who have been through the process themselves. The guide will help you to:
✔

  Ask the right questions
✔

  Avoid the legal pitfalls
Download your free guide to buying in Cyprus