So, you've secured and bought your plot of land to build your own home here in Cyprus. What next? Well, it's time to get your dreams of how the home will look down on paper, and get permission from the authorities to get started. Here's how to find the right architect and go through planning permission.
If you missed part one, about finding land, have a read of it here.
Do you need planning permission?
I have to say from the outset that this is going to be a lengthy legal process. I know this from personal experience and from some of my British friends here. It's partly because of the sheer volumes of applications for planning permission in Cyprus, remembering that these involve not just home buying but also office and hotel applications too, among others. I also think it's because of the creaking slow pace of the government department, and the concept that many staff are required to complete just one stage of many in this process. Still, going through this is absolutely vital, and I cannot emphasise that enough. Read on to discover why.
Any building, from an office to a house to a villa, must have planning permission before it's built. You must make sure that you have this permission before you start to build your home. Sadly, many property developers here  ignore this legal requirement and start to build without planning permission (I say many, because there are many others who comply). If discovered by the government authorities while building or even after the house is completed, you are liable to be presented with a demolition order meaning that you are compelled to demolish either the offending part of your home or even the whole development.
If your budget is in sterling and you're paying in euros, budgeting can be difficult. Get a concrete idea of your spending power with a no-obligation, free quote from Smart Currency Exchange.
I know of one case that made headline news in the UK involving a British retired couple who had built their holiday home here without planning permission – they were served a demolition order to demolish the whole property several years after they had built it. If you don't have planning permission in Cyprus, it's possible that the final design of your home will be substantially altered because of forced changes, there will be no electricity supplied to your home since the electricity authority here won't connect to an illegal building, and the compulsory Title Deed designating your ownership of the home will not be issued until planning permission is received.
What are the stages of planning permission in Cyprus?
So these are the stages for receiving planning permission:
Town Planning Permit Application – this states exactly what you can build, what it's used for, where the access point is, the possibility that some of your land can be taken for use by the public (yes, I know! From experience, this mainly occurs if the government wants to construct a road nearby), the appearance of the building (e.g., in some villages, homes' exteriors need to be a particular colour), density, height and area covered.
Building Permit – this follows the Town Planning Permit. This checks the stability of the building, public service, health and safety aspects, fire requirements and sewage and drainage. After you've built your home the Town Planning Department will visit the site to check these are still there.
Cover Permit – if you add on a car port or a conservatory for example or if you add a swimming pool to your home plans, this needs a Cover Permit. After you get this, the Town Planning returns again to check.
Certificate of Final Approval – this is obtained from the Building Committee. The Civil Engineer in charge of your home writes a report and gives it to the local Civil Engineer of the local Town Planning department, and it's received by the Building Committee. Each member of this committee signs off your home.
Property Registration and Title Deed Issue – your home is registered in the District Lands' Office and the Title Deeds for ownership are issued (see Part 3 for more about Title Deeds for your home).
Overall, the main take away from this is that the process is very lengthy and so you should certainly factor this into your plans for building your own home in Cyprus. The good thing is that you can add virtually anything into your home as long as you keep within the legal land area measurements and you make sure you have the compulsory planning permits to cover it. Over the years that I've lived in Cyprus, swimming pools, small or large, have become more and more common. In the garden of my own custom-built home, I have a range of fruit trees that give me juicy oranges and lemons in the winter and summer fruits in the summer.
How do you find an architect in Cyprus?
To end this article, here's some general advice about finding an architect to design your home. You must employ an architect who is registered with ETEK (otherwise known as The Scientific and Technical Chamber) in Cyprus. You can obtain a list of registered architects from this organisation. This ensures that the architect you hire is legally established here. This is important because architects are not only responsible for designing your home. They are also required to 'sign off' the construction of it (not the civil engineer) in Cyprus. Similarly, civil engineers must be legally registered with this organisation in order to carry out construction work.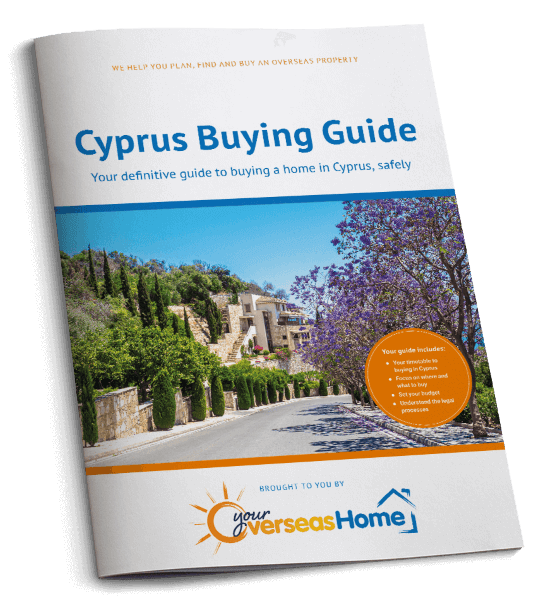 The Cyprus Buying Guide takes you through each stage of the property buying process, with practical recommendations from our experts who have been through the process themselves. The guide will help you to:
✔

  Ask the right questions
✔

  Avoid the legal pitfalls
Download your free guide to buying in Cyprus