Head inland and discover a different side to Cyprus, where forests and rivers slope down from snow-capped mountains. There's more to this island for property buyers than a life on the beach.
Cyprus is likely to be on any overseas homebuyer's radar for a number of reasons. From its romantic history and ancient ruins to its stunning weather, pristine beaches, Mediterranean waters and vibrant coastal cities, it ticks all the boxes. But if you want a little more from your chosen destination than sun sea and sand, head off the beaten track.
Troödos Village doubles as a ski resort during the winter months.
Mountains
The decision to buy a home in another country is often inspired by a desire to get away from it all, and what better place to do that than the Troödos Mountains. Life in this tranquil location in the island's interior is a world apart from the hustle and bustle of the coastal towns and villages. At almost 2,000 metres above sea level at the highest point, it's not just the crowds you will be escaping from. In the winter, snow and ice can make life a little treacherous, but in the summer the altitude offers a much needed respite from the heat. The welcome scent of pine trees is a constant reminder of the alpine setting.
If the presence of snow on this sun-drenched island leaves you scratching your head, what if I told you that you will have a ski resort on your doorstep too? Troödos Village, located just 250 metres below Mount Olympos, doubles as a ski resort during the winter months.
Other quiet mountain villages worth visiting on your viewing trip in the Troödos include Argos, Pedoulas, Fikardou and Kakopetria. Don't forget to pack your walking boots and a jumper if you want to experience the island's great outdoors in all its glory.
This attractive three-bed detached villa, on the market for €215,200 (£240,000), is located in Pera Pedi in the heart of the Troödos, just 25 minutes from Limassol Town and ten minutes to Troödos Square. Set in a small complex of seven villas with a private entrance, it is surrounded by pine trees and a running brook – an ideal getaway from the stresses of everyday life.
Forests
The island's rural offering doesn't end at the foot of its soaring mountain range. The Troödos give way to a sprawling expanse of flora and fauna known as Paphos Forest, which stretches over 270 square miles right down to sea-level. Here you will be able to immerse yourself in a more traditional way of Cypriot life, compared to the sandy appeal of the coastal resorts and their crowds.
The Troödos give way to a sprawling expanse of flora and fauna known as Paphos Forest
If you want to live a relaxing outdoors lifestyle in a truly rural setting you'll revel in exploring the forest nature trails. Hike through the cool shade of its trees and cross winding rivers. You might even spot a bird of prey, a mouflon – wild sheep – or any number of other fascinating creatures along the way.
The forest isn't known for being peppered with rustic settlements, but that's what helps to preserve its rural beauty, and the ones you do come across are well worth a visit on your viewing trip. Picturesque villages such as Pano Panagia, Kampos, Tsakistra, Gialia and Mylikouri are all home to affordable rustic property with development potential, as well as an obligatory historic monastery.
Knowing how to negotiate for your property in Cyprus could get you a little more house and garden for your money. Read our free guide: How to Negotiate Abroad. 
Located on the edge of the forest in Argaka, this three-bed villa offers convenient access to both the coast and the island's rural heartland. The private swimming pool and barbeque area provide sea and mountain views, while inside you can enjoy all the comforts of modern living. It can be yours for €420,000 (£376,200).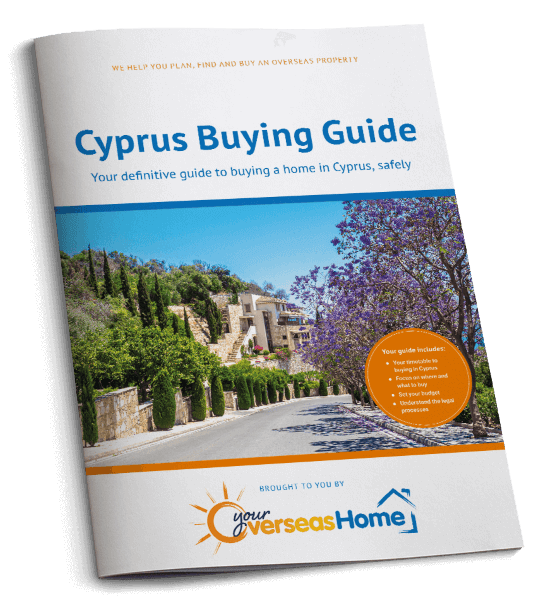 The Cyprus Buying Guide takes you through each stage of the property buying process, with practical recommendations from our experts who have been through the process themselves. The guide will help you to:
✔

  Ask the right questions
✔

  Avoid the legal pitfalls
Download your free guide to buying in Cyprus