I love Christmas in Cyprus. I have to admit when I first came to live here I did wonder what Christmas would be like. I remember the first thing that struck me was how much George Michael's song "Last Christmas" was played on the radio and in the nightclubs! "Why was that?", I hear you ask. Well, for any of you who might not know, George Michael is Greek Cypriot and hails from southern Cyprus, and so he is definitely considered a son of this country! The Cypriots are very proud of him, and simply adore all his music, and so do I.
Christmas time, mistletoe and wine…
The second thing that struck me was the different weather. And yes, it is surely different from the U.K! Okay, so it is not quite so hot as it would be in Australia, but I would say it's pleasantly warm, nonetheless. From Christmas Eve through to New Year's Day you can rely on the weather being from about 18 or 19ºC to a high of roughly 22ºC (but I've known it to reach 24ºC on occasional Christmases) with wonderful sunshine and fluffy white clouds hanging in the bluey sky. It's such a change from wearing your winter woollies and heavy overcoats. In fact, I do not think I would survive a U.K. Christmas again from the weather side of things!
Christmas gift shopping
Christmas markets
Christmas Markets are fairly new in Cyprus. For me, the best one is at the Aphrodite Hills Hotel, in Paphos. The markets are usually at weekends (Saturday/Sunday) and I can fully recommend this hotel for a wonderful pre-Christmas weekend. You can visit the market in the hotel square on a day trip from the other towns, and buy cute little gifts for Christmas. Then, after you have finished at the market, you can take in lunch or dinner or just have a quiet drink in the main hotel building.
Property prices in Cyprus are rising, so you'll want to make sure you get the best possible deal. Brush up on your tactics by downloading our free guide, How to Negotiate Abroad.
All the hotels at this time of year are beautifully decorated for Christmas, and there are scheduled Christmas activities for the children, e.g., Santa's Grotto and mini games. If you want to, you can stay for a night in the beautiful rooms of these 5* hotels.
Christmas decorations
And you can also buy some unique Christmas decorations for your tree and home. I say unique because these decorations are handmade and not expensive. You can buy, for example, porcelain fairy dolls, beautifully dressed in handmade clothes, or sleighing reindeers, or beautiful Santa riding on his sleigh. You can get smaller models to go on the Christmas tree, or to decorate your children's bedrooms.
For Christmas trees, most Cypriots use artificial ones. You can buy them at the supermarkets here, along with decorations. Natural Christmas trees are also sold for a reasonable price. You can also get Christmas gifts for the family at established department stores like Debenhams (yes, it's come over to Cyprus from the U.K!).
Traditions around Christmas in Cyprus
When I first came to live in Cyprus, back in 1994, I was surprised at how different celebrations for Christmas in Cyprus were. Back then, their main celebration period was New Year's Eve/New Year's Day. In fact, New Year's Day, not Christmas Day, was when gifts were exchanged and opened. So naturally, being married to a Cypriot, I had to follow this. But now this has all changed, and the Cypriots cannot wait to open their presents like we do in the U.K. on Christmas Day!
The Cypriots go to midnight mass at church on Christmas Eve. There is the Christmas lunch cooked at home. It has turkey (or goose) and all the trimmings, with plenty of the beautiful fresh vegetables and stuffing. The stuffing isn't sage and onion like back in the U.K, but liver and rice – but you can still buy sage and onion stuffing or make your own if you like! The houses here have oil-fired central heating (there is no gas yet!) or open fires as heating options. However, Christmas in Cyprus is never really cold here, many homes use portable heaters for the winter period.
You can also go out for meals on Christmas Eve and Boxing Day if you like. I always love the fresh chestnuts roasted by the open fire on Christmas Eve, and the roasted oven potatoes on Christmas Day.
Boxing Day is the time to visit family and friends, and then the celebrations continue for the remaining week. Cypriots finish work, along with the schools, for a full two week period, while many food shops/restaurants open in between Christmas and New Year. Most Cypriots extend their holiday after New Year's Day because there is a bank holiday on January 6th to mark Epiphany. They return to work and school after this day.
Have a talk with your Cyprus property specialists in the Resource Centre on 020 7898 0549, or send us an email at 

[email protected]

.
I would recommend this period to arrange a private property viewing appointment with the property agents in the towns, since this is a relatively quiet time. Many estate agents are likely to be open for such purposes, although it is better to contact them first.
New Year's Eve/New Year's Day is the time when the adults of the family celebrate. Again, the hotels provide plenty of events and food and drink to see in the New Year and beyond. The Cypriots often see in the new year at home, and then go out to the nightclubs and dance the away the year with their friends. You can buy any traditional  Christmas and New Year drinks that you like from the supermarkets.
So, as you can see, Christmas in Cyprus is definitely a happy family time. For me, it is certainly the best time of the year!
Happy Christmas and New Year, 2018!!!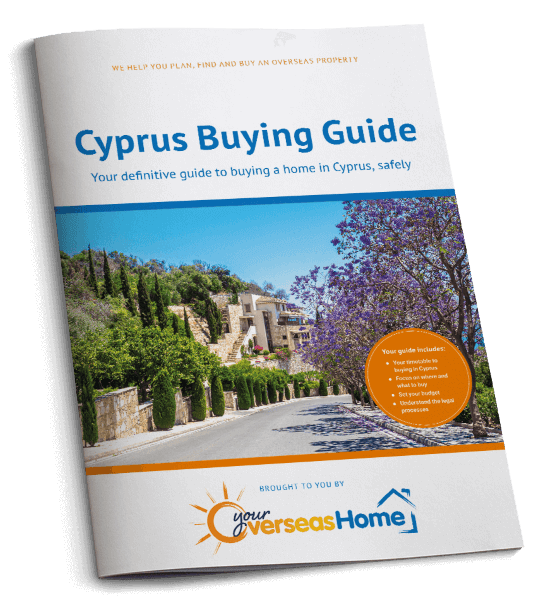 The Cyprus Buying Guide takes you through each stage of the property buying process, with practical recommendations from our experts who have been through the process themselves. The guide will help you to:
✔

  Ask the right questions
✔

  Avoid the legal pitfalls
Download your free guide to buying in Cyprus