Cyprus is a huge favourite for those seeking a place in the sun, so it's little surprise that many people harbour ambitions of moving to the island one day. Thankfully, with a little bit of planning and the right know-how, making that relocation can become a reality. To help you out, we've created this complete guide to buying property in Cyprus that will take you all the way through the process.
At Cyprus Buying Guides, many thousands of movers have used our advice to buy and relocate to a beautiful, new home in Cyprus. With our advice and trusted network of property professionals, you will be able to avoid many of the common pitfalls associated with buying a house overseas.
Here, we'll take a look at some of the best reasons you should consider buying a home in Cyprus, then walk you through the process to becoming a Cypriot property owner. If you want to view or print this guide for use offline, you can do so by downloading a free Cyprus Property guides booklet.
Got any questions before we get started? Get in touch with our team of Cyprus property experts by calling our Resource Centre on 020 7898 0549 (Monday–Friday, 8.30am–6pm) or emailing them at [email protected].

Should you buy property in Cyprus?
Wondering why Cyprus is such a popular location for expats? Well, considering the fantastic climate, beautiful beaches, rich culture and history, and good quality of life, it's easy to see why. If you need more convincing, here are some of the top reasons to buy property in Cyprus.
Your viewing trip is a crucial period where you can really narrow down our property hunt. Make sure you're fully prepared with your free Viewing Trip Guide.
Most people speak English
A combination of the island's colonial past, a large British expat population and an excellent education system means that almost everyone you meet in Cyprus is likely to speak English, even if it's just a few phrases. Of course, that doesn't mean the locals won't appreciate you learning the lingo when you get here. Plus learning a new language is good for the old grey matter.
Blue flag beaches and sunshine
Two of the island's greatest benefits are its amazing beaches and sun: look forward to 49 pristine Blue Flag beaches and 3,500 hours of sunshine per year. You can enjoy the weather while you spread out your towel or relax on a sun lounger for most of the year.
Judged by the Foundation for Environmental Education (FEE), the Blue Flag status is an excellent benchmark for anyone looking for a holiday home near a beach that is guaranteed to be clean and meet certain standards, like hygiene, sanitary conditions, safety, accessibility and lifeguarding.
Plenty of space for a small island
The third largest island in the Mediterranean might not be known for its size, but space certainly isn't an issue on Cyprus. Its mountainous interior and stunning coast combine to concentrate three quarters of the population into its five main cities: Nicosia, Limassol, Larnaca, Paphos and Famagusta. This leaves plenty of elbowroom elsewhere in the country to relax in, despite being just 3,500 square miles in size. You can drive from one side of the island to the other in less than an hour and a half, but even when the tourists arrive in summer, you can easily find peace and tranquillity just a short drive inland from the coast.
Relaxed pace of life
The pace of life is positively glacial in Cyprus when compared to the UK. If you're fed up with everything hurtling along at 100 miles an hour back home, get ready to immerse yourself into a blissfully relaxed Mediterranean lifestyle. This laissez-faire attitude can take some getting used to, but you'll find yourself becoming more zen in no time.
Food, shopping and entertainment
One of the big winners in living on Cyprus is the choice of food, shopping and entertainment. The quality of the food, given the input from a host of nationalities, means a fantastic choice from Indian to Cypriot and Israeli to Italian — and everything in between.
There is also a wider choice of shopping, specifically food shopping. In other Mediterranean spots, you could not find a shop or supermarket that would sell Cadbury's chocolate. Yet, in Cyrpus, all the supermarkets offer the best in the home comforts that we crave. Add McVities biscuits and other UK-related brands into the mix and it becomes a no-brainer.
Equally with entertainment, you can enjoy a more diverse set of performers and acts on the island. Some of the UK-based acts, such as tribute acts from Rod Stewart to Kylie Minogue, the Bee Gees, and other great singers, seem to be on tap for the expat community.
Skiing opportunities
Try and peel yourself away from thoughts of sunbathing on sandy beaches for one moment and switch your attention to shredding powder on snow-capped mountains. No, we're not talking about the French or Swiss Alps; we're referring to the most southerly ski lifts in Europe. That's right; you can ski in the Troodos, 2,000 metres above the Mediterranean. Based on Mount Olympus, the ski season in Cyprus typically lasts between January and April. There aren't many places in Europe where you can ski in the morning and sunbathe on the beach in the afternoon.
Rental potential
Cyprus is a magnet for tourists, with resorts regularly packed, especially in the peaks summer months. This isn't just good news for hoteliers, restaurant owners and ice cream sellers. Anyone hoping their property will pay for itself in the rental market can rely on a steady stream of tourists. With the likes of Airbnb, you should have no trouble attracting guests to your beautiful home.
Read the Emigration Guide to find out everything you need to know about buying overseas.
Plenty to do
When you fancy a break from the beach and frolicking in the clear waters of the Mediterranean there are plenty of events taking place throughout the island annually. Here are some ideas to get the cultural juices flowing:
Limassol Carnival: The island's liveliest carnival consists of a week of exhibits, masqued balls, serenades and parades with floats and parties.
Cyprus Film Days International Film Festival: The island's most prestigious film festival takes place at Limassol's Rialto Theatre and at Nicosia's Zena Palace Cinema.
Events at the Kourion amphitheatre:The annual performance of a Shakespeare play, by locally based actors, takes place during late June.
Limassol Wine Festival: Running since 1961 in Limassol's municipal gardens, visitors can enjoy folk music and dance events as they sip local wine.
How to buy property in Cyprus: The process
With the right planning, it's possible to buy a property in Cyprus within a six-month timeframe, so you may be able to complete on your dream home sooner than you think. Here, we've put together a timeline to help you stay on track for the big move. We recommend setting a fixed end point as the day you want to move, and then working back from that.
With six months to go
Think about why you want to move, where you'd like to move, and what type of home you would like to buy to get an idea of what to look for.
Start to assemble a team of property professionals to assist your move, including a lawyer, estate agent, currency specialist, and financial adviser.
Look at your finances and come up with a budget.
With five months to go
Begin your detailed property search.
Think about how you are going to structure the finances for any purchase — speak to your lawyer and financial adviser, if necessary.
With four months to go
Discuss your options with your estate agent and begin arranging a viewing trip.
Meet with your team and make sure all areas of your property purchase are progressing well. Speak to your lawyer and currency specialist about your deposit and legal structure.
With three months to go
With two months to go
What should you consider before buying property in Cyprus?
There's much to think about before buying a home in Cyprus, so it's worth taking time to think about your motivations, as well as big topics like where you will buy and what type of property you want.
Things to Consider
Your dreams and intentions may change throughout the process, but organising your initial plans is the place to start. You should ask yourself these five basic questions.
Why are you buying?
So, you know you want to buy a property in Cyprus, but why, exactly? Analysing and articulating your thoughts can help motivate and direct you. Start by writing down your ideas.
Here are some examples:
"We want to enjoy more space, sun and warmer weather"
"Our pension will go further in Cyprus"
"I want a place to enjoy memorable holidays with family and friends"
"Now the kids have left home, we need a new adventure"
"Property investments in Cyprus could have real potential"
"I don't want ever to look back on my life with regret, never having made the move."
How will you use it?
This is crucial to ensuring that you really enjoy your property. What will you do with it? Long weekends, three weeks over the summer, for investment, for relocation, for holidays and then eventually retirement? Be honest with yourself. If you really don't think you'll be nipping down for weekends, you can save money by being further from the airport. If you don't want other people using it and don't need the money, why worry about rental or investment potential?
What must your Cypriot home have?
What are your deal-breakers, the must haves? How many bedrooms or bathrooms do you need? Is a pool an absolute requirement or would a local beach be better? Outdoor space? Is it essential that you can walk to a local cafe or bar? And what would you like your Cypriot home to have? What would make it perfect for you? Do you want a terrace, garden and/or a swimming pool?
What don't you need?
It's nice to be positive, but focusing on what we can't stand can be quite liberating too! Would you hate having to book a hire car every time you go to Cyprus? Do you find a sandy beach less appealing than your own pool? Are you worried that you'll be saddled with all the pool cleaning, or cooking? Would you find the presence of holidaymakers on your doorstep all summer a little irksome? Now is the time to say it loud and clear. You want to love this home, so spell out what will stop that happening, then see if your partner or spouse feel the same!
How much can you afford?
There may be ways to raise more money, or even share the costs, but get an idea of your realistic budget from the off. After all, knowing how much you can afford up front will allow you to search for houses in Cyprus without pricing yourself out of a move later. It's also worth remembering that you should budget for at least 10% extra for buying costs.
In addition, before planning with your finances, you need to think about the fact that you will not get the "interbank" rate advertised by banks and in newspapers. Rather, you will get an exchange rate at least a percentage point above or below, so you should make room for this in your budget. And, you can typically knock something off a property price by knowing the local market — read our Cyprus finance guides and Smart's Property Buyer's Guide to Currency for more insight.
The best places to live in Cyprus: Where will you buy?
Cyprus caters for all tastes, enabling you to find the perfect location for retirement, a holiday home or work relocation. Buying a property overseas is a huge decision that you'll want to get right both financially and emotionally. So, let's take a closer look at the types of locations you have to choose from on this diverse island.
Below, we'll take you on a tour of some of the island's regions and cities, as well as some of our favourite locations if you're looking for a specific quality.
Cities and regions
Round-up guides
Paphos
Overseas property buyers continue to flock to Paphos to take advantage of the well-established expat community, enjoy one of the most spectacular harbours in the Mediterranean and make use of the convenient year-round budget flights from the international airport. There has also been significant investment in the town's infrastructure recently after it served its term as a 2017 European City of Culture. More than €25 million has been spent on upgrading things like public spaces, the old commercial centre and roads. Great news for property prices and rental appeal.
Paphos has developed into two distinct halves. Firstly, there is the old town, known as Old Paphos (or Paleo Paphos), which occupies the hill at the back of the town, and then there is Kato Paphos, which is the livelier, more touristy section focused around the harbour and beachfront.
Kato Paphos is the resort's main area for property-owners who want a convenient, lock-up-and-leave holiday home in Cyprus near the tourist action and easy to rent oput. It's popular for being within walking distance of amenities needed for a fun-packed holiday, including supermarkets, restaurants, the beach and harbour, entertainment spots and nightlife. Typical one-bedroom apartments start from €80,000-€100,000, typical two-bedrooms from €120,000-€140,000 and townhouses from €150,000 – that's not to say luxury options aren't available.
You can take advantage of year-round budget flights to the local international airport with EasyJet. As well as benefitting from all the social opportunities living among a well-established expat community brings — amateur dramatics, walking groups, art classes, golf, horse-riding and even rugby — you will be able to enjoy one of Europe's most spectacular harbours.
Old Paphos is more suited to those who prefer a more traditional environment, but still close to amenities and tourist attractions.
Around Paphos
Many buyers, particularly people relocating to Cyprus, prefer to head to one of the old villages nestled in the hills behind Paphos town. In fact, when many homeowners say they have a house in Paphos, there is a good chance it is not in the resort itself.
For these buyers, the seductive combination of location, climate and more traditional way of life create the idyllic Mediterranean lifestyle. Over the years, small communities of expats have grown up in many of these villages, along with enough amenities for to provide the essentials, including traditional tavernas and coffee shops, without spoiling the authenticity of their village.
Being above sea level means a breeze keeps summer temperatures more bearable and a few degrees lower than on the coast. Many villages enjoy micro-climates with enough rain and access to underground water to enable all types of fruit trees to thrive, especially citrus, giving the landscape an exotic feel. Winters though can be chilly, dependent on how far inland you are.
The area around Paphos offers a choice of village for every sort of buyer. Coral Bay is great for sea-lovers and yachties with its own marina. A property around Tala, eight kilometres further inland, escapes the humidity and has a better off-season social scene, yet with the advantages of Paphos's infrastructure and commercial centre on the doorstep. Peyia has a bit of everything, set on the slopes above Coral Bay, and with shops, restaurants, bars and a good bus service. For a touch of luxury there is the famous Aphrodite Hills development, with its golf course, tennis courts and spa.
Five or six kilometres inland from the edge of Paphos town things start to feel rural, a good examples being Armou village, which is still just 15 minutes from the beach, and a couple of kilometres further Tala, a particular favourite with expats and blessed with a lovely village square. A quieter, especially traditional option a similar distance inland is Marathounda.
The coastline that runs south of Paphos town, where the airport is located and home to a number of new developments, includes a handful of villages overlooking the sea, including Timi and Mandria. These are five minutes from the airport, ten minutes from the town and are also close to the golf resorts of Aphrodite Hills and Secret Valley.
Prices in Paphos's traditional villages vary depending on the type of property. Traditional stone houses could be yours for €100,000-€200,000 depending on condition and size, while more modern bungalows or small villas should be achievable for less than €200,000. For a large detached villa with pool and views, prices start from around €250,000, with plenty of choice over €300,000. In the larger villages, expect to find a small apartment complexes with properties for under €100,000.
Larnaca
f you want a more relaxed pace of life away from areas overrun with expats and tourists, sleepier and more levantine Larnaca ,with its salt lake and palm trees, could be the place for you. Average house price are lower than in Paphos, Nicosia and Limassol, which is, in part, due to Larnaca being a little more traditionally Cypriot than some of its contemporaries.
Although not as popular with visitors as other towns, this beautifully compact city still offers everything most overseas property buyers crave from a life by the Med: a city centre beach backed by a palm-lined prom, a mix of traditional and cosmopolitan influences, ancient monuments and fascinating architecture. Property owners in Larnaca may wonder why more buyers don't head here as they stroll along the palm-line promenade of its beach or take in the ancient monuments.
With properties a little cheaper than elsewhere, you can find attractive bungalows or small villas from €150,000. Flats are a little cheaper too, with around €75,000 a good starting budget for a two-bedroom property.
Limassol
Located on the shores of Akrotiri Bay, on the southern coast of Cyprus between Paphos and Larnaca, Limassol is the island's second largest urban area. Head here for an intriguing combination of modern architecture and remnants of the island's turbulent and multicultural past.
The traditional historic core, made up of the winding streets of the old town and the Old Fisherman's Harbour, serves as a reminder of the town's past. While its energetic, modern alter ego is perfectly demonstrated by state-of-the-art developments like the marina and Limassol Del Mar, a €350 million landmark development consisting of luxury residences due for completion in 2019.
You can lead an active or a quieter lifestyle. For those of you who enjoy activity, there's plenty of fully trained water sports instructors and many gyms where you can do martial arts, keep fit, or yoga classes. You can find work in areas like secretarial, teaching, administration, accountancy and management professions. There are also opportunities to work in offshore companies, mainly in the shipping industry and in insurance.
Those who like the quieter lifestyle can run along the beachfront, or simply sunbathe with a good book or even sit in the many cafes sipping a hot or cold coffee or beer. Cafes remain open until very late in the evening, and bars and pubs and nightclubs remain open until the early hours. And don't forget, Cyprus has recently legalised casinos and there are many opening up in Limassol now.
You'll have a better choice of apartments in Limassol than Larnaca. Although there are some high-rise apartments with prices over €3 million, a budget of €100,000 will be enough for a two-bedroom apartment in Pissouri, for example.
[/et_social_share_media][/et_social_share_media][/et_social_share_media]
Nicosia
Located 50 kilometres from the coast, the island's capital is perfect for those who thrive in the hustle and bustle of city life. Purchase a pad here and you will have the Venetian walls of the fascinating old town, a contemporary cafe and bar scene, a Debenhams and Mark and Spencer on your doorstep. It's a perfect advert for modern life in Cyprus, with contemporary apartment living dominating the local property market.
Contained within the 16th-century Venetian walls of the star-shaped old town you'll find museums, art galleries and plenty of historic character. While a stroll through the atmospheric Laiki Geitonia neighbourhood, will unearth narrow streets lined with cafés and artist's studios.
You'll also probably find yourself tracking down the local Debenhams, but not just to get your home from home retail fix. Its top floor offers a superb, panoramic view of the city and beyond the Green Line, which has divided Cyprus since 1974 into the Turkish north and Cypriot south.
Ayia Napa – Famagusta
The tourist resort of Ayia Napa in the east gained a bad reputation for the hedonistic excesses of some youthful holidaymakers. However, the town has been drastically cleaned up in recent years and is now more family focused. For example, the luxury marina contains 600 berths, retail outlets and private beach club, a range of luxury properties. Visitors and residents alike enjoy Ayia Napa's 500m Blue Flag Nissi beach and surrounding cliffs.
Property buyers in an area like Famagusta will be able to factor rental income into their calculations, which is why apartments are more expensive here. While €100,000 to €150,000 will gain you an investment apartment here, between €200,000 and €250,000 should be plenty for a villa.
Troödos Mountains
If you'd prefer to spend your days away from big cities and tourist resorts, the Troödos Mountains, rising to nearly 2000m/6500ft north-west of Limassol, could be the perfect spot. This huge expanse of igneous rock is carpeted with lush forest, providing cool, pine-scented air and quiet villages like Argos, Prodromos and Fikardou. You can even ski around here in winter.
Here are some mountainous hotspots:
Troödos Village: At 1,750m Troödos Village is only 250 metres below Mount Olympus, the island's highest point, and during the winter months doubles as a ski resort.
Argos: The main village of the Pitsilia region, is littered with red-roofed houses – many of which are on stilts – cupped by the mountains at the head of the Agros valley.
Pedoulas: Located in the Marathasa Valley north of Prodromos, Pedoulas is peppered with houses that tumble down the hillside in a series of terraces and is home to a beautiful painted church.
Fikardou: The carefully conserved village of Fikardou provides a perfect idea of what a Cypriot mountain village would have looked like in the eighteenth or nineteenth century.
Kakopetria: This village sits astride the Karyotis River and contains all the necessary conveniences of modern life, to compliment a pretty old town containing narrow streets and tottering houses.
Akamas Peninsula
The unspoilt Akamas Peninsula is a world away from the bustle of the southern coast. It sits at the northwesternmost point of the island, with a densely wooded headland divided by a range of steep hills. The mythological home of Aphrodite's fountain, Akamas's gorges and dense forest are largely inaccessible by road, making it paradise for outdoor fans, and one of the most biodiverse regions in Europe. The landscape flattens out as you reach the beautiful blue waters of Cape Arnaoutis.
Lara Beach is one of its main attractions, a stretch of golden sand only accessible by foot, bike or boat, and home to a colony of loggerhead turtles. However, despite this, you're under 50 minutes' drive from the main resorts of Paphos and Limassol with all their conveniences and services.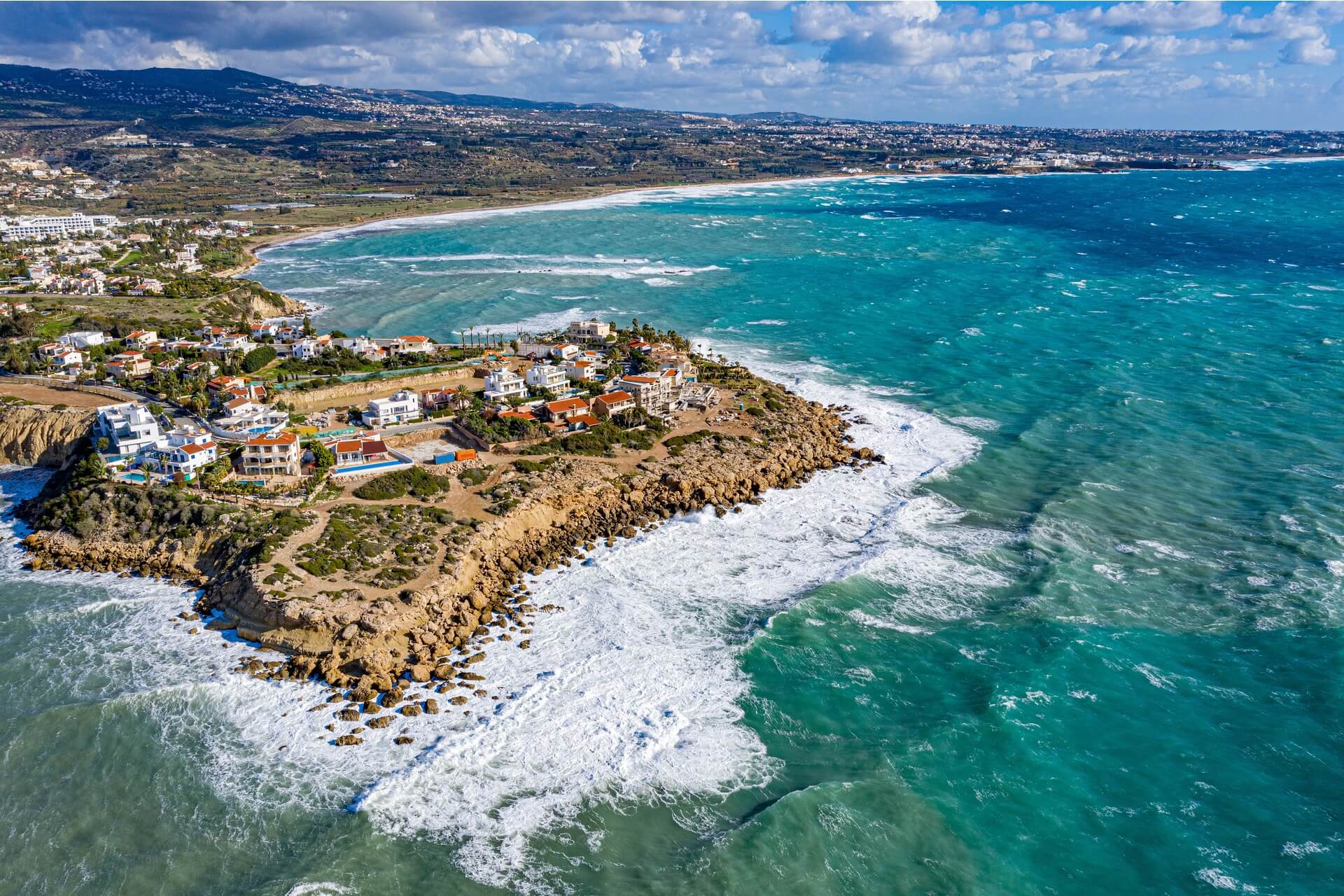 Peyia
Peyia, or Pegeia, is the southernmost village on the peninsula and probably the most popular among British property buyers. From its hillside position, you can see right across to Coral Bay. The main road has several tavernas, meze houses and cafés, with more options in Kathikas. As for services, you have a butcher, baker and supermarket right on your doorstep.
The climate is warm and sunny enough that there are several banana plantations surrounding the village! Lower Peyia, closer to the beach (although nowhere is more than a couple of minutes' drive!) has a number of large villa developments that are well liked by overseas buyers. You can find townhouses for around €150,000 and detached homes for around €250,000.
Poli Chrysochous
Right up on the northern coast of the Akamas Peninsula, Poli Chrysochous describes itself as 'the best-kept secret in Cyprus'. It has a Blue Flag beach that is relatively free of crowds even in summer, and sits on the Laomas-Akamas wine route. The main gathering place is the principal square, where you can sit out and enjoy a drink on the long summer evenings. 'Music under the stars' brings live performances to the village in the summer months, while May is welcomed with a riot of colour in the annual flower festival.
Semi-detached houses can be found for as little as €110,000, with prices for villas ranging from around €210,000 right up to €600,000 or more. In so-called Neo Chorio, or the newer part of town, you'll find many have fantastic views right down to the sea.
Latsi
Latsi or Latchi is right on the seafront, with a recently modernised harbour and marina boasting several excellent fish restaurants – locals claim that the village serves up the island's best seafood. If you're for a bit of luxury, there's a five-star spa, named '5th Best Overseas Spa' by Condé Naste.
This is the pricier end of Akamas – while you can find some villas at the €200,000 mark, much of the market is swish newer homes at around €500,000 up to €2,000,000.
Drouseia
Drouseia, or Droushia, sits up in the Laona hills and is popular among fans of mountain-biking and hiking. Its name comes from the cooling breeze it experiences in the heat of the summer, sitting as it does at a higher altitude than much of the inhabited parts of the peninsula.
Based around the religiously important Agios Georgios Nikochilitis Monastery, it's a largely historic town, with the stone-built homes typical of Cyprus' mountain regions. It's making a name for itself as a centre of agrotourism – a perfect location if you're looking to open a holiday business. Detached homes, which make up much of the housing stock, generally sell for around €220,000 to €340,000.
Accessing the Akamas Peninsula from the UK
Like all of Cyprus, Akamas is easy to access from the UK. Paphos Airport has flights to most major centres in both the UK and Ireland and is only forty minutes' drive away. There are also buses between Paphos and Polis (not always a given in some rural areas!). If you're looking for a holiday home rather than somewhere to live permanently, it's certainly a great combination of easy accessibility and peace and quiet!
The best places for holiday homes in Cyprus
When summer ends in the UK, Cyprus is still usually basking in temperatures upwards of 25°C. It's no wonder over 65,000 British expats live here, with one in ten owning a holiday home. If you don't want to move overseas full-time, but you want a sunny bolthole to escape to, Cyprus is your answer.
Kolossi
This small village is located partially in Cypriot territory and partially in the British Overseas Territory of Akrotiri and Dhekelia, although property is all on the Cypriot side. It's known for its history, with an old castle and small historic centre. There are plenty of modern constructions on the outskirts, as well as in the adjoining villages of Episkopi and Erimi.
The nearest beach is at Kourion, around ten minutes' drive away. It's technically in British territory, but you don't need to show your passport unless you're entering from Turkish-controlled Cyprus. Bus 17 will take you into Limassol in 40 minutes, or you can drive in 15.
You can buy three-bedroom resale properties here with a pool for around €300,000. For villas or townhouses without a pool, you'll be looking at around €240,000.
Peyia
Peyia is a particularly popular area among expats. It has a small, busy centre with all the main services and entertainment options – restaurants, bars, banks and two large Philippos supermarkets. Nearby Coral Bay has a picturesque setting and sandy beach.
Properties here are often quite large, with substantial outdoor space. Many are purpose-built to sell to expats or foreign residents. Two-bedroom townhouses sell for around €150,000, while three-bedroom villas go for more or less €300,000.
Pentakomo
Another small village, this one is more tourist-oriented due to its stunning beachfront location. It looks over Governor's Beach, one of the island's best sandy strips. Although quieter in the winter, it's only 20 minutes' drive to Limassol (or an hour on the 90A bus). As such, you do still have easy access to shops, services and entertainment.
There are a few traditional, stone-built homes that form the nucleus of the old village. They sell for around €250,000 in restored condition. Otherwise, you can find modern villas for €200,000, rising up to €350,000 and more for a pool and a sea view. To be right on the beach can cost over €1,000,000.
Paralimni
Located in the Greek-Cypriot part of Famagusta, this charming villages sits in best locations for winter sun in Cyprus. It has picturesque narrow streets and buildings in the local honey-coloured stone. Although it's located slightly inland, it's just a short hop to the nearby beaches of Trinity and Kalamies. A short drive away are also Pantachou and Ammos Kambouri beaches.
As a relatively large town, there's a good choice of property here. Two-bedroom townhouses sell for as little as €150,000 and one-bedroom apartments can even go as low as €65,000.
Lefkara
Lefkara is one of the most famous villages in Cyprus, known for its lace industry and quaint old architecture. Most villages in Cyprus are mainly modern, but here you'll find a good number of renovated stone buildings. As a popular tourist destination among Cypriots, most places are open year-round.
The higher altitude means it is a bit cooler in winter – perfect to enjoy hiking the surrounding mountains. You can buy renovated three-bedroom houses for around €145,000.
Polis
Polis, or Polis Chrysochous, is a haven for nature-lovers. It's just next to the Akamas Nature Reserve and Paphos Forest. The fishing villages of Latchi and Limni have several beautiful beaches. Latchi beach also has a marina and is a centre of yachting in the region.
You can find some really outstanding detached homes with a swimming pool and gardens for around €225,000. The main pay-off here is that you are further away from the main centres. Paphos is forty minutes away by car, or an hour by bus 645.
The best areas in Cyprus for families
It's well known that Cyprus loves families. You will always see locals saying a kind word to them, and they often give children a sweet treat in restaurants. So, if you're thinking of buying a holiday home, where are the best areas for families?
Limassol and Paphos
Limassol and Paphos are popular holiday towns and are a clear favourite with the British. You will never be short of things to do here.
Of course, the main attraction for children is the sandy beaches and the wonderful blue sea. The sea is safe in depth, calm, and so refreshing during the hot summer weather. You will see children of all ages playing beach games on the sand, and you can join in with volleyball or tennis games too. There is also an outdoor Olympic size swimming pool at Tasoudi beach, Limassol, which is free to use. And if you prefer, you can also go to one of the hotels to use their swimming pools.
Linked to the sea and the sand are watersports. Your children can learn surfing, yachting, canoeing, wind surfing, scuba diving with UK/USA trained instructors. And if you are in Cyprus only for holidays your children can attend "summer schools" for a fee.
You will find age-appropriate activities for children of all ages with excellent instruction and supervision. Activities include musical theatre, tennis, football, volleyball, dancing, ballet, street dancing, canoeing, kayaking, boxing, swimming among others. Your children meet new friends and they will mix with the local children too.
Getting there: Paphos Airport 20 minutes away by car from Paphos and 50 minutes away by car from Limassol. Larnaca Airport 1 hour 25 minutes from Paphos and 45 minutes by car away from Limassol.
Property prices: Three-bedroom villas with a pool: €340,000. Two-bedroom apartment with pool: €145,000.
Ayia Napa and Larnaca
For those of you with teenage children, Ayia Napa is the place to be. Like Limassol and Paphos you have the sand and the sea, but in Ayia Napa you also have nightclubs and cafes that are tailored to teenagers and young people. So, by day your children can sunbathe and swim and then dance and have fun in the evenings. In between, they can go to cafes — most of the local teenagers go to chain cafes like Costa Coffee or Starbucks (these are island wide).
Some hotels organise football or tennis coaching academy courses with footballers from the Premier League, like Rio Ferdinand, Wes Brown and others (these courses are also available in Limassol). And Liverpool Football Club has its own youth academy on the island too.
Larnaca is the upcoming town. It has recently been modernised and it now has a brand-new marina, where many events are organised. It is also on the seafront and you will find a huge emphasis on water sports here, particularly boating and yachting. Similar to Limassol, there are also funfairs and a visiting circus that comes every summer.
Getting there: Larnaca Airport 20 minutes away by car. Paphos Airport 2 hours away by car.
Property prices: Three-bedroom villas with a pool: €260,000. Two-bedroom apartment with pool: €100,000.
Platres
For those of you who prefer peaceful surroundings and cooler weather, you can make Platres your base. This is a popular large village located towards the Troödos mountains, but it is also a 20–30-minute drive to Limassol. In Platres itself you can find local hikes and cycling tracks with nature trails. And, you can make daily trips to Limassol or Paphos to take advantage of the activities available there. In Platres, there are local cafes whose ice cream is hard to beat!
Getting there: Larnaca and Paphos Airports 1 hour 10 minutes away by car.
Property prices: Three-bedroom villas with a pool: €300,000. Two-bedroom apartment: €120,000.
The best places for British people in Cyprus
The easy part is deciding to move to Cyprus. Figuring where on this fabulous island you are going to buy your dream home can be harder. But, there's nothing wrong with following the example of others, so here are five popular places with British property buyers in Cyprus.
Paphos
We had to start with the perennial favourite for British buyers. Brits continue to flock to Paphos, where we can immerse ourselves in a well-established expat community, enjoy one of the most spectacular harbours in the Mediterranean and conveniently jet in and out of the area on year-round budget flights from the international airport.
And, the future is looking bright thanks to largescale investment in the town's infrastructure after it was named a 2017 European City of Culture. More than €25 million has been spent on improving public squares, archaeological sites, the old commercial centre and roads. This is really great news for property prices and rental appeal.
Peyia
Located in the Paphos district, about 30 minutes' drive north along the coast is Peyia. Property owners here can bask in the sunshine on Coral Bay, tee off on one of the four championship golf courses, or simply enjoy a coffee in the town's cobbled square with its pretty fountains. Its traditional whitewashed houses are spread across the hillside, affording spectacular views of the sparkling waters below. Being less than a 40-minute drive from Paphos airport means you can really make the most of a long weekend away to your holiday home here.
Limassol
Limassol offers residents the best of both worlds: a historic core and contemporary buzz. The winding cobbled streets of the central old town ooze charm and character, while the Old Fisherman's Harbour serves as a reminder of what the city once looked like.
The tourism boom and Limassol's status as the island's international business centre have combined to ensure the city is moving with the times. From the state-of-the-art marina development completed in 2014, to Limassol Del Mar, a €350 million landmark development consisting of luxury residences, this is a city that is looking to the future without forgetting its past.
Larnaca
If you've always dreamed of living in a Mediterranean port town, you're spoilt for choice in Cyprus. We've already told you how wonderful and popular Paphos and Limassol are in this respect, but if you'd prefer to enjoy a slightly more traditional slice of island life, Larnaca could be the location for you. You'll be left asking yourself why it's not teeming with tourists as you stroll along the palm-line promenade of its city centre beach or visit the ancient monuments — but you won't be complaining. You can even fly to the city's international airport from Manchester.
Nicosia
We couldn't leave the island's capital city out of a list like this. As long as you're happy living 50km from the coast and you thrive in the hustle and bustle of city life, then take a viewing trip to Nicosia.
Not wanting to be away from their beloved sun loungers for too long, most visitors to Cyprus just take a daytrip here. But why not have the Venetian walls of the fascinating old town, a contemporary cafe and bar scene, a Debenhams and Mark and Spencer on your doorstep?
Apartment living dominates the property scene here, so anyone finding one to their liking in Nicosia will be pleased to hear apartment prices have risen 2.8% annually in the capital.
The best places to retire to in Cyprus
Picture your perfect retirement in Cyprus and you likely think of year-round sunshine, delicious food and easy access to the beaches and mountains. Throw affordable homes in the mix and it just gets better. But where are the best places to retire in Cyprus?
Limassol
You can lead a very active retirement in Limassol. More and more fitness and exercise groups are springing up in the town. Of course, there is the wonderful beach and sea too for swimming and water sports activities. If you enjoy running, there are many cross-country running clubs for all ages, or you can simply go for a daily run along the beachfront.
One of the good things about Limassol is that you have a choice of property. You can buy a detached two-bedroom villa type house for about €150,000-200,000, a two-bedroom apartment for €230,000-240,000, or a bungalow with swimming pool for €220,000-240,000. If you buy a villa with a pool, it will be more expensive. Bungalows seem to be very popular across Cyprus.
Paphos
In Paphos one of the most popular retirement activities is swimming. Of course, like Limassol, the sea is very close, but you will also find swimming clubs like the Nautical Club, where retirees are encouraged to join small exclusive groups for "exercise-the-joints swimming". These classes run weekly 2–3 times per week at the gyms. Or, you can simply use the pools there for practice swimming at your own convenience. And then you have the 18- hole golf course up at Aphrodite Hills Hotel. This was a new venture for Cyprus, and it is very popular with British retirees.
There is also a wide choice of property. Here, prices start as low as €150,000 and range upwards to about €270,000 for a detached two-bedroom villa type house with pool. A two-bedroom apartment sells for €75,000–100,000 and a bungalow for €130,000–280,000.
Paraklissa
The village of Paraklissa and neighbouring Agios Trychonas are great spots if you want village living within easy access of the city when you retire to Cyprus.
Paraklissa, also known as Pareklisia, is a large village just ten or fifteen minutes away from Limassol, and it is very popular with British retirees, mainly for the peace! But there is still action here. The British people from the village tend to form groups to exercise in the local town hall and arrange running events and other group activities.
House prices start from €150,000-200,000 for a two-bedroom villa; €250,000 for a two-bedroom apartment, and €280,000 for a two-bedroom bungalow.
Pyrgos
Pyrgos is close to Limassol too, so you can take up many activities by travelling into town. You can also go to different classes in the village, maybe to learn a new language or a new skill (gardening is a favourite!). These are often free of charge and a great way to meet new people and make friends. Pyrgos is also great for hiking and you can see magnificent views wherever you walk. Group walks are frequently arranged and take place mainly at weekends.
Here a two-bedroom detached villa will cost between €210,000 and €220,000, an apartment will be about €100,000-150,000, and a bungalow about €200,000.
Lania
For those of you who prefer a slightly cooler climate, Lania, near the Troödos Mountains, is the place. You have sunny weather, with temperatures about 25–28⁰C in the summer, but you can escape to the cooler weather whenever you wish up in the mountain area.
You might think that mountain villages like Lania do not offer any retirement activities. Actually, they do, but on a much quieter, smaller scale. Many retired British people stay active in Lania and also drive to Limassol to take up more sport-type activities, since it is only 20 minutes away. In the village itself you can do leisurely activities, such as learning a craft like lacemaking or cooking.
Two-bedroom houses in Lania range from €100,000–200,000.
The cheapest places to live in Cyprus
Have you made the big decision to buy a property in Cyprus but you're not sure where on the island your money will go furthest? Let's take a look at the more affordable cities in Cyprus, where you'll get more property for your pounds.
Limassol
Located between Larnaca and Paphos on the southern coast of Cyprus, Limassol offers an intriguing combination of historic old town and contemporary buzz. Whether you want to wander the winding cobbled streets in the city centre, or relax in the state-of-the-art marina, Limassol has something for everyone. While Limassol is gaining a reputation for its modern high-rise developments that dominate the skyline, the surrounding area is peppered with affordable homes in a tranquil rural setting, which still offer convenient access to the city's amenities.
Despite being expensive by Cypriot standards at €2,400 per square metre, Limassol's affordability becomes clear when compared to other island destinations in Europe. For example, the average price of a city centre apartment in Palma de Mallorca currently sits at €3,700 per square metre.
Nicosia
If you want all the conveniences of capital city life at an affordable price, Nicosia should top your viewing trip list. Residents enjoy the urban sophistication of a modern, cosmopolitan city. All of which is just a short drive from the sparkling Mediterranean and spectacular forested mountains. Apartment living is the name of the game around here. The average price of an apartment in central Nicosia is around €1,800 per square metre.
Paphos
Despite traditionally being the most popular area for British buyers in Cyprus, average apartment prices in central Paphos (€1,475 per square metre) remain lower than Limassol and Nicosia. Life among an established expat community, with Blue Flag beaches and an international airport on your doorstep enhance its appeal. It's worth noting that the wider Paphos area attracts young families and retired couples looking for spacious homes to accommodate kids and grandkids. This trend reduces the demand for apartments and drives up house prices.
Larnaca
The lowest average apartment price) is found in the port city Larnaca at €1,280 per square metre. Head outside of the centre and the average price drops below the €1,000 mark. Perhaps this is because Larnaca is a little more traditionally Cypriot than some of the other locations on the list. Great if you want to avoid expat communities and their typical lifestyle, but still benefit from a local international airport. So, head to Larnaca to bag a bargain and take advantage of rising prices that could see your home grow in value.
The most upmarket places to live in Cyprus
Cyprus is an island for property buyers operating on all budgets. Those at the top end of the scale will find luxury properties in all shapes and sizes across the island, from Paphos right up to Ayia Napa. Here are the best places to search for property in Cyprus if you're looking for a plush pad.
Aphrodite Hills
Aphrodite Hills is an award-winning resort nestled in the hills above Paphos, overlooking the crystal-clear waters of the Mediterranean Sea. Whether it's luxurious accommodation, world-class sports facilities, fine dining, relaxation, entertainment or all of the above you're after, the resort has it covered. There's even a village square that helps add a community feel to proceedings. Luxury six-bed villas can go for as much as €5.5 million around here.
Ayia Napa Marina
Ayia Napa is no longer defined by the hedonistic nightlife it became famous for at the turn of the millennium. While still offering a vibrant social scene, this former fishing village is now a major player, along with Limassol, when it comes to the chic new waterfront developments that are attracting wealthy overseas property buyers to the island.
Due for completion in 2021, at a cost of £109 million, the landmark Ayia Napa Marina project will house 190 luxury apartments and 29 luxury villas — 18 of which will have access to secure docks. In addition, it will include significant mooring capacity and world class facilities for 600 yachts, a shipyard and a series of select shops and restaurants offering top class services for those living in, and visiting, the marina.
Long-term investment potential is virtually guaranteed if you purchase one of the €5.5 million four-bed new build villas in Ayia Napa Marina. Each plot includes an infinity plunge pool, seas views, roof garden and under floor heating — not that you'll be turning it on too often on this sun-drenched Mediterranean island.
Limassol
The port town of Limassol is fast becoming known as the "Dubai of Cyprus", thanks to its ever-growing high-end, high-rise skyline. While some parts of the island are desperate to cling on to their traditional roots, Limassol is proudly embracing a more contemporary approach. Consequently, there's no shortage of luxury apartments around here. And if one tower block gets snapped up by eager buyers, it seems like another is already under construction to meet the demand, with plenty more giant structures in the pipeline.
A two-bed apartment located in the tallest seafront residential tower in Europe, with an expansive veranda, panoramic seas views and access to a pool, bar, spa, games room and wine cellar could be yours for a mere €3 million.
The best sea views in Cyprus
You'll never tire of the sea views in Cyprus, whether it's in the humid heat of summer or a mild winter's day. And the best thing about Cyprus, as a mountainous island, is there are stunning views to be had even when you go inland. Sunset and sunrise are a sight to behold. So, if you're looking where to buy here, don't miss my top five sea view villages.
Pachyammos
Lying between Paphos and Nicosia, Pachyammos is a beautiful sea view village. The landscape here is simply breathtaking. First, the small mountains go down into the ocean bay and then you have beach immediately below them. From a house in the village you literally look down onto your own private beach! The sunset is fantastic here. Pachyammos village is about 60km away from Paphos. The price for a four-bedroom detached house (villa) with pool is currently €400,000 and for a three-bedroom apartment it's about €167,000.
Alaminos
You will find this village 3km from Larnaca, and Larnaca Airport is easy to reach. Like Pachyammos, this one is surrounded by cliffs and has its own beach and sea. In case you feel a little isolated, a path leads to the newly emerging tourist area of Aldiana Zypern. The village also has a small harbour and the beach kiosk sells drinks at non-tourist prices. The price for a new three-bedroom apartment here is about €340,000 and a three-bedroom villa with pool is about €293,000.
Peyia
Peyia is a large sea view village and it's about 17 km from Paphos. You can find all the amenities here like restaurants, a large supermarket, and a fresh fish market too. There are also one or two bars in the village, and many British people live here. There is also the traditional feel to the village. Peyia is positioned on the side of the hill and so the homes have lovely sea views.
Prices for a three-bedroom apartment (with pool) here are between €100,000–344,000, and for a three-bedroom villa with pool it's about €199,000.
Pomos
A wonderfully peaceful sea view village, Pomos is 56 km from Paphos. It is very undisturbed and there are fantastic nature trails and hiking activities here, surrounded by sea views that stretch for miles. The hills break away down into the sea, and pine and fruit trees grow in between them. This area is known for its natural wildlife and sea caves, and it has a small harbour too with traditional Cypriot fishing boats. You can expect a traditional kind of village here, but with all the main amenities. Prices for a three-bedroom apartment are about €287,500 and for a four-bedroom villa with pool it's about €261,000.
Pissouri
Last but not least, Pissouri village is another beautiful location. The village is positioned high on the cliffs above the sea bay, and it's 36 km to Limassol. It's a large village, popular with local and British residents. There's a range of coffee shops, one or two small supermarkets, bars, and tavernas. There are many activities too, with nature trails, cycling activities, and hikes to keep you going. And don't forget, like all these sea view villages, the sea provides water sports too. Prices for a three-bedroom apartment here are about €145,000 and for a three-bedroom villa with pool it's about €400,000.
What type of property should you buy?
Whether you want a big budget villa with sea views or a one-bedroom apartment close to the beach, Cyprus has the perfect style of property to suit every budget. If you've already got your heart set on a particular city or region of the island, the next steps are to set a realistic budget and then decide the type of property you want to purchase. The latter will be influenced by the amount of money at your disposal, size requirements, frequency of use and the part of the island you want to live.
The Cypriot property market offers a wide selection of styles in its cities, resorts and countryside. Here we review some of your options to help focus your search.
Villa
While there are plenty of Mediterranean style villas of all shapes and sizes available on the island, it's worth noting that an average sized villa in Cyprus is what you would typically call a detached house back in the UK. These mainstays of the local property market usually provide three to four bedrooms, a garden, a private or communal pool (depending whether it's part of a complex), private parking, barbeque area and a stunning view if you're lucky.
Villas are a popular choice with families who require plenty of space both indoors and out. Couples who choose to purchase a villa can use the extra space to create a home office and to accommodate visitors. The cost of maintaining a private pool — especially if it's a holiday home — is an important consideration. Whether you choose to conduct the upkeep yourself or hire a specialist company, remember that heating, water and cleaning costs can add up.
Apartment
Couples and retirees searching for a permanent or holiday home are often drawn by the affordability of apartments and their close proximity to amenities and the beach. Despite sacrificing outdoor space for a prime location, apartments often come with a balcony with great views and space for alfresco entertaining.
If you're in the market for an apartment in Cyprus, head on a viewing trip to the port town of Limassol. Here you'll find yourself craning your neck as you take in its ever-growing vertical skyline, much of which is made up of lofty residential developments. Comparisons with Dubai are a little premature, but new projects like Limassol One, which is the tallest residential coastal tower in Europe at 37 floors, are certainly putting the city on the map.
Because the tourism industry in Cyprus is booming — up to 3.5 million tourists head here each year — easy to clean, manage and rent apartments are a popular choice with investment buyers in tourist hotspots like Paphos thanks to the potential of rental income.
Duplex
While a maisonette would suggest a traditional two-floor apartment, the duplex is its trendy younger brother, appealing to those that want something a bit groovy and new. Limassol, with its modern Manhattan-esque skyline, is a hotbed for this type of contemporary development, which is apt considering they originate from central New York.
Properties on a complex
Whether you choose to live in an apartment or villa, living on a resort complex can be a very sociable existence. Communal facilities, such as gardens, bars, swimming pool and gym, ensure making friends in your new home is one less thing to worry about. This community spirit comes at an additional cost, however, so be prepared to pay communal maintenance fees. If you fully immerse yourself in complex life when you arrive, you might even find yourself on the committee responsible for looking after your little community — a sort of parish council in the sun.
Rural stone properties
If you want to escape the tourists and enjoy a relaxed pace of life, head to the mountains and forests in the island's interior. Here you will discover tranquil villages, where traditional stone houses with thick walls that keep the heat out during summer and bags of potential are the norm. Renovating a rural wreck can be a very rewarding experience as you can put your stamp on the property, and it allows you to own a home with real character in a stunning setting.
Hiring a professional team for your move to Cyprus
When you're buying a home anywhere, the process can be very stressful, but this can be increased tenfold when you're doing so overseas. That's why it's worth hiring a team of professionals who can help you navigate the market with their local knowledge and skills.
As you look to assemble your team, we recommend that you look to find an estate agent, lawyer, currency specialist, and, if required, an independent financial adviser.
Hiring an estate agent in Cyprus
There are hundreds of estate agents across Cyprus, from Peyla and Paphos in the east to Larnaca and Limassol in the west, as well as Ayia Napa and the capital Nicosia. Many will be geared towards British buyers and will speak English. Estate agents earn a commission of between 3–5% of the price, much higher than most British estate agents, but it is paid by the seller
Estate agents will have a mind-boggling portfolio of properties to show you. With that in mind, it's important to focus on what you really want. That includes sticking to your budget and your chosen location. Having said that, there should be place for spontaneity in your property viewing too.
For peace of mind, check that your chosen estate agent is licensed and regulated. Are they members of the International Real Estate Federation (FIABCI), or the Cyprus Real Estate Agents Association (CREAA)? They should be licensed as a Real Estate Agency and ideally registered in the Council of Cyprus Real Estate Agents, which is governed under Cypriot Law.
You'll find that most genuine and regulated agents are members of the CREAA. This organisation is one of the most pro-active on the island in monitoring those that are operating illegally as 'consultants' or as 'property finders'. As a member of the CREAA, estate agent members must have indemnity insurance. You can check on an estate agent's registration simply by asking for their registration number and checking it on the website.
You could also choose an agent who is a member of the Association of International Property Professionals (AIPP). Based in London the organisation attempts to improve ethical standards for international estate agents.
Hiring a lawyer in Cyprus
Finding an independent English-speaking lawyer who is a member of the Cyprus Bar Association should be at the top of your to-do list. In the long run, your lawyer could save you plenty of money. Certainly, they will guide you through the legal aspects of buying and selling property in Cyprus, and help you do so safely. GOV.UK publishes a useful list of English-speaking lawyers in Cyprus.
We'd always recommend using an English-speaking Cypriot one, who has a strong knowledge of the local language and laws. They will often also be able to advise you on inheritance and personal tax, which is so important in making life here problem-free. You must ensure they're registered with the Cyprus Bar Association and specialise in Immovable Property Law for assistance and guidance.
Our Resource Centre can introduce you to trusted professionals we have worked with for many years and about whom out readers have left glowing reviews – simply give us a quick ring on +44(0)20 7898 0549 or email [email protected].
Hiring a currency specialist
Along with the other members of your professional team, a currency specialist will work with you to ensure that your money is not exposed to currency risk when it is transferred to euros ahead of your property purchase. Therefore, it's important to find the right one for the job.
If you're not familiar with this risk, it occurs when there is a need to pay a large amount in another currency, which involves exchanging money with a fluctuating rate. With the rate moving, there's a risk that your funds could depreciate in value and end up being worth less, costing you more to buy a property. For example, a drop of just 1% in British pounds can increase the price of a €150,000 home by more than £1,000. Should this be several percent, you could end up paying even more.
Your currency specialist will counter this by securing something called a forward contract, which is an agreement that fixes an exchange rate for a set period. With a good exchange rate, you can get the most value from your cash. We've worked with our trusted partner Smart Currency Exchange to provide forward contracts for buyers for many years — take a look at their Property Buyer's Guide to Currency to find out more about protecting your funds.
Hiring an independent financial adviser
As you progress with your property purchase, you'll need to put together a plan for your finances. In these circumstances, it may be necessary to seek the advice of an independent financial adviser. An adviser will talk you through your options to find the best financing route for you, as well as making recommendations for any required products and helping you plan for the costs of buying in Cyprus.
At Property Guides, we have worked with a selection of trusted financial advisers who specialise in advising people looking to move abroad. Not only can they help you plan your purchase, but they can assist with other financial issues, such as pension, succession planning, and tax. Contact us at [email protected] or on 020 7898 0549 and we can put you in touch with them.
If you aren't buying your property outright with cash, you will probably need to seek advice from a mortgage adviser, too. They can also help with necessary products, like life insurance. Read our Cyprus finances guides to get more information about the financial matters of your move.
Planning your finances to buy property in Cyprus
If you are going to complete your property purchase, you'll need to make sure you have planned for how you will finance the deal. You will need to make the key financial considerations, plan for the hidden costs for buying, and decide how to pay for your property.
We also recommend reading our guide to financial planning before buying in Cyprus to get all the advice and essential information you need.
What are the key financial points to consider?
To start with, you need to consider what the main sources of finance will be for your Cypriot home purchase. Think about:
Funds available
Work out the total amount of money you have available to purchase a property. This is crucial in knowing how to buy in Cyprus. It could include cash, savings, items you can sell, pension drawdown, investments you can cash in. Consider buying with friends or family, if applicable.
Additional finance
Can you buy with a mortgage? Speak to an estate agent, independent financial adviser, bank or other lender to assess your options. If so, how much deposit will you need, and how will you service the monthly repayments? What would you do in an emergency, such as unemployment or illness?
Ongoing finance
There are costs that will come after you have bought the property, including local property taxes, maintenance and travelling expenses to get there. How will you cover these? Don't forget too, that exchange rates can change, and a pension or investments paid in pounds will not guarantee an income in euros.
Investments
If you're moving to Cyprus for good, you could benefit from moving your pension overseas into another scheme, such as a self-invested personal pension (SIPP) or a Qualifying Recognised Overseas Pension Scheme (QROPS). Conditions do apply, but typically you could gain greater control over your pension and reduce your tax bill.
Please note: the UK authorities will only allow you to transfer your pension into one of these schemes if you meet certain criteria: you need to be living, or going to live, abroad and you must remain living abroad. It's important to remember that it takes ten years of being a non-resident and moving the pension for a QROPS to show real benefits, making it really important to consider your options now rather than later.
What are the buying costs in Cyprus?
In addition to the sale price on the property, you need to factor the hidden extra costs of buying in Cyprus into your budget. Ideally, you need to budget up to 15% of the purchase price to cover all the fees and taxes attached to the sale. These are:
Land Registry fees: Usually handled by your lawyer, these tend to be minimal.
Legal fees: When using a lawyer for the conveyancing of the property and paperwork with local authorities, you need to set aside about 1% of the property price.
Local Property Tax: This is payable to municipalities and communities. The tax is calculated on the Land Register's assessment of the value of the property in 2013.
Property Transfer Fees: No property fees are payable if VAT was paid on the purchase price of the property. Property transfer fees are halved to 50% if VAT was not paid. But if the Land Register office considers the price on the contract is undervalued and not in line with the market value of the property, the full property transfer fee may be levied.
Stamp Duty: This is calculated on the value of the purchase agreement and currently set at the following rate: €0 to €5,000 — zero; €5,001 to €170,000 — 0.15% greater than €170,000 — 0.2%.
Value Added Tax: VAT, as of 2018, is charged at 19% on the first property purchase. A reduced rate of 5% is charged on the first 200 square metres of the property to be used as the buyer's primary and permanent residence for ten years. VAT is charged at 19% for the remaining square metreage.
Sales agent's fees: Usually split evenly between the buyer and seller. These can be anything from 2 to 5% of the sales price.
Inheritance and Immovable Property Taxes: there is no inheritance tax on property in Cyprus and the Immovable Property Tax payable to the Tax Department was axed in 2017.
Property insurance: If you want credit from a Cypriot bank, you will need to obtain property insurance. Nevertheless, it is one of the 'hidden fees' that is forgotten about by purchasers when they get the property in their name. You can shop around for property insurance as you would do in the UK.
How to pay for your property in Cyprus
There are essentially two ways for you to pay for your property in Cyprus. Firstly, you can use your own money. This could be a salary, savings or even selling off unused heirlooms. Equally, you might get rental income from an existing property, or be able to fund through the sale of one.
Secondly, your options for borrowing money are quite varied. For instance, you could use a version of lifetime mortgages, whereby you can keep your home but borrow against it. You could also buy a traditional mortgage based on your earnings and ability to pay each month, either from a UK- or Cyprus-based lender. Around one in four Britons buying a home abroad borrow some money, so there's no reason you can't do so to pay for your property in Cyprus.
How can you borrow money to pay for a property in Cyprus?
If you want to keep a place in the UK and don't want to sell your British home to pay for your property in Cyprus, then it can make perfect financial sense to borrow money.
Your options include the following:
Retirement mortgages
A retirement mortgage is similar to a traditional capital repayment mortgage, but often with a slightly lower loan-to-value. You will normally need to repay before you reach a certain age (this will depend on your lender's criteria). There's usually no minimum age to take one out, and how much you borrow will depend on the value of your home. If you don't meet the lender's criteria, an equity release plan can sometimes be a better choice.
Equity release
If you're aged over 55, you have the option of using the equity built up in your property as a tax-free, cash option, without selling up or downsizing. Equity is the difference between the value of your home and the balance of any mortgage, secured loan and charges on it. For anyone who bought their UK home many years ago, this can account to many hundreds of thousands of pounds. And it's money that's sitting there, not working for you. The equity is yours, so releasing it is tax-free, in any of these three ways:
Roll-up lifetime mortgage: This means you receive a lump sum and retain 100% ownership of your property, with no monthly payments to make.
Flexible lifetime mortgage: You can take a lump sum of money, retaining 100% ownership. Voluntary payments don't incur any early charges.
Drawdown lifetime mortgage: Again, you release the money as and when you need it and still have 100% ownership. Funds can be kept in a reserve until needed.
You can unlock anything from £10,000 to nearly the entire value of your home, depending on the age of the youngest applicant, the value of your home and its location in the UK, among others. As long as you have a lifetime mortgage from an Equity Release Council-approved lender, you are not at risk of losing your home for as long as it is your main residence. You can also protect a percentage of your equity, ensuring that it remains as an inheritance for your children.
A viewing trip will be vital to the success of your move. One of the overlooked benefits of buying in Cyprus is that the island is not so large that you are confounded by options. This means that it's possible to organise a comprehensive viewing trip within a week or two.
Most buyers search within the 150km section of the south coast between Larnaca and Paphos, plus villages the north-west, but it's important to focus on the areas you want to buy in. You can get to know the main areas well within a couple of leisurely weeks viewing. Many buyers choose to visit off-season when the weather is cooler and the prices are cheaper, which is possible thanks to Cyprus having year-round budget flights from the UK.
Subsidised trips from agents
In the property boom of the early 2000s, developers offered potential buyers subsidised property viewing trips, and these are sometimes till offered. Often, they are a technique to hit the house-hunters with relentless hard sell techniques, so be careful if offered a "free" trip.
These days it is more common that an agent will simply offer you subsidised accommodation if you agree to view their properties. You should still be on our guard though if you have been made beholden to someone who is going to make a lot of money if you buy!
It may be better to arrange your own trip, with no pressure to buy, allowing you to chat with locals, expats and tradespeople. It is a good idea to view at different times of the year.
Getting the most out of your viewing trip
When you have a limited time to take in the sights of several properties, it's vital that you make the best use of your trip. With this in mind, we recommend that you try to:
Take a look around the area and speak to locals who could soon be neighbours
Dine at local restaurants, cafés, and pubs to get a taste of the options in the area
Make note of any local amenities that you will definitely need — for instance, is there a gym nearby? How close are the local schools? Do you have access to a hospital?
Have a few quiet days where you try to live life as you would if you moved there to see what life is really like in the area.
How long should a viewing trip last?
Try to plan the duration of your viewing trip based on what you need to do and see, rather than booking just a week then trying to cram everything in. With a more considered approach, you're likely to accomplish more. That being said, Cyprus is not that big, so a couple of weeks will be ample time to have a look around and experience island life.
When should I go on my viewing trip?
Where possible, visit a potential new area at different times of the year. Be sure to visit in the winter, when the weather may not be so good, so you know what to expect year-round.
Where should I stay on my trip?
Try to stay as close to the area local to the properties that you are viewing to get a true sense of what the region has to offer. This way, you can get first-hand experience of shopping, eating and drinking, and generally moseying about the area without needing to travel too far.
How should I make the best of a viewing trip?
There are a few things to remember when you're on a viewing trip to make sure that you get all the essential information you need:
Make sure that any estate agent that you choose for your viewing trip has a thorough knowledge of the areas you wish to visit, and whose portfolio has properties that suit your needs, such as budget, features, and location.
Take the time to send a list of your needs to your chosen needs, including any deal breakers, and talk through them. This will, hopefully, ensure they understand what you want and prevent any valuable time being wasted.
If you're considering renovations, ask the estate agent for their thoughts on the additional cost. Certainly, they should be able to recommend reputable local tradespeople.
When you're visiting a property, be sure to take a few photos and detailed notes to help you remember the highs and lows of each house you view.
When viewing properties don't be afraid to ask as many questions as you like. In Cyprus that might include: what are water shortages like in the summer? Does the property have a regular supply of electricity? Does the property have any loans or debts on it? What are the restrictions on renting out the property?
Use the time you have in the car travelling with your agent to ask plenty of questions and get information from them. Ask them to point out any local amenities or to describe what is in the local area as you drive through.
Making an offer
After a successful viewing trip or two, you might have spotted your dream home in Cyprus. If that is the case, you need to be prepared to make an offer to secure the deal. Rather than jumping straight in, it's worth reviewing your approach to make sure you get it right. Here are our top seven tips for doing just that.
1. Know the market
Your agent will be able to advise you on what an acceptable range for making an offer on a house in Cyprus is, but do remember they, ultimately, work for the seller. The more you pay, the higher the commission they get. As such, do conduct market research yourself and read our Cyprus property news to confirm what they say. That way, you'll feel more confident – and show you mean business.
2. Get that game face on
Strike the right balance between being too enthusiastic or too nonchalant. You want to be serious, yet polite, and don't be afraid of showing that you know your stuff. Understand how your seller works. With some people, you might want to show more enthusiasm, while others might respond better to you playing it cool.
3. Be memorable
Remember that, in making an offer on a house in Cyprus, you're offering on something the owner loves. Being overly aggressive can be off-putting. Instead, try to stand out by showing how much you appreciate the property. You should always negotiate through your agent, especially if you signed a contract, but you can write to the vendor to introduce yourself and explain your interest.
4. Own the conversation
Remember that, ultimately, you're the one with the money. You're in a position of strength: the seller wants and needs to make a sale. Understanding that when making an offer on a house in Cyprus is a huge advantage. You can walk away — they need you. Take the chance to direct the conversation yourself — don't be a passive partner in the dialogue.
5. Plan your finances
Before making an offer on a house in Cyprus, plan your finances, including securing a forward contract so you're ready to pay a deposit in euros. Getting your finances in order will also make sure you are ready to make quick counteroffers often necessary to secure a property.
6. Make quick counteroffers
Any time you spend delaying gives the vendor time to consider other options. Decide your range before entering negotiations. That way, you can quickly and confidently answer with a counteroffer when needed.
7. Stay calm if it falls through
If a deal falls through, try not to beat yourself up too much. In many cases, buyers find that the one that fell through was ultimately not what they wanted – and find their ideal home further down the road. They end up looking back with relief!
Do you need a building survey in Cyprus?
Find yourself a reputable building inspector during the overseas buying process in the same way as you would an estate agent, lawyer and currency specialist. Doing so could save you a lot of money.
Let's set the scene. Having fallen in love with a villa outside Paphos all those months ago you embarked on your overseas property buying journey. After what seemed like endless amounts of careful planning and hard work you finally got the keys to your dream home, only to find out a short while later that it's suffering from subsidence and needs completely rewiring.
Your agent had advised you to have a building survey conducted to prevent such an eventuality, but everything looked fine on the surface, so you thought it was an unnecessary expense. Now you have a much larger bill on your hands.
Employ the services of a building inspector to cast their professional eye over the property before parting with your money.
The building survey
Don't let your dream home in the sun become an expensive nightmare full of unexpected costs. Employ the services of a building inspector to cast their professional eye over the property before parting with your money, just as you would if you were buying back in the UK.
A structural survey reduces the risk of paying over the odds for a mediocre property or one that may require costly repairs down the line. The building inspector will inspect the foundations, roof, walls, floors, electrics and plumbing for any signs of damage and decay. Any problems they unearth will be detailed in their report, leaving you in a position to make informed decisions. Depending on the findings, you might decide to pull out of the purchase, reduce your offer, or insert a clause in the contract outlining the work that needs to be completed by the vendor prior to the sale.
Finding a building inspector
In Cyprus you should seek out a building inspector who is registered with the Cyprus Scientific and Technical Chamber and a member of the Royal Institute of Chartered Surveyors. Do not choose one that has been recommended or introduced to you by the estate agent selling the property. This way you can guarantee that your survey will be impartial.
How much does a survey cost?
The average charge for a building survey in Cyprus is around the €500 (£450) mark, but factors such as the value of your property and the complexity of the report you require will impact this price. And remember, the price of a building survey is likely to be considerably less than the cost of having to fork out to rectify that subsistence and get the entire property rewired.
What happens after making an offer?
Agreeing the sale
Having viewed the property and being absolutely sure you want to buy it, it's time to put in a bid. Once accepted, the agent will take the property off the market, usually for one month. You may be asked to sign a reservation agreement, which shows your commitment to buy the property. You may also need to put down a small deposit.
Consult your lawyer before signing anything or sending the money. The deposit will usually not exceed one percent of the price, or €3,000, whichever is more. This sets the price and prevents gazumping. You'll need to know under what circumstances you will get it repaid if the deal falls through. Ideally, this deposit will be held in a neutral account.
During this period, your lawyer will check the relevant paperwork and conduct various searches. One of the most important will be about ownership and title deeds, which has been a vexed issue in Cyprus. You need to be absolutely sure that the vendor is the rightful owner of the property.
They will look to see if there are any debts/loans on the property, and any exemptions that may hinder the property sale. This has also been a common problem in recent years. If it is a new property, your lawyer will check the correct planning permissions have been obtained from the local authorities.
Any reputable independent lawyer will insist on conducting due diligence on the property as a matter of priority. As part of the due diligence process your lawyer should:
Examine whether a mortgage or other encumbrances in the form of memos have been registered on the land.
Ensure the property being purchased is correctly described on the title deeds. And that no alterations have been made to the property that would require additional permits.
There are some searches you should be doing yourself, too. These include the potential for new roads or flight paths, which you can check at the local town planning department. There are also potential issues such as noise pollution. For instance, on any holiday island it is wise to check that you don't have a nightclub next door that opens at midnight.
Drafting the sales contract
Provided no issues arise from the legal searches, your lawyer will draft a property sales contract. In the case of a new development where deeds won't be issued until the property is completed, the sale of contract should reflect that the property is protected until a separate title deed is issued.
Next, they will ensure it is approved by all parties in the transaction. This will need to be stamped and registered by the Lands Office. The reason for this is two-fold. Firstly, it prevents the seller from selling the property to anyone else. Secondly, it prevents them from using the property as collateral to gain a mortgage or loan. The Specific Performance Law, as it is known, also protects the buyer before the deeds are formalised in their name.
At the same time, you will need to transfer a proportion of the agreed property price, usually 10% of the sales price for a resale property or 20 to 30% for new build. You can also pay for the utilities to be connected this stage if necessary. During this time, it is vital to protect your budget from currency movements. If you do not, you could find that adverse exchange rate changes leave the property costing you thousands more when you come to complete.
Your lawyer will also issue a request to the Council of Ministers for Cyprus, for the entire property acquisition. This is in relation to character references, to ensure you won't have any legal issues and aren't on Interpol's wanted lists. They will also prepare an application for the reduced VAT rate of 5%. When this is approved, you will transfer the final balance of the sales price. All this is usually completed within one month.
Obtaining the title deeds
The final stage involves obtaining the title deeds from the Regional Land Chamber in the presence of the seller and buyer. You must obtain a receipt proving the registration fee and registration of property tax have been paid.
During this final stage, the title deeds transfer fee will have to be paid. Once in receipt of them, you are the owner of the property. You can now apply to the likes of the water and electricity authorities to transfer the utilities into your name.
You may be able to organise power of attorney if you are unable to be present. Your power of attorney can sign on your behalf — your lawyer will arrange it. It's important to assign power of attorney only for the property transactions and not to all of your legal affairs in Cyprus.
Whether you use power of attorney or are present yourself, you will need to present a valid passport and your tax registry number.
Explore our range of free Cyprus property guides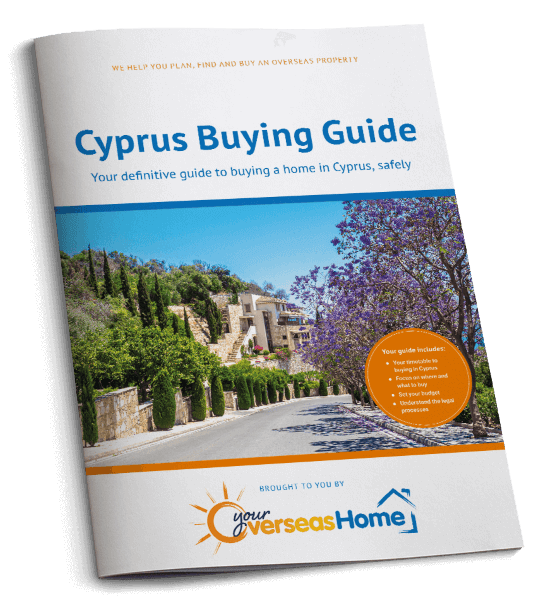 The Cyprus Buying Guide takes you through each stage of the property buying process, with practical recommendations from our experts who have been through the process themselves. The guide will help you to:
✔

  Ask the right questions
✔

  Avoid the legal pitfalls
Download your free guide to buying in Cyprus