Italy is waiting to tempt you with cakes and biscuits, hot chocolate and fresh clementine during December.
Italian cafes are a treat all year round. If you visit one in December expecting to see a display of ice-cream you will often find they have now been replaced by a tempting array of cakes, pastries and biscuits. Instead of cool drinks, people are sat outside by the patio heaters with cups of thick hot chocolate, topped with cream, marshmallows and nuts. The Italian "cioccolata calda" is one of the highlights of the Italian winter. They are much thicker and smoother than an English hot chocolate, and are often so thick you need a spoon to eat it.
In the mornings, it is the aroma of fresh coffee that draws you into the cafés. When a cappuccino and a cioccolata cornetto can cost as little as two euros, you can see why the Italians frequent them on a daily basis. I should point out that I'm not talking about the ice cream type of cornetto here, in Italy cornetto is like a croissant, a crescent shaped speciality pastry often filled with Nutella, cream or jam. Also, known as a brioche in Northern Italy.
Many people buy cakes to give to their Sunday lunch Host
Being made in Italy, Nutella is much loved by the Italians and is used sparingly on their breakfast toast, in their mid-morning pastry, afternoon sandwich and evening crepes. Or just, put some in a bowl and dip bread sticks into it. Supermarkets sell massive jars of the stuff.
If you think the cafes have an impressive display of cakes, wait until you see the Bakers on a Sunday morning. My local baker has a long glass cabinet filled with tiny cakes. You can select which ones you want – cream, chocolate and fruit – placed on a gold card tray and wrapped like a gift. Many people buy them to give to their Sunday lunch host. You are charged by the weight, so I usually ask for about five euros worth and that fills a small tray. But, don't be so distracted by the cakes that you forget to buy the fresh bread you came in for.
On other days, there is usually a larger selection of biscuits, sausage rolls, focaccia, pizza and panzerotti. The Panzerotto is a typical product of central and Southern Italy. A circle of thin pizza dough is filled with mozzarella cheese and tomato and then closed in on itself to form a crescent, similar to a pasty. Other possible fillings are olives, ham, sausage and mushroom. It is fried in extra virgin olive oil and sold hot wrapped in foil to take home. The panzerotti is different to the calzone, which is a big thick folded pizza.
At the Christmas market you may also see another treat of the season, which are typical to the Regions of Puglia , Calabria , Campania and Basilicata -The Pettole. These are small balls of dough fried in very hot oil. In Taranto they sprinkle them with sugar and sometimes salt. In other areas of the region you can taste them covered with wine, figs or honey or filled with broccoli or fish.
Of course, the Christmas season also brings the famous cake from Milan, the Panettone. The cake dough requires several hours to make, because it must be cured in a way similar to sourdough, rising and falling three times before being baked, giving it that distinctive dome shape. Panettone is often compared to fruitcakes, because both are traditionally made with dried and candied fruits.
The Christmas season also brings the famous cake from Milan, the Panettone
Pandoro is another light Christmas cake, this one originating in Verona. Families across Italy will often buy both a Pandoro and Panettone, with bakers selling over 117 million cakes each year. True to its name – pan d'oro means 'golden bread' – the cake has a warm yellow colour and is traditionally made in a star shape with a dusting of icing sugar. To be truly traditional both cakes must be made using specific ingredients. But, you will see variations on sale in the supermarkets, with added fillings and toppings and sometimes boxed with a bottle of Prosecco, for that perfect gift.
One of my favourite tastes and smells of December are the fresh clementine and oranges. You will see mountains of them on market stalls, with their fresh leaves still attached. Two euros' gets me a carrier bag full of clementine, which is plenty to fill my fruit bowl, twice over and adds colour to the kitchen alongside a bowl of local almonds and walnuts.
From North to South, every region will have its own specialities to tempt the taste buds, using traditional recipes handed down many generations and using locally sorced ingredients, such as fruit, nuts and honey. So, forget the diet, and have a taste…It's Christmas!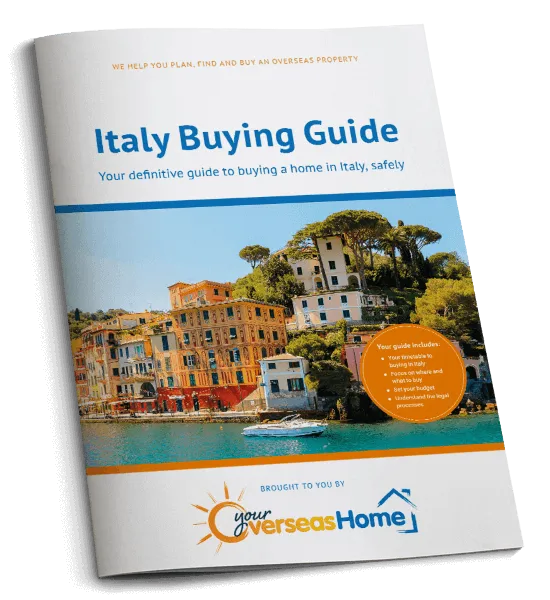 The process of buying property in Italy is significantly different from here in the UK. This is why we've created our completely free Italy Buying Guide, to provide those dreaming of a new life in Italy with all of the practical, legal, and financial information needed to help them realise that dream.
✔

  Ask the right questions
✔

  Avoid the legal pitfalls
Download your free guide to buying in Italy