There's nothing like a Christmas market to turn a shopping trip into a Festive event, especially with the backdrop of some of Italy's most beautiful piazzas.
More and more piazzas across Italy are putting up wooden cabins and inviting local crafts people and food producers to present their products to Christmas shoppers in festive surroundings, often with music and street entertainers and a chance to meet Father Christmas. Here are six of the most popular Christmas markets in Italy.
Christkindlmarkt in Bolzano Bozan, Dolomites
Piazza Walther
Open: until 6th January
The festive magic continues for the grown-ups with horse-drawn carriage rides and romantic evening strolls through the picturesque streets, lit with flickering candles and street lamps, where you may even come across a mountain choir in traditional costume.
Bolzano's charming winter location in South Tyrol makes this Christmas market one of the most atmospheric in Italy, attracting thousands of visitors every year. With over 80 exhibitors it also claims to be the largest Christmas Market in Italy. Here you will find traditional local products such as decorations, knitted accessories, musical instruments, candles, models, cakes and confectionary, all displayed in decorated wooden cabins. You can also witness craftsmen at work and treat your taste buds to festive delights from apple fritters to hot mulled wine.
Children will enjoy the road train, pony rides, the merry-go-round and puppet theatre in the dedicated children's play area. The festive magic continues for the grown-ups with horse-drawn carriage rides and romantic evening strolls through the picturesque streets, lit with flickering candles and street lamps, where you may even come across a mountain choir in traditional costume.
This whole area of South Tyrol is famous for its Christmas markets, with most towns filling their piazzas with festive stalls. Other towns worth visiting are Lagundo, Merano and Arco.
O Bej, O Bej market in Milan, Lombardy
7th – 10th December 2016
For the serious shopper, Milan offers designer fashion stores and large department stores, as well as the traditional Christmas market. Flowing into the city centre from the Castello Sforzesco is one of the oldest Christmas markets in Milan. In Milanese dialect it is called O Bej, O Bej which translates to "How nice, how nice". You will understand the sentiment if you visit this delightful market on the opening day, which coincides with the celebrations of Milan's Patron Saint, Sant'Ambrogio.
Across the city there are various other Christmas Markets from December into January. Such as in Piazza Duomo (until 6th January) and the Village of Wonders in the gardens of Porta Venezia, where you will also find Father Christmas, the Snowman Palace and a skating rink (until 8th January).
Weihnachtsmarkt German Market, Florence, Tuscany
Piazza Santa Croce
Open: until 18th December
During a trip to Florence you can combine the splendour of fine architecture and elegant Art Galleries with an evening stroll around the German style Christmas Market. The popular Piazza Santa Croce is filled with over 50 wooden cabins selling both German and Florentine decorations, gifts and food products. The church is also well worth a visit, as is the nearby food market, where you can get away from the tourists and experience the atmosphere of a market where the locals shop for fruit veg. meat and cheese.
At the weekends, you will find other markets dotted around the historic centre. If you want to escape the city for a while you can take a bus up to Fiesole, which has superb views of the City and a small Christmas market of its own.
Fabbrica di Babbo Natale in Pisa (Tuscany)
Palazzo dei Congressi
3,4,8,9, 10,11 December
If you are traveling to Florence via Pisa airport and have an early flight going back, I recommend spending your last day in Pisa and staying in a B&B near the airport. There are a number of nice B&Bs within ten minutes' walk of the airport terminal and there are buses into the town. Pisa has a long shopping street that runs right through the centre and crosses the river, and has a nice local feel and plenty of pavement cafes. Children are well catered for at the "Fabrica di Babbo Natali" in Palazzo dei Congressi. Babbo Natali is the Italian for Father Christmas and in Pisa he has an elves workshop where children can also have a go at making gifts. As well as visiting Father Christmas they will be entertained by jugglers, magicians, puppet shows and well-known cartoon characters. This year they even have a four-metre snowball for that perfect photo opportunity and for the adults there are also Christmas craft stalls and wine.
Babbo Natale is the Italian for Father Christmas
Mercatino di Natali della Befana, Rome
Open: until 6th January
The presence of the Vatican in Rome and Nativity scenes reminds us of the history behind Christmas, but it is Befana, the friendly witch, who takes centre stage at the Christmas Market in Piazza Navona. You will see her image on statues and stockings across the market. This beautiful piazza is one of the most beloved in Rome, with its restaurants, street performers, artists and famous fountain. The Christmas market and aroma of roasting chestnuts just add even more colour and excitement to the season.
Villaggio di Babbo Natale, Martina Franca, Puglia
Open: Until 6th January
The Village of Babbo Natale in Martina Franca is only in its fifth year, but has been so popular that this year they have added even more attractions. As well as over 40 stands there will be lights, shows, an ice rink and a display of handmade nativity scenes. You will find local products, sweets and wine as well as chocolate workshops and rides for the children. If your eyes sparkled at the word chocolate, then you must try one of Italy's fabulous hot chocolate drinks. They are so thick and chocolaty you need a spoon to drink it. So, take a flight over to Italy this December and experience a shopper's Christmas paradise.
If you have any further questions about what life is like in Italy, or any questions at all about the logistics of making the move, give our Resource Team a call today on 020 7898 0549.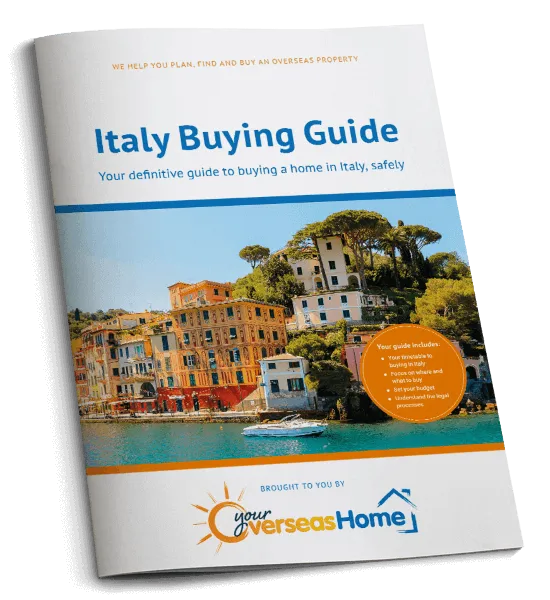 The process of buying property in Italy is significantly different from here in the UK. This is why we've created our completely free Italy Buying Guide, to provide those dreaming of a new life in Italy with all of the practical, legal, and financial information needed to help them realise that dream.
✔

  Ask the right questions
✔

  Avoid the legal pitfalls
Download your free guide to buying in Italy