Many people when asked why they are moving to Italy answer: "To get away from the British weather". Good choice, after all it never snows in Puglia…does it?
If you have only holidayed in Italy during the summer you may be under the impression it is always sunny. In fact, we do have some days of extreme weather and winters can be cold and wet, particularly in the north. But yes, summers are longer and hotter than in the UK, and in the south we would consider winter to be just February and March, with November being the rainy month.
Spring
I have lived in Puglia for 10 years, and as we live in the countryside we are very aware of weather changes. April, May and June is my favourite time of year as there are lots of wild flowers and the temperature is usually between 20 and 28 centigrade during the day. It's the perfect time for house viewing and sightseeing. Once you have bought a property this is the best period to get work done on it, or you are likely to have to wait until September for more clement weather.
Once you have bought a property this is the best period to get work done on it, or you are likely to have to wait until September for more clement weather.
Summer
Despite lower figures shown on weather stats, in my experience July and August means 35ºC in the shade almost every day. Too hot for plastering the house or most other jobs, so these are the months to relax. Occasionally, you can get a summer storm at the end of August, but it tends to only last an hour and then the sun comes back out. When we do get rain in Puglia it tends to pass over quite quickly. Summer rain is so rare, people actually enjoy it. They will stand out in it in their shorts, to get a cool shower on a hot day. Often, storms follow the route of the mountains up central Calabria and on up through central Italy. As southern Puglia is flat it passes straight by us.
Winter
In January, you can witness varying weather within one week and it can be very localised. Take last week for example, when my son came over to visit from England. On Monday, we were sat out in the sun in light clothes. On Tuesday we had a walk around town in the sun and sat outside a café. Thursday it rained and on Friday it snowed and has barely stopped since. This is a very rare occurrence. We had some snow two years ago, but prior to that it hadn't been seen for 15 years. The local youngsters were very excited, and were soon out having fun in it. For the rest of us, the appeal has begun to wear off!
Unfortunately – and unsurprisingly given the distinct lack of snow experienced in the region – many local councils in Puglia weren't fully prepared. So when we drove my son to the airport on Saturday morning we were driving very slowly through a snow blizzard on icy roads by the time we reached Brindisi. On arriving at the airport the departures board said the flight was on time, so we dropped him off and slowly drove home. They then cancelled all the flights and hundreds of people had to get in a queue to have their tickets changed. After several hours he was offered a flight from a different airport leaving in 8 days' time. Fortunately, he had our house to come back to, but how to get there? We daren't risk the treacherous drive again.
On Tuesday we sat outside a pavement café. On Friday it snowed and has barely stopped since
A taxi driver quoted him €150, so he opted for the bus into the train station, costing €1.50, followed by a 37 minute train journey to our local town, which only cost €2.80. The town roads were so icy we had to park and walk across to the station. Children were using the road near the Piazza to slide on and the fountain had icicles on it. It's such a novelty here that people were just walking around enjoying their town looking like a winter wonderland.
In fact the snow didn't let up, causing it to be dubbed a once-in-a-lifetime period of snowfall, with 80 percent of schools shut as classrooms froze. The Army was even required to dig through the deep snow to reach farmhouses amid picture-postcard olive groves. So much for Puglia's reputation as a summer destination that rivals Tuscany for British visitors.
In the north they are hit by the cold air coming down from northern Europe, bringing snow to the ski resorts in the mountains, with coastal areas being much milder. Within a small province you can sometimes experience a 10 degree difference between a hill top town and one on flatter ground. In the south we get a warm wind from Africa, called the Sirocco, which raises temperatures as it moves up the peninsula. The west of the country gets more rain than the east, where the weather tends to blow inland. As a general rule though temperatures are higher than the UK and summers are longer and hotter.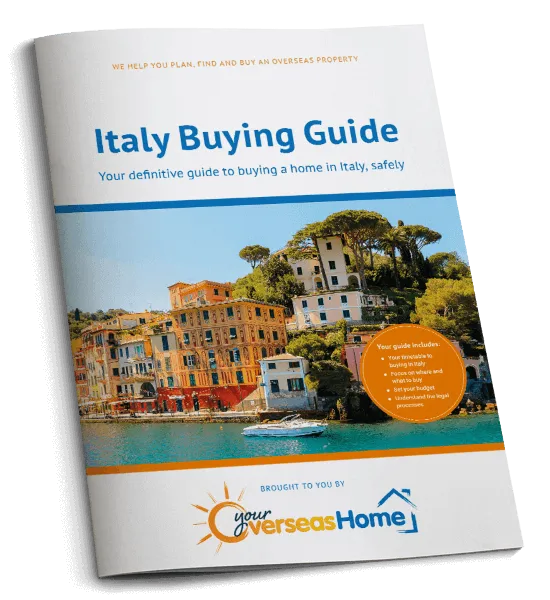 The process of buying property in Italy is significantly different from here in the UK. This is why we've created our completely free Italy Buying Guide, to provide those dreaming of a new life in Italy with all of the practical, legal, and financial information needed to help them realise that dream.
✔

  Ask the right questions
✔

  Avoid the legal pitfalls
Download your free guide to buying in Italy