The stars may be turning out for the Oscars this weekend, but many more stars come out above my Masseria in Puglia, to see open-air cinema projected on the whitewashed courtyard wall.
One of the things I love about having a countryside home in Italy is that on warm summers evenings you can turn off the lights and lie on a sunbed looking up at the millions of stars. Then we get out the DVD projector and watch open-air cinema projected directly onto the wall. Even in winter we can turn our cantina (cellar) into a temporary cinema room. Its barrelled stone ceiling adds to the atmosphere, especially when in James Bond's Skyfall, a tube train comes crashing through the ceiling.
When friends and family come to stay it's nice to be able to put on a film that was actually filmed in Italy, and watch it with a glass of Italian wine and a cone of Italian ice-cream
When friends and family come to stay it's nice to be able to put on a film that was actually filmed in Italy, and watch it with a glass of Italian wine and a cone of Italian ice-cream. This year I really need to increase my collection of DVDs and have been searching online. Here are 13 films I have found that feature Italian cities and countryside, with many of them costing less than £5 on DVD. Which would you choose?
Roman Holiday
If you're going to be visiting Rome, you should really watch Roman Holiday, starring Audrey Hepburn and Gregory Peck. Hepburn won an Academy Award for Best Actress for her performance and the screenplay and costume design also won. The film follows a princess on an official visit to Rome who sneaks off to see the city alone and meets a reporter. The fact that it is in black and white adds to the atmosphere as they pass the ancient buildings of Rome on a scooter. You will see sights such as the Spanish Steps and the Mouth of Truth in 1950s Rome, with the fashions and cars of that time.
Ben Hur
This epic film won an amazing eleven Oscars and stars Charlton Heston. It is often shown on Italian TV around Easter time, but it is still worth owning the DVD, as it is best seen projected on a big screen. The 'Nazareth' scenes were filmed in Arcinazzo Romano, northeast of the spa town of Fiuggi, 50 miles east of Rome and the ancient rock formation at Latomies di Salone is the setting for the valley of lepers. The sea battle, where Judah Ben Hur is rescued from slavery after he saves the life of Roman consul Quintus Arrius (Jack Hawkins) was shot at Nettuno, a coastal town famed for its medieval town walls, 30 miles south of Rome. I am tempted to also buy the remake of the film which came out in 2016, as it was partly filmed on location in the amazing town of Matera, in the Basilicata region.
Under the Tuscan Sun
This film features the hill top town of Cortona in Tuscany and the town of Positano on the Amalfi coast. Based on the memoirs of Frances Maye, the film is about a writer, who after a messy divorce goes on a tour of Tuscany to find some direction in her life. Frances falls in love with Cortona and buys an old villa in need of restoration. While the work goes on at the usual slow Italian pace she makes friends and finds a new love. Actress, Diane Lane, was nominated for a Golden Globe for the title role.
Tea with Mussolini
A drama based on the childhood memories of director Franco Zeffirelli set in pre-WWII Fascist Italy. A diverse group of women meet each afternoon for tea including Lady Hester Ransom (Maggie Smith), widow of the British Ambassador to Italy and Arabella (Judi Dench), a singer and artist. The story focuses on the group of women and a young boy called Luca, who is taken under the wing of one of the ladies in this expat group. The scenery, art, and architecture of Tuscany are well represented in the film.
Walking on Sunshine
This is a feel-good musical with a soundtrack of 1980s hits, set in beautiful Puglia, with a plot centred around a wedding. A little on the cheesy side, with the cast suddenly singing and dancing at any moment when they can fit in an 80s song, but it is a light summer film that young girls will enjoy. I bought it just for the Puglian scenery and architecture. From the beautiful baroque city of Lecce, to the medieval towns of Nardo and Pressice and the beautiful masseria they stay in. Then there is the Lido Coco Loco at Torre San Giovanni, a gorgeous beach of soft sand between the turquoise Ionian Sea and rolling sand dunes.
Eat, Pray, Love
Julia Roberts stars as a woman who decides to start a new journey and move around the world, starting with three months in Rome and Naples. Her passion for the language, the people and indulging in traditional dishes could easily inspire you to move to Italy! The story is based on the memoirs of Elizabeth Gilbert and is also a popular book.
Her passion for the language, the people and indulging in traditional dishes could easily inspire you to move to Italy!
My House in Umbria
A TV drama starring Maggie Smith as Emily Delahunty, an author living in Umbria. One day, while on a shopping excursion, she becomes one of a number of victims of a terrorist bomb attack on the train. Emily recovers quickly from the event, but others in her carriage are more deeply affected: a young German photographer (Benno Fürmann), a British army veteran "the General" (Ronnie Barker) and Aimee a young American girl orphaned in the blast (Emmy Clarke). Emily invites her fellow survivors to join her at her beautiful country home, where her free and unconventional lifestyle helps them all to overcome their ordeal. Locations used in the film include Siena and San Casciano, but much of the film is at the charming house which is actually in the Chianti-Sienese area.
Angels and Demons
In Ron Howard's follow-up to The Da Vinci Code, expert symbologist Robert Langdon (Tom Hanks) pursues ancient clues on a hunt through Rome to find the four Cardinals kidnapped by a deadly secret society, the Illuminati. Many of the outdoor scenes were filmed in Rome, such as the Pantheon, Piazza Del Popolo and Piazza Navona, although the Vatican City and the insides of some buildings were filmed on film sets or in other locations.
A Room with a View
Lucy Honeychurch is a prim, proper and slightly stuck-up young lady until she comes to Florence… This Edwardian romance made a star of Helena Bonham-Carter and Daniel Day-Lewis in 1985 and was nominated for seven Oscars. It tells the story of upper-middle-class Lucy falling for lower middle-class George Emerson (the scandal!). Their first kiss in a Tuscan barley field sums up the passionate appeal of Italy.
Films in Italian
As of 2016, twenty-eight Italian films have been nominated for an Oscar for Best Foreign Language Film, and fourteen films have won the award. Among all countries that have submitted films for the award, Italy ranks first in terms of the number of films that have won. Here are three of the most popular films made in Italian, which can be bought on DVD with English subtitles. A great way to learn Italian.
La Dolce Vita – The Sweet Life
La Dolce Vita is one of the most acclaimed films in the history of Italian cinema. Federico Fellini's comedy-drama recounts the story of a journalist who is searching for love and "the sweet life" in Rome. Memorable scenes include a shot of a helicopter lifting Christ's statue out of Rome and the famous dip in the Trevi Fountain. The film might not be to everyone's taste though, as the main character's life is an endless series of wild evenings and lonely mornings and most of the characters in the movie are directionless and without morals.
Cinema Paradiso
Cinema Paradiso won an Oscar for Best Foreign Language film in 1989, with award-winning music written by Ennio Morricone. It's about a filmmaker who returns to his hometown in Sicily after many years, where he remembers his dreams as a boy. The film focuses on the effect that cinema had on the inhabitants of a small Sicilian village during World War Two.
As of 2016, twenty-eight Italian films have been nominated for an Oscar for Best Foreign Language Film
La Vita è Bella – Life is beautiful
La Vita è Bella won three academy awards back in 1998. Best Foreign Language film, Best original dramatic score and Roberto Benigni was the first Italian to win an Oscar for Best actor.
Benigni plays Guido Orefice, a Jewish Italian book shop owner, who employs his fertile imagination to shield his son from the horrors of internment in a Nazi concentration camp. Arezzo, in Tuscany, is proud of its starring role in the film, and the town has information boards about the movie locations.
La Grande Bellezza – The Great Beauty
Another winner of an Academy Award, La Grande Bellezza is about a 65-year-old journalist and once promising novelist, spends his easy life among Rome's high society in a swirl of rooftop parties and late-night soirees. But when he learns of the death of his friend's wife his life is thrown into perspective and he begins to see the world through new eyes.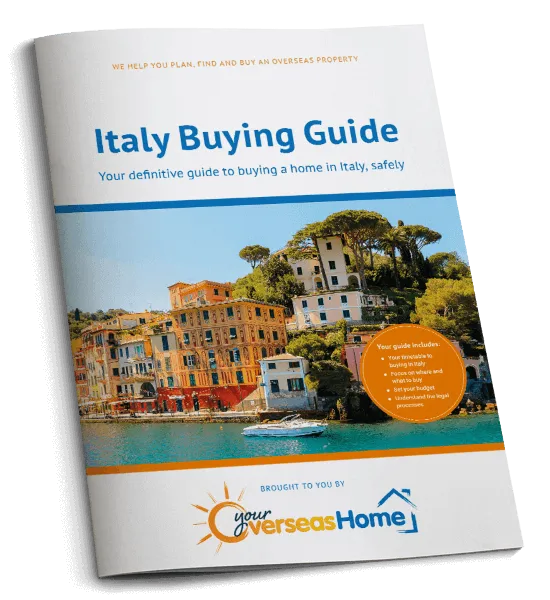 The process of buying property in Italy is significantly different from here in the UK. This is why we've created our completely free Italy Buying Guide, to provide those dreaming of a new life in Italy with all of the practical, legal, and financial information needed to help them realise that dream.
✔

  Ask the right questions
✔

  Avoid the legal pitfalls
Download your free guide to buying in Italy