Get your skates on and move to Italy! If you find your Italian friends are a little distracted this weekend, it's because the ice skating championships are on TV, and the Italians love it.
Do you remember the days when we would be glued to our TV screens watching those great British skaters like John Curry and Robin Cousins? Then there was Torvill and Dean's famous "Bolero", performed with such style and character. When you live in Italy you can rekindle that enthusiasm, by supporting the Italian figure skaters. They are all really superb, and what really appeals to me is that they all have such lovely personalities which comes across in their performances. As well as all the technical stuff they know how to perform, and between competitions you can see them in demonstrations and ice shows.
You can even have a go yourself on one of the rinks that pop up over the Christmas holidays or throughout the year. There are over 20 ice rinks in Italy, mainly spread across the northern regions.
There are over 20 ice rinks in Italy, mainly spread across the northern regions.
For this week though, you can settle down in the warmth of your living room and cheer the Italian team on at The 2017 European Figure Skating Championships from the 15th to the 29th January. This year it is being held in Ostrava, Czech Republic and can be seen on TV channels Eurosport 2 in the UK and RAI sport in Italy. Medals will be awarded in the disciplines of men's singles, ladies' singles, pairs, and ice dancing.
Based on the results of the 2016 European Championships, the ISU allows each country one to three entries per discipline. Italy has three entrants in each of the Pairs skating and Ice Dance, and two in the men's singles and ladies' singles. The UK have two in the dance and are allowed one in each of the other three categories as long as they have reached the acceptable minimum technical score. As much as some viewers enjoy watching the ones that fall on their backsides, there is a limit.
The Italian Figure Skating Championships (Campionati Italiani di Figura) is a competition held annually to determine the national champions of Italy and prepares the top skaters for the European Championships. For the past four years Ivan Righini has been number one in Italy in the men's singles and came 6th in Europe last year. He will be joined by Maurizio Zandron at the European Championships this year.
A well-known face on Italian TV is the very popular Carolina Kostner, star of the ladies ice skating. Born in Bolzano, Italy, she is the 2014 Olympic bronze medallist, the 2012 World champion, a five-time European champion and the 2011 Grand Prix Final champion. She was also a medallist at five other World Championships, four other European Championships, and three other Grand Prix Finals. Carolina has only recently returned to competitive skating following a ban imposed on her for reportedly helping to hide her ex-boyfriend Alex Schwazer (a race walker) from a drugs test. All eyes will be on her this week, hoping she can come back and win a medal. She has such a smooth flowing ballet like style when she skates to slow music. She will be joined in the Ladies section by Roberta Rodeghiero who is certainly one to watch as she came 5th last year.
Carolina Kostner is the star Ladies ice skating
In the pairs skating my favourites are Valentina Marchei and Ondřej Hotárek. They put everything they've got into a performance with great character and expression. Valentina Marchei was born in Milan and previously had success as a singles skater and Ondřej Hotárek is a Czech/Italian who won medals back in 2013 with his previous partner. Valentina and Ondřej now compete as a pair, representing Italy. They finished 4th at the 2015 European Championships and won the Italian national title in December 2014. The music for their free programme this year is a mix of Skyfall and Mission Impossible and has a lot of difficult moves that if they pull them off without mistakes could get them winning scores. Also, competing in the pairs are Nicole Della Monica and Matteo Guarise, who came 6th last year and Rebecca Ghilardi with her partner Filippo Ambrosini.
In the Ice Dance section we have another couple with great personalities; Anna Cappellini and Luca Lanotte. Their occupations are both listed as Police Agents, although with practice in Milan taking up 30-37 hours a week, plus competitions and shows, much of their time is clearly spent on the ice. They both skate for the Sports Club Fiamme Azzurre (Blue Flames) which is a section of the Prison Police which is involved in many sports, especially athletics. They began skating together in 2005 and became the World and European champions in 2014. They have finished in the top four in all competitions in 2016 including second place in the European Championships, so we are keeping our fingers crossed for another medal this year. They are always a joy to watch and show such character in their faces. The music for their Free Programme this year is a Charlie Chaplin Medley.
If you have ever wondered if these skating couples are also romantically involved I can tell you no, but at the same time yes, because Anna Cappellini from the Ice Dance couple is actually married to Ondřej Hotárek from the skating Pairs. Italy also has two other couples entered in the Ice Dance they are Charlène Guignard with Marco Fabbri and Jasmine Tessari with Francesco Fioretti.
British on thin ice
Of course, you will also want to look out for the British. They are Graham Newberry in the men's, Natasha McKay in the ladies', Zoe Wilkinson with Christopher Boyadji in the pairs and Robynne Tweedale with Joseph Buckland and Lilah Fear with Lewis Gibson in the Ice Dance.
The one to beat in the men's is Javier Fernández from Spain, who is always fun to watch and makes it look so easy. The Russian team dominated in the Ladies last year, but Italy are hoping Carolina and Roberta can change all that. In the Ice Dancing Anna and Luca will be hoping to beat Gabriella Papadakis with Guillaume Cizeron's (France) score in the free dance this year.
You can clearly see that all the Italian skaters get on really well with the top skaters from other countries, as they all meet up at skating competitions around the world. They are often have fun together at the Gala Exhibition on Sunday afternoon. The competition schedule is as follows: 25th – Ladies and Pairs short programmes, 26th – Ice dance short programme and Pairs free skating, 27th- Men's short programme and ladies free skating, 28th – Ice dance free dance and Men's free skating. Check your TV channel for times. If you miss any, you can often find individual performances on Youtube afterwards. For other details go to the official website at http://ostrava2017.eu/en/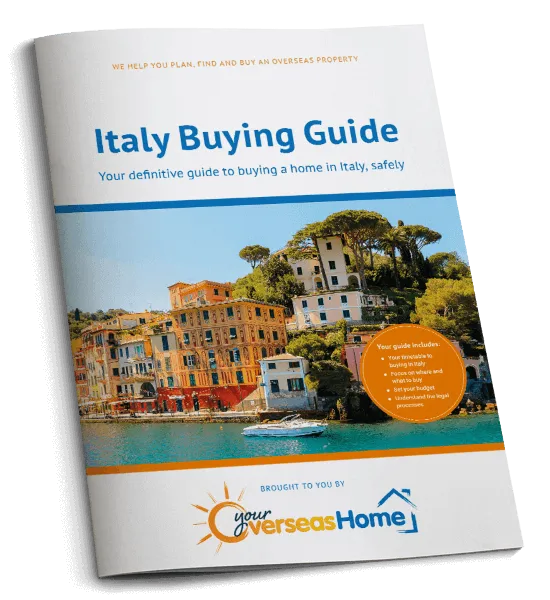 The process of buying property in Italy is significantly different from here in the UK. This is why we've created our completely free Italy Buying Guide, to provide those dreaming of a new life in Italy with all of the practical, legal, and financial information needed to help them realise that dream.
✔

  Ask the right questions
✔

  Avoid the legal pitfalls
Download your free guide to buying in Italy