It is possible to enjoy a healthy Mediterranean diet that is gluten free in Italy.
Italians love their food, and are also aware of the connection between health and what they eat. Much of Italian cuisine is based on using fresh local produce as part of the famous Mediterranean diet. An Italian Supermarket chain, Co-op, did a survey of its customers and discovered that 70% of Italians are willing to pay more for all natural foods, 65% are willing to pay more for non-GMO foods and 62% for organic foods.
Use local shops and markets for fresh produce.
In Italy, the sale of gluten free products increased by 50% last year and organic food purchases were also up 20%, according to a report by Coldiretti, who are the main Farming Organisation in Italy, with one and a half million members.
Buying local
Despite the introduction of large out of town supermarkets, Italians still try to buy products produced locally as much as they can. You will still see many small family run grocers, butchers, fresh pasta shops, fishmongers and bakers. You will also find weekly markets selling fresh fruit, vegetables, meat and fish and local farmers pulling up in their piaggios on street corners selling freshly picked fruit, veg. and snails. Even at the supermarket Italians look for typical food products linked to their region.
An increasing number of International consumers are also wanting to know where their food is coming from. About one in five Italian exported food products carry a DOC label, the quality assurance that guarantees the product's origin. Coldiretti reported that in 2015, Italy hit a record 36.8 million euros' in food-farming business exports, up 74% since 2005.
Celiac disease
Celiac disease, also spelt Coeliac, is a hereditary autoimmune disorder where the ingestion of gluten leads to damage in the small intestine. When people with celiac disease eat gluten (a protein found in wheat, rye and barley), their body mounts an immune response that attacks the small intestine.
The disease effects about 1 in 100 people in the UK. In the land of pasta and pizza, around 600,000 Italians are diagnosed with it.
Dishes that have flavours, textures and ideas that marry well, creating easy recipes, beautiful, colourful, good for all.
Gluten free products in Italy
More and more shops are now selling gluten free products, with many supermarkets having gluten free ranges. Just look for "Senza Glutine" on the label. Initially, these products were expensive, but with low cost food chains like Eurospin now introducing their own ranges of gluten free products, the prices are becoming more affordable.
At the CIBUS International Food Exhibition in Parma, 16 new gluten free products were launched this year. The CIBUS Exhibition offers prestige and visibility to 3,000 exhibitors, who demonstrate the best in Authentic Italian food to around 72,000 visitors. Of these visitors, 2,200 are top buyers from Europe (30%), North America (25%), Asia (22%) and South America (10%).
One of the Italian companies at CIBUS, specialising in gluten free, was "Mediterranean Pleasures" which has a range of 70 products, including bread, pasta, biscuits, snacks, flour and cereal.
Gluten Free Restaurants
Eating out with family and friends is an important part of Italian life and no Italians would want anyone to miss out on that because of a dietary need. With an increasing number of Italians being diagnosed with Coeliac Disease, chefs are becoming much more aware and accommodating. Italian Chef Marcello Ferrarini, who was diagnosed with Coeliac Disease at the age of 30, now has his own gluten free cooking show on the Gambero Rosso Channel, Sky 412, where he demonstrates to chefs and home cooks the culinary possibilities without gluten. Marcello describes his culinary creations as: dishes that have flavours, textures and ideas that marry well, creating easy recipes, beautiful, colourful, good for all.
In Italy everyone can enjoy a healthy dining experience.
Even restaurants without a specific gluten free option on the menu may have delicious meat or fish dishes, risottos, vegetables, cheeses, ragu and pesto you can enjoy. Just check with the chef that no flour was used in the oil or broth. Some pizza restaurants have specific days where they use gluten free flour and many Ice-cream Parlours advertise gluten free ice cream and Granita. On celiactravel.com they have a printable card translated into Italian that you can show to the waiter to explain the requirements of gluten free dishes, as even the most helpful of chefs may not fully understand that even the smallest amount of flour in the stock or on the chopping board can cause you to be ill. You can find the card at: https://www.celiactravel.com/cards/italian/
Popular gluten free restaurants in Rome include, Il Capriccio, La Scaletta and Il Viaggio and others across Italy can be found on http://www.ristorantiperceliaci.net/
The "Associane Italiana Celiacia (AiC)" also do a very useful App called "AIC mobile" that can be downloaded to your phone free from Play Store (Android) and Apple Store (iOS) to help you locate gluten free venues across Italy.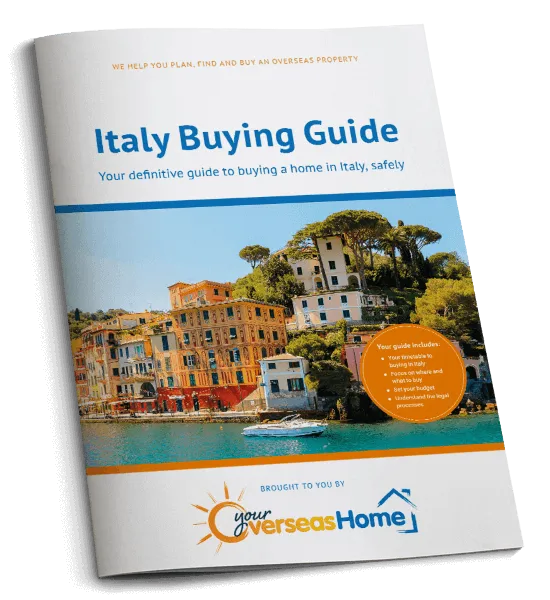 The process of buying property in Italy is significantly different from here in the UK. This is why we've created our completely free Italy Buying Guide, to provide those dreaming of a new life in Italy with all of the practical, legal, and financial information needed to help them realise that dream.
✔

  Ask the right questions
✔

  Avoid the legal pitfalls
Download your free guide to buying in Italy