Download your free guide to buying property in Italy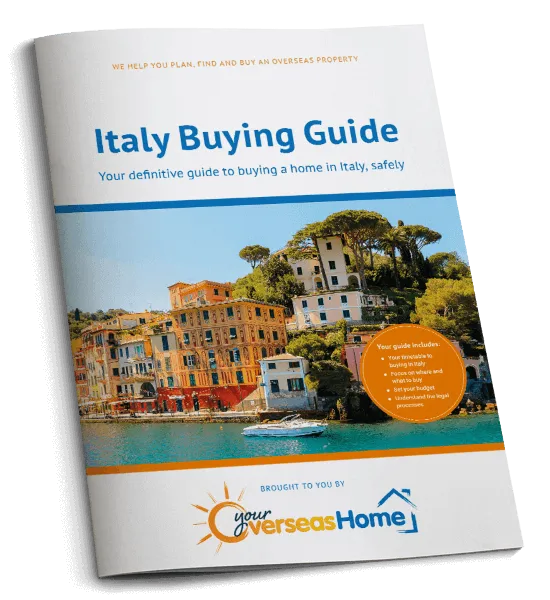 The process of buying property in Italy is significantly different from here in the UK. This is why we've created our completely free Italy Buying Guide, to provide those dreaming of a new life in Italy with all of the practical, legal, and financial information needed to help them realise that dream.
✔

  Ask the right questions
✔

  Avoid the legal pitfalls
Download your free guide to buying in Italy
Having searched the Internet, I found a Buying Guide website with the detailed, helpful guide and subscribed to the free newsletters offered. It was amazingly easy using the tips and suggestions to define my requirements and to establish my strategy for what I really wanted from my emigration. Once I had made use of the network of friendly and helpful associates I was introduced to, everything fell into place. It meant that I had a plan to keep me on track, so I was not tempted by any seemingly attractive but potentially risky alternatives.
Brian Dorey
We partner with some of the most trusted names in the industry



Our team can help you buy a property in Italy
Our trusted team of experienced estate agents, tax and financial advisors, bilingual lawyers, and clued up expats, are on hand to help guide you through every step of your buying journey. This team includes our expert expat, Julia from Puglia, who shares her knowledge of buying and living in Italy to help you make a success of your move. Julia writes free articles and newsletters for our readers, which cover every aspect of buying in, moving to, and living in Italy.
Italy property experts on the ground
Our Resource Centre in London is on hand to make sure your Italian property purchase is a success. Our team is here to answer all your questions, to share knowledge of Italy's different regions, and to offer advice on every step involved in buying property in Italy. Our team will also be able to put you in touch with the right professionals to help you realise your dreams of buying in Italy.