Retirement in Ireland offers affordable homes, cultured cities, welcoming people and gorgeous landscapes. What more could you ask for? Plus, it's within the Common Travel Area so no major Brexit worries! Follow our ten steps to your Irish retirement.
10 – Research
First things first, get clued up on all that buying property and retiring to Ireland involves. Read everything you can about the Irish property market, the country's economy and the culture of your new home. Reach out to people who have already bought property in Ireland to pick their brains on their experience, and give us a call on +44(0)20 7898 0549 to discuss the steps involved in the process.
9 – Location
Next, you need to establish your ideal location by working out what you want from the property you are buying in Ireland. Is this a permanent move? In which case, do you want to be in the countryside, overlooking the Atlantic, or close to an airport that can whisk you back to the UK at a moment's notice? If you are buying property to rent out for a while before you retire to Ireland – where will you secure the most rental income? Where do the tourists hang out that you want to rent your property to? Establishing your intentions for the property will help narrow down your search.
Don't let healthcare worry you in your retirement. Find out how to get medical attention abroad in our free Healthcare Guide.
8 – Time frames
Buying property in Ireland will just be a dream until you set yourself some deadlines and start to act. Set yourself realistic dates, put them in your calendar, create your 'Buying Property in Ireland' to-do list and start ticking things off.
7 – Budget
Establish how much you have to spend when you retire to Ireland. Furthermore, you must factor in the hidden costs of buying and the cost of relocating. Be as thorough as possible – the house will need to be furnished, insured and so on. The more detailed you can be with your budget, the better.
Remember to factor in the hidden costs of buying and the cost of relocating when you retire to Ireland.
6 – Find a solicitor
Additionally, we recommend finding a solicitor to walk you through the process of buying property in Ireland. Find someone established, independent from any property developer and who knows the buying process in and out.
Learn what questions to ask and how to avoid the legal pitfalls in our Buying Overseas Guide.
5 – Tax advice
Tax is a complicated business, especially when you're living and earning in multiple countries. Save yourself the worry and reach out to a tax expert who can help you establish your liabilities and ensure you aren't taxed more than you should be.
4 – Currency advice
Signing up with currency experts, Smart Currency Exchange, ensures you're ready to transfer your money to make a purchase as soon as you find that dream home. They can help you secure competitive rates – which you can lock in for up to a year, effectively setting the price of your Irish property.
3 – Estate agent
Next, establish your Irish property wish-list and find an estate agent to help you find something that ticks all your boxes. The right estate agent will be a fountain of knowledge about the local area too – don't be afraid to ask questions. The more responsive they are, the better.
2 – Viewing trip
All the necessary pieces of the puzzle are in place – now it's time to visit Ireland to view properties. Make sure your agent understands your needs before you arrive so you don't waste time looking at unsuitable properties that don't fit your budget or suit your needs.
1 – Buy your dream property
So you've found the ideal Irish property for you and employed the right people to help you make your purchase a success. There's only one thing left to do – buy that property!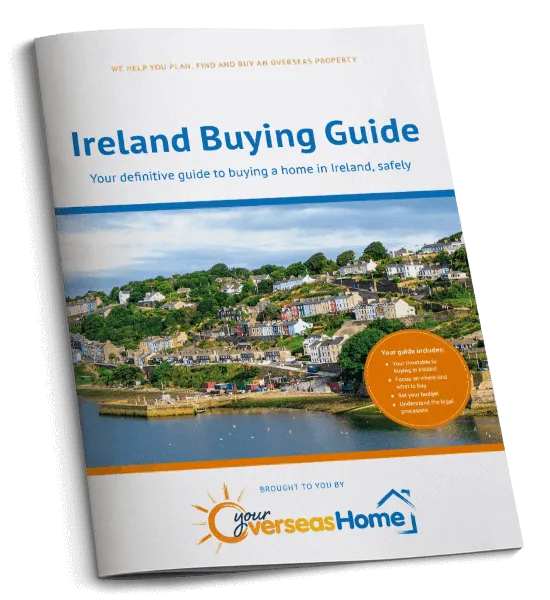 The Ireland Buying Guide takes you through each stage of the property buying process, with practical recommendations from our experts who have been through the process themselves. The guide will help you to:
✔

  Ask the right questions
✔

  Avoid the legal pitfalls
Download your free guide to buying in Ireland