Moving to Greece might seem like just a dream, but that ideal home by the beach or in a mountain village is much more affordable than many think. For less than the price of an average British property, you can get yourself a beautiful detached home in the sun. This week, we're looking at what you can buy in Greece for just €150,000.
Seaside home ready to move into in Thessaly
If you're looking for something ready to move into, this maisonette in the seaside town of Agios Ioannis could be just the answer. It is being sold fully furnished and equipped and has two bedrooms and a spacious living area with built-in sofas and a fireplace. Outside, the terrace offers wonderful sea views and the courtyard has a number of shaded pergolas.
Most property buyers may start their hunt on the islands, but there are plenty of advantages to living on the mainland, too – not least the year-round flights, so you can pop out in winter as much as in summer.
This is a very volatile time for anyone sending money overseas – but it's a risk that's easy to control. Find out how to safely move your money for a house purchase in the 

Property Buyer's Guide to Currency

.
Seafront village home in Crete
This beautiful one-bedroom home is in the traditional fishing village of Mochlos and would make a perfect holiday home. It's 'key-ready', having been recently renovated and with nearby parking. You can enjoy sea views from the main terrace, and a short walk takes you to several pebbly beaches and the village shop and tavernas. Ierapetra is thirty minutes' drive away, with all major amenities.
This is one of the sunniest parts of Europe, enjoying a whopping 3,100 hours of sunshine a year (compare that to London's 1,600, or Edinburgh's 1,400).
Mountain living near Chania
Head further inland in Crete and you'll get even more for your money. It might be further from the beach, but for €139,000, you can get a two-bedroom village home in the mountains and with your own private pool. The views are not to be missed!
The outside area is beautifully landscaped with flowers, shrubbery and wooden pergolas. Chania Airport is just thirty minutes' drive away, so you're not as remote as it might feel.
Recently renovated traditional-style home
Again near Chania, you will find this traditionally styled home, built in 2007 and renovated in 2013. With a whitewashed exterior and stone accents, it very much blends into the local village style. Inside and out, the property is in excellent condition, with landscaped spaces and paved courtyards.
Download your Negotiation Guide to find out how to get the best possible deal for your budget.
It has independent services, with its own oil heating and solar panels. For an additional price, you can purchase the adjoining plot of land, with enough space for a swimming pool.
Spacious island villa
This property is proof of how much you can get for your €150,000. Situated in the west of Corfu, 2.5km from the beach, this five-bedroom, detached villa gives you plenty of room for your €140,000. It's set on a plot of 1,000m2 and consists of a large open-plan living space on the ground floor, three bedrooms on the first floor and a further two on the second floor.
Buying in Greece
If any of these homes under €150,000 have tempted you, don't miss your free Guide to Buying in Greece. Simply fill in the form below to get your free copy. And, if you have any questions, don't hesitate to give your friendly Greece Property Specialists in the Resource Centre a ring on 020 7898 0549, or email us at greece@propertyguides.com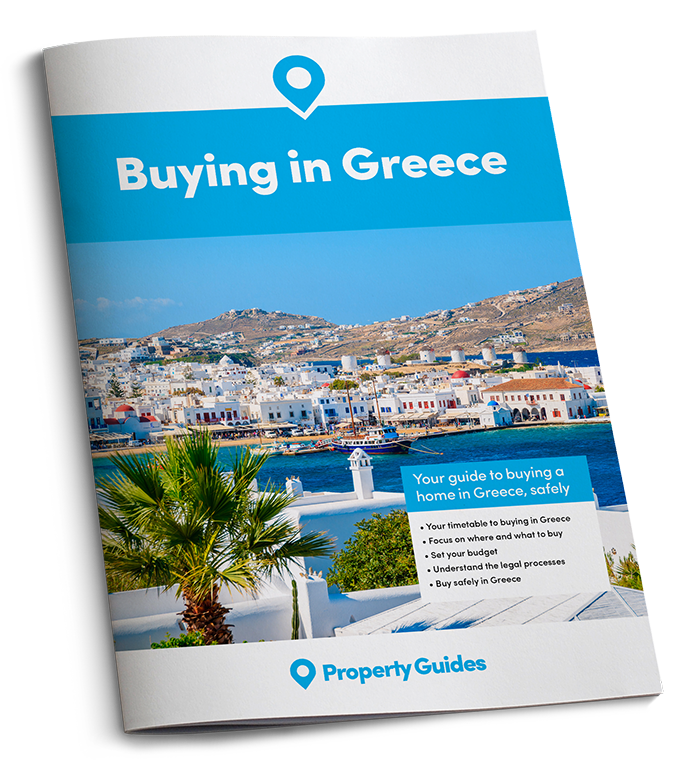 The Greece Buying Guide takes you through each stage of the property buying process.The guide will help you to:
✔

  Ask the right questions
✔

  Avoid the legal pitfalls