Moving to Greece might seem like just a dream, but that ideal home by the beach or in a mountain village is much more affordable than many think. For less than the price of an average British property, you can get yourself a beautiful detached home in the sun. This week, we're looking at what you can buy in Greece for just €150,000.
Detached villa in Crete
Greece's southernmost and largest island has been a favourite among the British for years. Its sunny climate – Ierapatra is one of the sunniest spots in the whole country – means you can easily sit outside and enjoy the weather right into November.
Don't miss your free copy of the Viewing Trip Guide to find out everything you need to know when viewing properties.
It almost feels like having your cake and eating it, as you've got the best of island life combined with the same convenience as the mainland. You're never far from a beach, with the white sands of Chrissi Island in the south particularly popular. Equally, the gorges in the west of the island and the central Lassithi Plateau are stunning locations for anyone looking for a rural home. However, the larger size of the island and its big cities, Rethymno, Chania and Heraklion, mean you have all the shops and services you need (including an M&S!).
This detached villa in Chania, surrounded by green gardens, offers stunning views over to the White Mountains. A covered outdoor terrace, leading off the sunny kitchen, is ideal for sitting out and enjoying the warm weather. The bedrooms also have balconies with fantastic views over the countryside. It's currently on the market for €149,000.
18th-century village home in the East Peloponnese
The east Peloponnese is often a bit more overlooked by overseas property buyers, but you can certainly find a lot of beautiful homes for €150,000 here. As a plus, the lack of international interest means that you really experience the local, Greek way of life. The countryside around here is beautiful, and the beaches are quiet, especially further south (with a few weeks' exceptions when the Athenians descend).
Mountainous Arcadia, celebrated in mythology as a remote, unspoilt wilderness, is the location of our second home. This immaculate stone village home was built back in the 1700s, and offers spacious rooms with lots of light. The two floors also have independent entrances, so this could be an ideal investment property, whether you want to rent two flats or live in one yourself. At the moment, it's set up as one home, with a newly renovated roof, floors and beams. It's just 2km to Agios Andreas beach.
As a plus, you can get here year-round, with cheap flights to Volos.
Whitewashed home in Santorini
Santorini is possibly Greece's most famous island worldwide. Its whitewashed homes and churches, with their bright blue roofs, grace the covers of endless holiday brochures and property glossies. It might seem somewhere completely unattainable to live – imagine waking up to the view from Thira every day – but that isn't necessarily the case! While average prices here are high, you can get a small bolthole of your own for just €150,000.
This cosy Santorini home is absolutely full of character, with whitewashed interiors throughout. It's in Megalochori, ten minutes' drive from Perissa and Perivolos beaches (and just ten minutes' walk from the bakery!). There's a small courtyard at the front of the property, leading through to the living room and kitchen inside. The bedroom at the back has a built-in bed, wardrobe, dressing table and a roof light.
Get as much property for your euro as you can with the tips and tricks from our free Negotiation Guide.
You also have a small terrace down some extra steps, and a much larger 'top terrace' above. The owners say, "We have been coming to the island for over 15 years and have really enjoyed the social life, the beaches and of course the weather."
Living it large in Corfu
The Ionian Islands and, more specifically, Corfu, have been in the spotlight recently with the huge success of The Durrells. Our fellow writer Diana is based in Corfu, and has previously written about her top ten reasons she loves her life here. The islands are quite special, with a mix of Greek and Italian cultures. As you can see, many properties around here have an Italianate influence, with pastel facades and tall, narrow constructions.
Corfu itself crams quite a lot into a small space, whether it's the historic beauty of Corfu Town, the mountainous interior or the beaches around Glyfada. Plus, there are plenty of flights from most major UK and Irish airports, so it's a convenient location for a holiday home, too.
If that's not enough, have a look at this property. It may be priced at €150,000, but, for that, you get a five-bedroom, detached house in 1,000m2 of gardens. The large open-plan living/dining space on the ground floor has a fantastic fireplace and wooden floor, while the kitchen is bright and spacious. From the bedrooms' balconies, you've got great views over the Liapades countryside.
Buying in Greece
If any of these homes under €150,000 have tempted you, don't miss your free Guide to Buying in Greece. Simply fill in the form below to get your free copy. And, if you have any questions, don't hesitate to give your friendly Greece Property Specialists in the Resource Centre a ring on 020 7898 0549, or email us at greece@propertyguides.com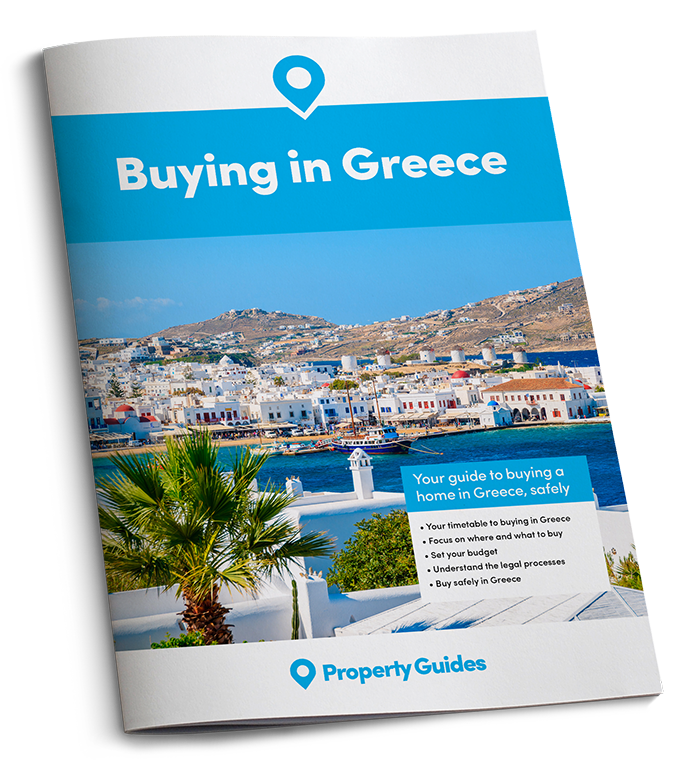 The Greece Buying Guide takes you through each stage of the property buying process.The guide will help you to:
✔

  Ask the right questions
✔

  Avoid the legal pitfalls
Download your free guide to buying in Greece