In Europe we are mercifully free from the natural disasters that devastate other parts of the world. We also have strong building codes that protect us from earthquakes. In Greece, the most seismically affected part of Europe, strict rules have once again saved many lives this week. Here is how you can protect yourself even further.
One of the Property Guides team was on holiday in Kos last week when an earthquake measuring 6.4 magnitude hit the island. He was unharmed – although several hundred people were injured and tragically, two tourists were killed – but it certainly got us thinking about how property buyers in Greece can protect themselves and their properties.
Buildings must conform to a strict Seismic Code relating to reinforced concrete, masonry and roof construction
Property buyers shouldn't be put off – everywhere has its dangers, whether floods in Britain, hurricanes in Florida, tsunamis in Thailand or earthquakes in Italy, Turkey or Greece. Statistically you're much more likely to be hurt on the roads in Britain than in a natural disaster anywhere else in the world. What is more, you can protect yourself from natural disasters. There is a reason why the similarly-powerful Thessaloniki earthquake of 50 years ago killed 50 people: we know how to make buildings earthquake proof these days and the Greek government is well prepared for seismic activity.
Earthquake codes
Greece is the most earthquake-prone country in Europe, where the Aegean Sea tectonic plate is gradually moving south west and sliding over the African tectonic plate, resulting in seismic activity down the eastern Aegean and in a ring west of the Peloponnese, south of Crete. Fortunately these are not the kind of earthquakes that generally cause tsunamis.
The government body in Greece responsible for both advising on how to protect yourself and indeed on ensuring buildings can withstand earthquakes, is the Earthquake Planning and Protection Organization (EPPO). You can read their advice here. It is in Greek, but there is a handy translation widget on the website, so you'll be able to read it. Buildings must conform to a strict Seismic Code relating to reinforced concrete, masonry and roof construction, so you need to ask your lawyer to ensure that a house you buy conforms to the rules. Greek building is of a high standard, which is why despite being so prone to earthquakes so many buildings are still standing after thousands of years!
Protecting yourself, five tips
The EPPO suggests five tips for homeowners to protect themselves from the possibility of earthquakes:
1. Get informed. Take the time and trouble to check how earthquake-prone your area is and look for local advice on what to do if one strikes.
2. Discuss with each member of your family exactly what they will do and where they will go in the event of an earthquake. Identify the safest place in each room and where to go when the shaking stops. The best advice is to get underneath a sturdy table, and if there isn't one, to crouch in the centre of the room. Ensure each family member knows where to switch off the gas and electricity.
3. Keep a household emergency kit, including battery operated radio, whistle, first-aid kit and torch.
4. Identify potential hazards, such as heavy objects stored high up, or bookshelves that have not been secured to walls.
5. Hold an earthquake drill to practice where you will go. Yes, you might feel silly doing it, but just like with airline drills, it has been proven many times that those who listen tend to avoid the panic and inertia that strike some in a crisis and are more often the ones who escape injury.
You can find more information here. The European Union also works to keep its citizens safe, and you can access their publications on improving safety in construction here.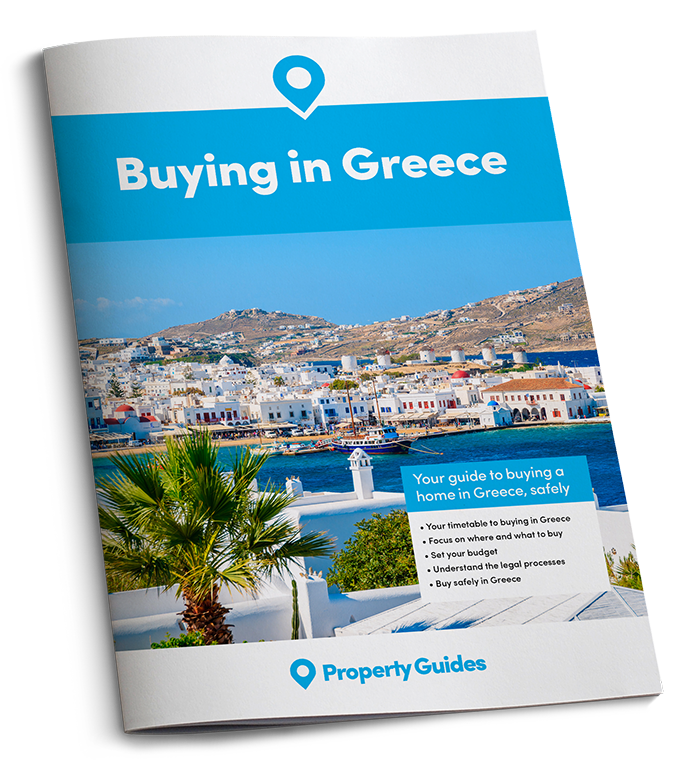 The Greece Buying Guide takes you through each stage of the property buying process.The guide will help you to:
✔

  Ask the right questions
✔

  Avoid the legal pitfalls