If you think of the Greek islands, you probably think of the Cyclades: white-washed villages with blue-domed churches, steep cliffs and sea views all around. Santorini, Mykonos and Naxos attract hordes of tourists every year, but it's easy to find quiet spots if you know where to look. Join us as we head off the beaten track.
The 'Minor Cyclades'
The Minor Cyclades, or Mikres Kuklades, might sound less appealing than their big-name neighbours. But these smaller islands are well worth a second look. Away from the crowds, here you'll find the authentic Cyclades, hardly changed for decades. Small fishing villages and uncrowded beaches are the norm – most only have a population of a few hundred.
Donoussa
Donoussa, a tiny island in the east of the Cyclades, has beautiful sandy beaches at Stavros, Kedros and Kalotaritissa. Its main settlement is Stavros, where most properties are in the traditional island style: whitewashed with green or blue shutters. Stavros is where the central port is located. It has a lively yet relaxing lifestyle, with taverns, shops, and hotels. Away from Stavros, are tiny villages amongst the traditional landscape.
The island has a small expat community – local restaurant Avli is run by a Greek-Czech couple – but it's far from much of the tourist crowds. The Poseidon Cultural and Environmental Association of Donoussa makes sure that the island's charm and authenticity remain unspoilt and that development respects its character.
If you're looking for an active retirement to Greece, this is a great place to be! The annual Donoussa Trail takes place each October, offering a challenging race through the island's four villages, across the beach and over the hills of the northern coast.
The average summer temperature is around 27ºC, but it feels comfortable thanks to the cooling meltemi winds.
Koufonisia
Koufonisia is actually two small islands, Pano Koufonisi and Kato Koufonisi, separated by just 200m of water. Pano Koufonisi is what most people refer to as Koufonisia, as the main inhabited island. Like Donoussa, it feels authentically Cycladian, in the architecture of its small fishing villages, the relaxed lifestyle and, of course, the sunny weather and delicious food.
The island is surrounded by sandy beaches. If you bought a home in Ammos, you could be within five minutes' walk of quiet, golden sands, largely sheltered from the Cyclades' northern winds. Harokopou beach is another favourite, often called Finikas beach by locals after the famous nearby restaurant. Otherwise, explore the caves for which the island is famous – its name actually means 'hollow' – by boat from the northeast marina, or try windsurfing on the northern coast.
Getting ready to view properties in Greece? Read our free Viewing Trip Guide so you know exactly what to look out for and the essential questions to ask your estate agent.
Schinoussa
Nicknamed 'the island of the sun', Schinoussa will have you spoilt for choice for beaches. It may be small, but it counts over eighteen sandy beaches on its coast. Not only that, but facilities – for a small island – are excellent for yachting. And the marina at Mersini Port is considered one of the best in the Aegean.
It is a little more 'discovered' than the rest of the Minor Cyclades, after Forbes named it as one of the six 'must-visits' in Greece, but, still, life here is laid-back and slow. The permanent population, mainly based in the villages of Chora and Messaria, is only around 260 people!
If you do want to avoid the summer swell in visitors, try being just a few minutes' drive inland away from the beaches, such as in Messaria.
Schinoussa is one of the gastronomic hotspots of the Cyclades. It is famous for its fava beans, used in dishes like favokeftedes, fava soup and 'married fava' (fava with lountza sausages, anchovies, capers or sun-dried octopuses).
Reading our Family Buying Guide to learn how joint ownership can halve the costs and double the buying power.
The Western Cyclades
The Western Cyclades are a bit busier than the Minor Cyclades. They offer the perfect balance between peace and quiet and the hustle and bustle of Santorini or Mykonos. Plus, their closer location to the Greek mainland means you can sometimes get a fast catamaran to Athens – not a bad way to travel!
Sifnos
In the centre of the Western Cyclades, Sifnos enjoys a reputation for excellent food and produce. CNN calls it 'the best Greek island for food and drink', while the Greek Tourism Authority refers to it as 'the island of flavours'. Could there be anywhere better for foodies looking for a new island life? Grilled calamari, kaparosalata, amygdolata and more are in abundance on the menus of local tavernas.
Kastro is the perfect place to buy a home if you're looking for peace and quiet. This traditional, white-washed village is completely car-free. Like many island villages, it has an inland 'centre' and then a small port, which is where you'll find a number of seafood restaurants and bars. For luxurious period mansions, many in a neoclassical style, head to Artemonas (where you'll also find some excellent bakeries and patisseries!).
Kea
Kea, or Tzia, is one of the northwesternmost islands of the Cyclades – just an hour by ferry from Athens' Lavrion Port. It's quite unique among its neighbouring islands, as it has a bit more of an Italian flavour – the architecture certainly shows the influence, with multistorey townhouses with red roofs and pastel facades.
This is a great place for hikers and walkers, as the countryside is much greener than most of the Cyclades. The capital, Ioulida, has a Venetian-era castle and several interesting museums. Within walking distance, you'll find the long, sandy beach of Korissia. The island as a whole is a popular destination for scuba diving – time for a new hobby in retirement?
Tsipouro, a pomace brandy, is the local drink, made with the grapes from the many vineyards dotting the island's hillsides. The same hillsides are crisscrossed with old mule tracks, now restored and waymarked for ramblers.
Kea is very close to Athens. Therefore, if you would like to take trips around Greece while you are living there, Kea could serve as your base.
What is the property market like in the Cyclades?
Generally, in the Minor and Western Cyclades, homes sell for around €150,000, although you will find the odd place advertised at as much as €450,000 – this will often be down to excellent views or a recently done renovation. In comparison, the better-known spot of Mykonos has starting prices of €250,000.
Download your Negotiation Guide to find out how to get the best possible deal when buying in the Cyclades
Speaking of renovation, you'll find a lot of restoration projects, and sometimes half-complete homes. These are put up for sale by younger family members who have inherited them but have left to live in the city.
How accessible are these parts of the Cyclades?
There are two sides to every coin, and the peace and tranquility of these islands does mean, on the other hand, that you can't just hop on a direct flight from Birmingham or London and be there in a couple of hours. However, don't most of us move to Greece for a slightly more old-fashioned pace of life? And isn't arriving at your island home by boat from Athens across the Aegean just the right way to do it?
The Cyclades have an extensive ferry network radiating out from Paros and Naxos, as well as fast catamarans (and somewhat slower ferries!) from the Athenian ports of Piraeus and Lavrio. However, here's a tip: if you arrive by plane into Athens, skip the former two ports and take a ferry instead from Rafina, which is much closer to the airport.
If you arrive by plane into Athens, skip Piraeus and Lavrio and take a ferry instead from Rafina, which is much closer to the airport.
Alternatively, fly into Mykonos, Paros, Naxos or Santorini with Olympic or Aegean Airlines and take a local ferry from these to your island of choice.
High-speed catamarans take about two to three hours from Athens, while slower car ferries take around five to six hours to the western isles and six to eight to the furthest ones.
Public transport on the islands themselves is negligible, but, with such a small size on most of them, it's not particularly necessary. You'll find most things within a short drive or walk!
Buying a home in the Cyclades
If you're inspired to buy a home in these off-the-beaten-track spots in the sunny Cyclades – and have your very own slice of undiscovered island paradise – then don't miss your free Greece Buying Guide below. You'll find out how the purchase process works, what the legal steps to take are, and what you should know about finance (including sources of capital you might not have thought of!). What are you waiting for?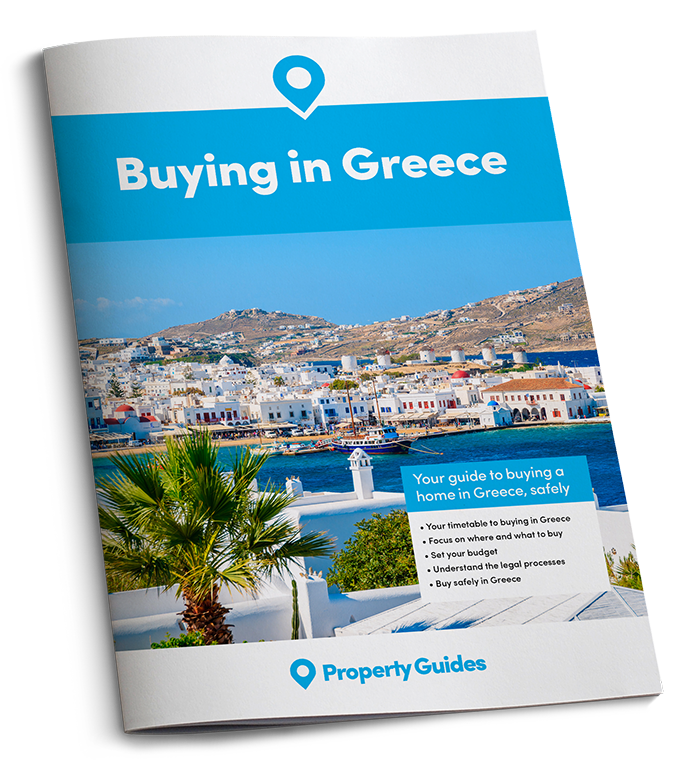 The Greece Buying Guide takes you through each stage of the property buying process.The guide will help you to:
✔

  Ask the right questions
✔

  Avoid the legal pitfalls