Congratulations! You have just bought your dream home. The first thing to do now is to think about maintenance, from pools to gardens to guest services for holiday lets – how do you keep everything? Here's how to manage a property in Greece, whether you're living there or renting it out.
Written by Diana Giannoulis, of Corfu Home Finders.
Finding maintenance people
Of course everyone's needs are different. You might be coming to live permanently, in which case you will probably care for the property yourself. However, you will still need the occasional services of perhaps an electrician/plumber and maybe a gardener/pool person. All these people are readily available, but we tend to feel it never hurts to use local professionals – if you have a power cut at midnight you need to know that your electrician/plumber will pop over and sort out your problem!
If you have any questions abou buying in Greece, give the resource team a ring on +44(0)20 7898 0549 or email 

[email protected]

.
Once you have your first helper, be it a cleaner/pool cleaner/gardener or whatever, you will probably find that the network starts from there. The electrician you bring to do an installation for you will invariably have a working relationship with a plumber who in turn knows someone who does pools and gardens, and who then knows someone who does housekeeping. This generally applies whether you are using local expats or Greeks, and this probably depends to a certain extent on the area in which you have chosen to buy.
Many agents, such as Corfuhomefinders, have a local network of people they can recommend to perform these services, so their experience can help you right from the moment your purchase is completed.
Looking after your property when you're away
You might only be going to use your property intermittently, but it is still a good idea to have someone to keep an eye on it whilst you are away. If you have a cleaner/gardener/pool cleaner, they will usually undertake to do periodic checks on the property during your absence. It always helps to have someone pop in a couple of times a month, or after a storm or heavy rain. This just makes sure the property is still secure and not suffering any weather damage. You can also have an arrangement with your helper to prepare the property for your arrival, so that you walk into a welcoming home, and don't spend the first part of your stay doing a spring clean or cutting back a jungle in the garden!
Using a third party to manage a property in Greece for holiday lets
If your property is going to be a holiday let, then obviously your requirements change. There are a variety of options for operating your letting investment – you can do your own marketing of the property, deal with guests directly and simply have local management to look after them whilst they are in residence. Provided you can fill the property, this is probably the most lucrative way of handling rentals, but it is time-consuming and must be done efficiently.
Alternatively you can let through a specialist tour operator, who will either market your property 'on guarantee' where they will pay you a fixed amount, and the property is effectively theirs for the contracted dates. They pay you whether they achieve lets or not. Plus, it is up to them to make all the arrangements for the guests, including provide 'rep' (now often called concierge) services whilst the guests are in residence. Under this arrangement, your responsibility is simply to make sure that the property is kept up to standard for each guest arrival.
If you are new to the holiday letting business, the above is a way of starting gently. If you work with a villa operator for a couple of seasons, it will establish a letting track record and reviews for your property. Plus, it'll let you work out for yourself the best ways of moving on for the future. If you work exclusively with one operator on a 'guarantee' basis, you should expect to get a considerably lower rate than if you do your own marketing and reservations.
Another option with specialist tour operators is an 'ad hoc' arrangement where they advertise the property for you, and manage all the payments, but you are only paid for bookings they obtain. It is usually possible to make an arrangement with several companies for this, which helps to cover diverse areas of the rental market. There are also local travel agents who will market your property through their contacts and websites.
Managing a holiday let property yourself
Even if you do your own reservations, you will need someone to prepare the property, clean and ensure that all services are working and all equipment in place. Remember, each new guest arriving should feel like the first guest arriving, and first impressions set the tone for their entire holiday. If the kettle or coffee machine look a bit used, change them. If the wifi is prone to cuts – get it sorted (probably one of the most important issues these days)…
Nowadays, there are many rental properties for travellers to choose from and you need to make sure that your reviews reflect the care you take to keep your property up to an impeccable standard. Whether it is in a high-end villa, a quirky village house or an apartment, anything you advertise as being in the property must be there, and be in excellent working condition.
Appointing a property manager
Most non-resident owners will employ a property manager (PM) who will oversee the cleaning and maintenance. They'll check either with the guests or the company representative to make sure that the guests are happy in their holiday home. The PM would normally be paid a retainer to manage a property in Greece, plus a per-hour fee for additional services during the rental season.
Payments to cleaners/pool people vary according to the amount of work involved and the frequency – you will pay a higher hourly rate for someone who only comes once a week for a few times during the season, than for someone for whom you can guarantee fixed hours/days of work throughout the letting season.
Not quite found your perfect property yet? Have a read of our Viewing Trip Guide so you know precisely what to look out for.
Rates usually range from approximately €7-€12 per hour. Now, there is also the opportunity of one of the professional cleaning companies who have staff to comprehensively manage the servicing of properties. They supply all staff, laundry, cleaning materials, and simply invoice on a monthly basis for 'full villa services'.
Whatever your plans for your property, and however large or small a scale, there is absolutely no need to worry about how you are going to look after it. Wherever you are, there are plenty of people available to help to whatever level you need!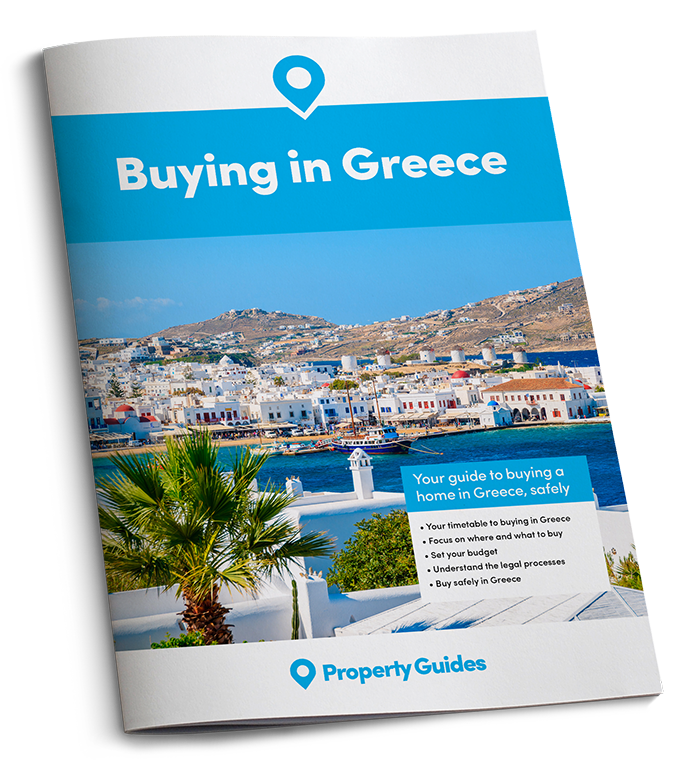 The Greece Buying Guide takes you through each stage of the property buying process.The guide will help you to:
✔

  Ask the right questions
✔

  Avoid the legal pitfalls