Most people, when they think of Greece, think of its islands, but Greece has even more to offer. The Peloponnese has everything: sea, towns and mountains, and is more accessible from Athens throughout winter. Long-term Greek resident Lynne Evans explains all…
There is a way of living on the mainland while feeling that you are on an island. The Peloponnese has a real island feel to it and is to all intents and purposes an island, separated from the mainland by the Corinth Canal.
If you have never visited this part of Greece, you really should, before you retire. You might find your dream retirement home there, or at least the place where you'd like to spend your retirement years.
Following Sir Patrick Leigh Fermor
The first modern travel writer, and inveterate traveller, Sir Patrick (Paddy) Leigh Fermor (1915 – 2011) finally settled in Kardamyli after travelling throughout Greece with his photographer wife, Joan Eyres-Monsell. He built a house in the quiet village and stayed for the rest of his life.
You might like to get hold of his book, 'Mani : Travels in the Southern Peloponnese' [reprinted 2006] in which he describes the landscape in this way –
'"The wide ridge was jagged with broken towers like the spikes along an iguana's back and as it swept upwards to the bluff they spread and climbed with it, growing in number and height. An angular stook of towers was rooted in a cloud of cactus and olive, ending on the brink of the steep fall of the ledges…"
It is still like this, so there are many prickly pears to be had all through the summer months. You can find them everywhere, but take care about their sharp spines. They are delicious so try at least one.
I'm not suggesting that you relocate to Kardamyli, as it is now crawling with tourists thanks to being made famous by Fermor, who is doubtless turning in his grave because of what Kardamyli has become. In summer you have to walk on the road as the narrow pavements are overcrowded.
However, there are many quieter villages where you could buy a retirement property.
Where are the best places to buy in the Peloponnese?
Mani and Lakonia
The landscape of Mani and Lakonia is dotted with stone towers, some dating back to Byzantine times. At the time of writing, there are several stone towers for sale from 145,000 Euros upwards. You can pick up a charming stone house from as little as 39,000 euros.
Read the Emigration Guide to find out everything you need to know about buying overseas.
Of course, there are modern houses built in the old traditional way too. You might want to look at detached houses or maisonettes, and there are currently quite a few for sale in Lakonia for upwards of 150,000 euros.
The Mani/Lakonia region is mainly inland, with wonderful landscapes, ideal if you've always wanted to retire to a rural retreat.
If you look up as you drive along the main Sparti – Gytheio highway, you'll see square white buildings. These, I found out eventually, are monasteries. You can visit them, but they may be closed, and women may not be allowed in. As the roads up to them probably have dangerous double bends, as well as them being closed, it's probably best to give them a miss.
Gytheio
Gytheio is a lively coastal town with lots of tavernas serving fish and seafood as well as meat and vegetarian dishes. My favourite taverna, Treis Laloun & Dio Chorevoun, serves all these dishes, and is tucked away at the end of the promenade. In colder weather the customers are protected from the elements by a transparent windbreaker.
Look out for the floating duck 'house' in the harbour.
You can sit in the harbour and people watch here and if it's really cold and windy, you can eat inside.
If you like Gytheio, you might want to look for a property there, although there are few under 100,000 euros. While researching this article, I found one, 100 square meter apartment, for 65,000 euros. There were some outside Gytheio for around 20,000 euros, but they were in need of modernisation.
There are many sandy beaches around Gytheio, one of which is protected because it is a loggerhead turtle [kareta kareta] nesting site. You might want to help conservation efforts if you decide to live in or near Gytheio.
Most people go to the beach at Mavrovounis, but this isn't my favourite one.
One of the best beaches near Gytheio is Varthy. The road to it takes you past several towers and a few tavernas. However, my favourite one is more or less on the beach.
One of the best beaches near Gytheio is Varthy. The road to it takes you past several towers and a few tavernas. However, my favourite one is more or less on the beach. Sometimes you can swim with ducks, who seem to enjoy the warm water which goes into the sea from a hidden spring.
The people who own the taverna supply it with freshly caught fish, although despite the lack of overheads, a fish meal is the same price as you would pay in Athens. It is excellent fish though and it can be washed down with tsipouro or a carafe of wine. You can relax outside the taverna under the huge eucalyptus trees that grow at the edge of the beach. In winter, you can sit near the log fire inside.
You can buy olive oil from the owners of the taverna as they produce it. If you can find a small producer of olive oil, try it, then buy it if you like it.
Reading our Family Buying Guide to learn how joint ownership can halve the costs and double the buying power.
Kalamata
Kalamata is the place that is famous for its olives, particularly the large, succulent, black ones. They really make a Greek salad, along with the oil of the Peloponnese. The tomatoes from the Peloponnese are excellent too. There's nothing quite like a simple dish of tomatoes, liberally doused in olive oil and sprinkled with oregano. The oregano grows profusely in the area.
Residential properties are relatively cheap in Kalamata. That's because there are apartment blocks in the city. You can buy one for 90,000 euros. It's a 1-bedroom apartment on the seafront of Kalamata. Larger properties near the beach are more luxurious and expensive.
There's an international airport at Kalamata, which is busiest during summer. You can fly from Athens, for example, direct to Kalamata at any time of year.
Sparti
Sparti in Lakonia, is a typical modern Greek town with a variety of accommodation, including apartment blocks, detached houses and villas. It is close to the ruined Byzantine city of Mystras, the Tayegetus mountains, Mount Parnonas and the Diros caves. It is on the Spartan plane which lies between Mount Parnonas and the Tayegetus mountains.
There is a statue of Leonidas, the famous king of the Spartans in front of the football stadium, which reminds modern Spartans of their illustrious history.
All of the places mentioned are worth visiting if you have time.
Find out more about financing your dream home in Greece in our newly updated guide,

How to Pay for It

.
There is an olive museum in Sparti and the olive (and its delicious oil) is celebrated in an annual festival (August) in the region.
I buy my oil from this region, as well as feta, goat meat and olives.
I buy my oil from this region, as well as feta, goat meat and olives.
When I originally started looking for a house to buy in the Peloponnese, I concentrated my efforts on buying a property near Sparti, but there were few for sale. People in Greece hang on to family properties and that seemed especially true in Lakonia. The ones that were for sale in my price range (under 100,000) were over-priced and dilapidated. Land is much more expensive than properties, it seems.
There are many small villages near Sparti, one of which is Kladas, where there are apartments for sale starting at around 45,000 euros for a 53-square-metre apartment.
Monemvasia
Monemvasia is a picture-postcard place on a promontory, linked to the mainland by a causeway. It was built in mediaeval times and was hewn from a huge rock in the sea. The town was built to protect it from marauding pirates, so it is not visible from the mainland.
When I was house hunting, properties in the area seemed cheap, but now they have shot up in price. I didn't want to live there because of the influx of tourists in summer. However, I understand that the romantically inclined might be drawn to Monemvasia.
A brief history
2021 celebrates the 200th anniversary of the Greek War of Independence. After 400 years the Greeks finally freed themselves from Ottoman rule. The uprising was plotted and begun in the Peloponnese. In May 1821, Petros Mavromichalis or Petrobey, from Areopolis (near Gytheio), raised the Greek flag of war in the town's main square and so the uprising began.
For more information about retiring to Greece, don't hesitate to give our free Resource Centre a ring on +44(0)20 7898 0549 or email 

[email protected]

.
The people of Mani were famous for their fighting spirit, and certainly, the 19th century Maniots had this in spades. Kolokotronis, one of the leaders of the revolution was imprisoned and tried as a traitor after the war. He was held in the Bourtzi and Palamides prisons in Nafplio. Their battle cry was 'Freedom or Death'.
When you travel around Mani and see the wild ruggedness of the landscape, you will begin to comprehend the rebellious spirit of the people. Greeks are a fairly anarchic lot, but the Maniots are real rebels, on the whole, I've found. They are also hunters and you can often find wild boar dishes on menus in rural tavernas in autumn and winter. Try the wild boar stifado if you get the opportunity.
There are lots of other interesting places to explore in the eastern Peloponnese region. If you have time, travel around it leisurely before you find the property of your dreams. Even if you don't buy a home in this area, you will probably return again and again, as do I.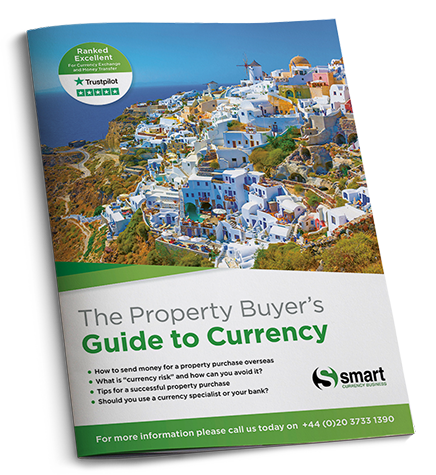 The Property Buyer's Guide to Currency will help you:
✔

  Understand the currency markets
✔

  Protect your property budget
✔

  Use a Currency Specialist
✔

  Learn from other overseas property buyers
Download the free Property Buyer's Guide to Currency