If you've spent holidays on the islands, you may believe everyone speaks English. You might be wary of buying a property on the mainland because fewer people will speak English in the countryside. Actually, neither of these are 100% true! However, English is still a second language, and learning Greek will open so many doors (with the odd hilarious mistake along the way).
How much English is spoken on the mainland?
If Greeks work in the tourist trade, they speak English or another European language. That may give holidaymakers the impression that the islanders all speak English, or other languages. However, most of the people employed in restaurants, bars and so on are seasonal workers who return to the mainland in September or October for the winter. That said, the locals will more than appreciate you making the effort in learning Greek, and your life here will be very much enriched by the connections you'll be able to make.
Find out more about financing and paying for your dream Greek home, How to Pay for It.
In other words, people on mainland Greece are as likely to speak English as those who spend their summers on the Greek islands.
Obviously, there are many more people in Athens or Thessaloniki than on an island, but even Athens can have a village feel to it. When you live in the suburbs, each one is different.
Do you need to learn Greek in the cities?
Let's take Athens as an example. The southern suburbs are home to many expats, and really, living in, say, Glyfada., is much the same as living on an island. Many people speak English, and you rarely need to speak Greek. However, if you learn even a little Greek, you'll find that Greeks appreciate you trying to communicate in their language.
You won't suffer if you don't speak Greek, but you will miss out on opportunities to chat with the locals, who are a very colourful, interesting bunch. You can learn so much from them and gain local knowledge, such as where to buy the best spanakopita [spinach pies] and who can fix your roof and so on. Locals are a mine of useful information and to tap into this all you have to do is ask.
An ability to read and write Greek is very useful, not least so that you can understand and fill in the official forms you will have to cope with. Of course, you can hire an accountant to fill in your tax forms, but how do you know which is an accountant's office if you can't read signs, for example.
These days most civil servants speak English, so you have access to help in the local tax office. Your lawyer should also speak English and he or she can help you navigate Greek bureaucracy to a certain extent. However, at some point, you will need to cut free and cope on your own.
I could read and write Greek when I got here, as I learned ancient Greek at school. I had a shock when I first heard the language though, as it had changed so much!
I could read and write Greek when I got here, as I learned ancient Greek at school. I had a shock when I first heard the language though, as it had changed so much! I had to learn modern Greek, Demotiki, although I could speak with lawyers and judges, as they speak Katharevousa [high Greek] and that was close to ancient Greek.
Where can you find Greek classes in Greece?
If you live in Athens, the Hellenic American Union has classes for all levels, from beginners to proficiency. There are also other providers. Fees vary, so you'll have to do some research. There are usually Greek lessons in other towns in Greece, and if you visit the local frontisteria the staff will advise you about classes. Of course, if you want private lessons, they will provide them, either at the language school, or in your home.
Adults usually need literacy skills to learn effectively, while children may not. Bear in mind that lessons should not last more than half an hour without a break. You actually can only absorb around 20 minutes of information.  Expect to pay anywhere between 8 and 20 euros per hour, depending on class size and the teacher's qualifications and experience.
It's a good idea to investigate classes at your local adult education centre before you move to Greece. These are usually conversation classes, but they are reasonably priced as they are subsidised by the local education authority.
If you're looking for property in Greece, find out what to keep an eye out for when you start seeing them in person with the advice from our Viewing Trip Guide.
If you intend working in Greece, you really should learn the language so that you can communicate more easily with your boss and colleagues, as well as others. We Brits are notorious for being monolingual, but why should we expect people to speak to us in English? It shows a willingness to fit in to the new society if we make an effort to learn the language of our host country.
Don't be afraid of mistakes!
I made some hilarious mistakes when I first got here, one of which was when I was in a small taverna in rural Crete. I managed to order two drinks, but when it came to ordering black coffee for myself, kaϕé sketo, I ordered a skata coffee [a shit coffee]. The owner of the cafe was insulted, and, realising my mistake I began to apologise, but not in Greek, in Turkish. That made matters worse, until the local priest, who was virtually falling off his seat with laughter, stepped in to help. The taverna owner saw the funny side and joined in the laughter. So all was well. She had thought I was a snooty Athenian who was casting aspersions on her establishment. You'd think I had learned my lesson, but sad to say, I still almost make the same mistake. Now I catch myself [most of the time] before I say it.
I'm far from native-speaker standard, but I am getting better, and I've certainly made quite a few friends because I try to speak Greek.
I like the Greek language because I can now work out the roots of the words and see how they come to get their meanings. I ask the people I speak with to correct my mistakes, and they do. When I get home, I write down the correct phrases and their meanings and practise them. I'm far from native-speaker standard, but I am getting better. I've made quite a few friends because I try to speak Greek, and we've all had quite a few laughs about my mistakes.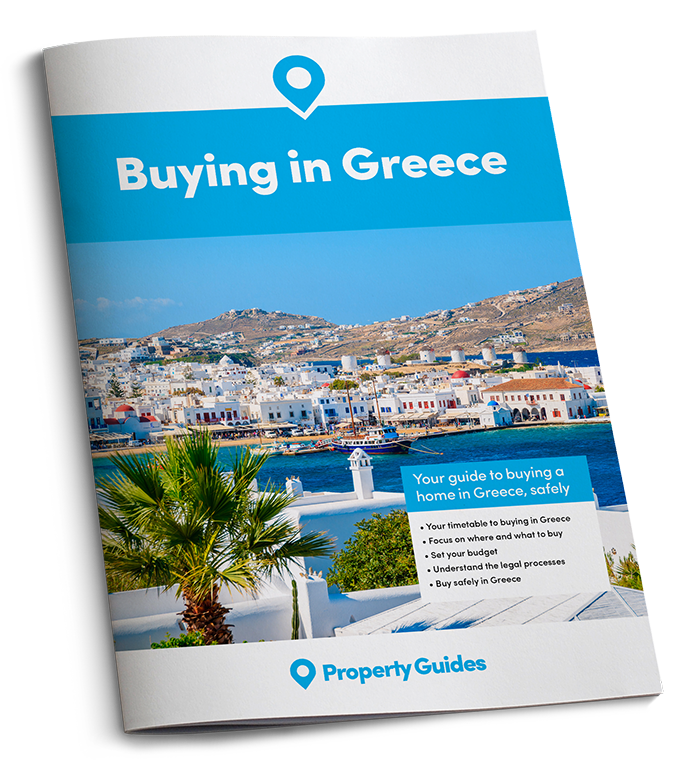 The Greece Buying Guide takes you through each stage of the property buying process.The guide will help you to:
✔

  Ask the right questions
✔

  Avoid the legal pitfalls