Moving to Australia with children could be one of the best decisions you take for your family. The warm weather, blue skies and long summers mean children (and adults!) are more likely to be out and about, enjoying a much more active lifestyle, whether it's long days spent swimming at the beach or a weekend bush-trekking in the Outback. However, moving to the other side of the world is a big step – so how can you make it a success?
Embrace the Australian lifestyle
Children living in Australia will benefit enormously from the open space, proximity in many cases to the beach and ocean and the many parks and green areas in towns and cities. This can be a fantastic chance for them to take up a new hobby – not only taking advantage of the weather but also giving them something to look forward to if they ever feel a little homesick.
Knowing how to drive a bargain when buying could help you get more house for your dollar. Read our guide, How to Negotiate Abroad.
If you arrive in the summer holidays, you've got a good length of time for your children to settle in before starting school, but they might find it difficult not having friends at first. Getting involved in your local community and attending events and clubs can be a great way for all of you to meet people.
Make the most of the education system
Australia's education is world-class, but has quite a few variations between different states and territories. Generally, to enroll them, you'll need to provide a birth certificate, proof of address and visa copies if applicable. Make sure to double-check with your local education department on their requirements. Remember if you're moving to Australia with children that the school year runs from January to December. The summer holidays and Christmas holidays are one and the same!
The education system itself is quite broad, similar to the UK. Your children will have ample opportunities for extracurricular activities, in sport, music, drama and more. In the classroom, the emphasis is on building skills, rather than rote learning and memorisation.
Choose your arrival time
When you move to Australia will depend on your personal circumstances, but it can be good to time it around the Australian summer. If you're moving to Australia with children, it can often be less disruptive to have them start school at the start of the year than in the middle. This means being in place around December, possibly after Christmas, ready for them to start in January.
That way, you can all also enjoy the summer holiday together, exploring and getting to know your new home.
Find the perfect home
Australian property has a reputation for being expensive, but, if you choose your area carefully, that doesn't need to be the case. Many people moving to Australia with children choose to be in a further-out suburb in the major cities. That way, you can easily get into the centre for work via train, but you and your children can make the most of houses on a much larger plot.
You'll often find the tendency in Australia is for a large building plot, but also a large home, with smaller actual outdoor space than you might expect. But, again, further out, this trend is less common.
Planning a viewing trip to Australia to see properties? Find out what you need to know with our Viewing Trip Guide.
Sometimes, it can be worth looking at satellite cities. Sydney, for instance, has an average price of over $1 million for a three-bedroom home. However, head down the coast to the city of Wollongong, and a three-bedroom house costs just $600,000 in the suburb of Port Kembla.
Australia's 'cultural capital' of Melbourne is another expensive city. However, if you look for property a bit inland, in the green Yarra Ranges, you can pick up a three-bedroom house for $491,000. Wyndham, just forty minutes' drive from the CBD, has houses going for $400,000.
Brisbane is surprisingly affordable compared to other major cities. Even suburbs close to the centre, like Morningside, have an average price for a three-bedroom home of £700,000.
The same goes for Adelaide, with central beach locations like West Beach having relatively affordable prices. A three-bedroom home here goes for $700,000. In Hallett Cove, you can buy one for just $410,000.
Perth, perennial favourite of British expats, is by no means cheap on the waterfront. Being a short drive from water immediately makes prices more affordable. Willetton, for instance, has an average three-bedroom price of $610,000.
For more information on finding a place to live, don't miss our article on affordable homes in Australia.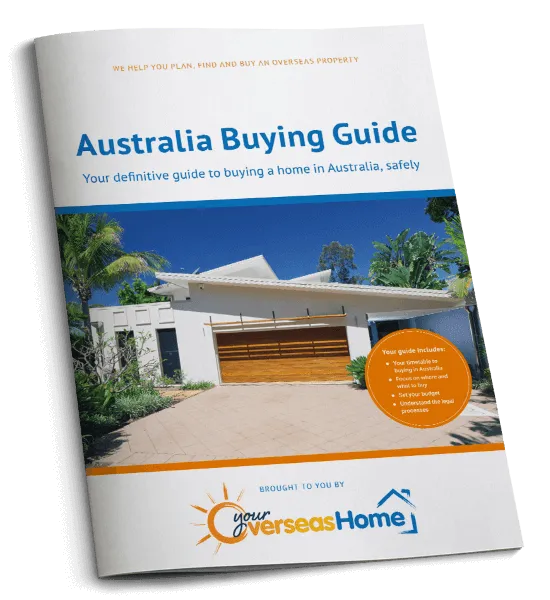 The Australia Buying Guide takes you through each stage of the property buying process, with practical recommendations from our experts who have been through the process themselves. The guide will help you to:
✔

  Ask the right questions
✔

  Avoid the legal pitfalls
Download your free guide to buying in Australia