Did you know Australia has an Easter Bilby not an Easter Bunny? Find out other unique traditions of the Australian Easter holiday.
Like everything in Australia, the Easter tradition is a little bit different. Still an important Christian holiday where the resurrection of Jesus Christ is celebrated, Australians choose to celebrate Easter in various ways depending on their religious beliefs, interests and hobbies. Australia (being located in the southern hemisphere) means Easter falls during autumn; this coincides with school holidays for the kids and most parts of Australia enjoy some of the best weather of the year. Because of this, Easter often involves outdoor pursuits and adventure spent with friends and family. Here are some of the ways Australians tend to celebrate the Easter holiday.
Download your free guide to moving to a new home in Australia and you'll receive a monthly newsletter covering everything you need to know about making this life-changing move.
Attend a Church service
Being the most significant holiday on the Christian calendar, and with 61% of the Australian population identified as Christian, many families attend at least one church service over the Easter period. In Australia Easter begins on Good Friday which marks the crucifixion of Jesus Christ. This is considered a day of mourning for many Christians and meat is often avoided out of respect. The Easter holiday ends on Easter Monday, when a large family meal consisting of roast lamb, beef or chicken accompanied by roasted vegetables is often enjoyed.
Celebrate the Easter Bilby
The iconic Easter Bunny is still celebrated in Australia but many people prefer to acknowledge the Easter Bilby instead. The Bilby is a small rodent which is endangered in Australia, and many animal welfare groups use Easter as a way to raise money and awareness for endangered species such as the Bilby. Some groups of Australians dismiss the more popular Easter bunny as the rabbit is considered a bad omen, especially by farmers who faced crop devastation due to rabbit infestations. The tradition however is still the same with the Easter Bunny (or Easter Bilby), hiding chocolate eggs and sweets for children to find.
Festivals and Cultural Events
Throughout Australia there are many cultural events and festivals that take place over Easter. In Sydney the Royal Easter Show takes place where the best produce in the nation is showcased. There are also rides, exhibits and farm animals for the kids. Many charitable and cultural organizations have Pancake Day to mark the beginning of Easter long weekend. Other cultural festivals such as the National Folk Festival in Canberra, the Australian Gospel Festival in Queensland, the Perth International Arts Festival in Western Australia, and the Byron Bay Blues and Roots Festival in Northern New South Wales take place over Easter.
Many charitable and cultural organizations have Pancake Day to mark the beginning of Easter long weekend
Outdoor Adventure
Many Australian families use the four-day weekend to escape their everyday life and spend time in the great outdoors. This often involves pitching a tent or a camping trailer by a river or the beach with friends and family. It can also involve long days spent at the beach, playing sports at a park or travelling interstate to visit loved ones.
Be in Australia by next Easter! Moving Down Under is just a series of small, achievable steps. Anyone can do it! Organising your finances is a vital part of that, so read the Currency Guide to Emigration. It's free to download. 
Gathering and Food
Besides the traditional Easter roast dinner, hot cross buns are an Easter tradition in Australia. These buns flavoured with dried fruit start making their way to the supermarket shelves in the weeks leading up to Easter and it's safe to say almost every household enjoys them over the holidays. Colourful chocolate Easter eggs and an abundance of other sweets are consumed in large quantities over Easter. The popular game of egg knocking is played where a participant holds an Easter egg and taps it on another's egg, this continues until someone's egg shell cracks.
Okay, had enough chocolate? Next stop is winter in Australia. What will that hold in store for you? Read about winter in Australia here.
Want more information on Australia, like what it's like to live here as a British expat or retiree? Make sure to check out the Australia Buying Guide for everything you need to know about moving to Australia, buying property and transferring money overseas.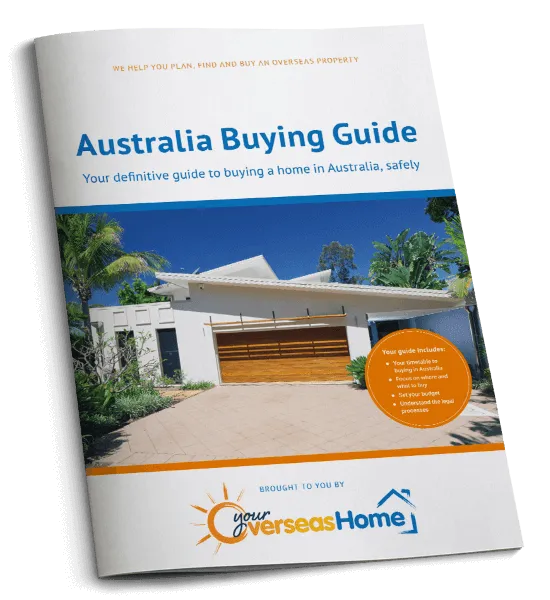 The Australia Buying Guide takes you through each stage of the property buying process, with practical recommendations from our experts who have been through the process themselves. The guide will help you to:
✔

  Ask the right questions
✔

  Avoid the legal pitfalls
Download your free guide to buying in Australia