Tops tips for settling in to life in Australia
The Australia Property Guide consider all the information you need to know to transition into life in Australia quickly and easily.
No matter how excited you are to move to Australia at some point during the experience you are likely to feel stressed if not overwhelmed by the process. Packing your belongings, saying goodbye to loved ones and moving to the other side of the world is an emotional experience. You are likely to feel excited, sad, worried and scared (sometimes all in the course of the same day). Expecting to experience these emotions and knowing that they are normal can help deal with the situation. Although the reality of your new life will begin settling in and eventually feel normal, it is important to move through the emotions and accept whatever you are feeling.
Here we have compiled some simple tips to settling in Australia that will not only help relieve stress, but will hopefully have you quickly on your way to feeling at home in your new environment.
Finding Work
If you plan on finding work in Australia, you will notice many job postings online on websites such as SEEK and INDEED. It is also worth contacting a recruitment agent that specialises in connecting job seekers with employers in your industry. Of course before seeking employment make sure that you have obtained a valid work visa.
There are many classes of work visas that should be considered if you intend on moving to Australia for work related purposes.
There are many classes of work visas that should be considered if you intend on moving to Australia for work related purposes. The skilled visa category includes temporary skilled visas, skilled independent visas, skilled nominated visas and skilled regional visas. The free skill select assessment tool is a great way to assess your skill level and view the list of in-demand professional skills needed in Australia.
Employer sponsored visas are another route for immigration. This is when an Australian employer applies to sponsor you. There are certain conditions and restrictions attached to this visa type. For more information, see the Department of Immigration and Border Protection website.
Connecting Utilities
After moving into your new place one of the first things you will need to do is contact your utilities providers – power, gas, water, internet and television being the predominant ones. You will need identification documents when connecting utilities such as a driver's license or passport, and confirmation of your current address. Cable television (called free to air) is free in Australia and features +20 channels. Free to air channels contain most of the Australian news and primetime shows, so many people don't opt to purchase satellite TV although this is required if you wish to view international and speciality channels.
For telephone services many households opt to forgo land-lines, using mobile phones instead. Of course this depends on the area you are living and the type of mobile coverage you have. Telecommunications providers like Telstra and Optus offer great packages for mobile and internet plans. Internet in Australia is high-speed broadband and is some of the best in the world.
For telephone services many households opt to forgo land-lines using mobile phones instead
Connecting your power, gas and water will differ depending on State and even region. Your real estate agent will be able to provide you specific contact details and instructions on setting up these services after you arrive.
Connect with Community Members
Before you arrive in your destination, you can begin reaching out to community members through online community forums, Facebook groups and by reading electronic copies of local media publications and newsletters. By doing this, you will feel like you already have some connection with the community, and will have an idea what the hot topics and current events are. Once you arrive, seek out groups and clubs that are of interest to you. If you have young children, try joining a play group. If you love gardening, get a plot at the community garden. By making an effort to connect with groups that have shared interests, you are more likely to find friends once you arrive.
Get to Know Your Neighbours
Australians are a friendly group of people and there is a good chance upon moving into your new home, you will have many people in the neighbourhood come by and introduce themselves. It's equally acceptable in Australia to make the first move in meeting your neighbours. Depending on your comfort level, a casual conversation while out in the lawn or knocking on your neighbour's door to introduce yourself are both totally acceptable.
Taking Your Pet
Bringing your pet to Australia is possible but they must undergo quarantine in accordance with the Rabies Prevention Law. In most cases, a 190-day quarantine period must be adhered to, with 180 days of the period taking place in your home country and 10 days taking place in Australia. Certain microchipping and vaccination schedules must be met to have your pet eligible to enter Australia..
Lifestyle
The lifestyle in Australia has something for everyone, but overall it is very laid back. The capital cities of Sydney, Melbourne and Brisbane offer a world-class cosmopolitan feel paired with sunny warm weather and a high standard of living. City suburbs, towns and smaller cities may exhibit an even more relaxed atmosphere. Overall the quality of life in Australia is very high and those who live there enjoy high incomes, many holidays, low crime rates and free or cheap social and public services. Britons moving abroad to Australia will certainly enjoy the change of pace and how warm and welcoming the Australian people are.
The lifestyle in Australia has something for everyone but overall it is very laid back
Culture and Customs
Australia was originally settled over 60,000 years ago by the Australian Indigenous people, whose culture is still strong in many parts of the country. After several waves of migration the British discovered Australia in 1770 and British culture began to permeate much of the country. Although British culture is still readily apparent, America has strengthened its influence on Australia as have the cultures of many migrants from around the world that have settled in the last few centuries. Today, Australia is one of the most multi-cultural countries on the planet, and this is reflected in the modern day customs and cultures.
Food and Drink
Depending on where you are in Australia you may come across different foods and local specials. Seafood is a popular dish for obvious reasons, from the unique flavours of the Morten Bay Bug (a shell fish, not an insect), and the diverse range of tropical fish in the north – seafood is definitely something that should be savoured. In Southern Australia lamb is a popular dish, and in many parts of Australia you can order kangaroo and crocodile if you're interested in sampling the local wildlife. Barbeques in Australia are more than just a stereo-type and are a social past-time and practical way of cooking during the heat of the summer.
Blessed with some of the best wine regions in the world Australia boasts big red wines and is a paradise for wine lovers. The Hunter Valley in New South Wales, Barossa Valley in South Australia and Margaret River in Western Australia are some of the most popular wine regions offering a food and wine scene sure to impress even the most discerning foodies.
Shopping
Melbourne is the fashion capital of Australia and in most populated areas you will have a choice of big brands and boutique labels. Grocery shopping in Australia takes place primarily at two big supermarkets: Coles and Woolworths. Both stores are comparable in price and exist in every city and in most towns too. There is an emerging local food scene and farmer's markets are becoming a popular place to shop for fruit and vegetables.
Sport and Leisure
Australians love their sports. No matter the season, sports competitions and rivalries take place on the field, in backyards and on television. The most popular sports in Australia are Rugby, Australian Rules Football (AFL) and Cricket. Many young children begin playing these sports at an early age and family rituals and traditions are built around them. Surrounded by water Australian's learn to swim in their infancy and swimming is part of the school curriculum. It is no coincident that a large proportion of Olympic swimming gold medallists are Aussie. Most homes have a swimming pool and if they don't, there is never one far away.
Many young children begin playing sports at an early age and family rituals and traditions are built around them
Other sport and leisure activities that are popular include surfing, especially on the beaches of Queensland, New South Wales and Western Australia; fishing, boating and pretty much anything that involves water. Although Australian's love to watch sports, playing them first hand is probably more popular. Whether you are at the beach, in the water or at the pitch there will likely be a friendly sporting event taking place.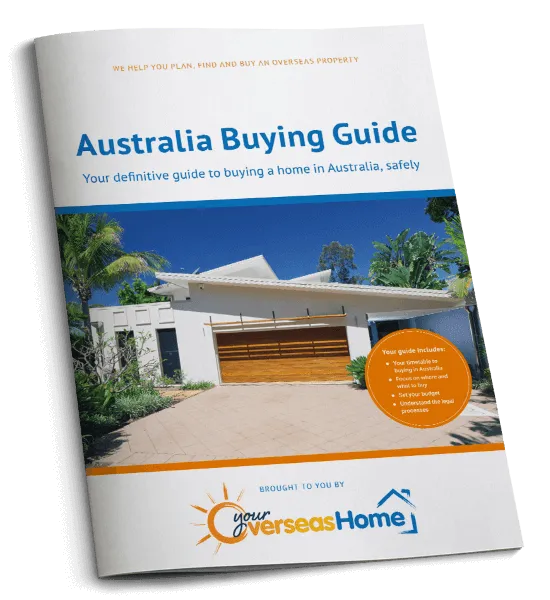 The Australia Buying Guide takes you through each stage of the property buying process, with practical recommendations from our experts who have been through the process themselves. The guide will help you to:
✔

  Ask the right questions
✔

  Avoid the legal pitfalls
Download your free guide to buying in Australia