Before my big move Down Under, I dreamt of a beautiful, sun-kissed country with a laid-back, outdoorsy lifestyle. I fully expected to wear a cork hat, drink cans of Fosters and put shrimps on the barbie.
Although excited about the sun, sea and sand, my family and friends were keen to warn me about the dangers of the Outback; "Watch out for the spiders and snakes!" and "Be careful of the sharks!" were remarks I heard again and again. So what is life in Australia really like? Here are ten surprising things I learned…
Make the most of your new life in Australia by maximising your budget. Find out how to protect yourself from losing out when sending money overseas in your free copy of the Property Buyer's Guide to Currency.
1. Community fun
Up and down the country, there is a huge emphasis on community spirit and shared spaces. All major metropolitan cities have fantastic free outdoor spaces, including beautifully maintained parks, botanical gardens, swimming pools, gym equipment and BBQ areas. You are never too far away from a local market; many smaller towns have outdoor markets on the weekend, and bigger cities have night markets and indoor markets open in the week. It's always worth checking out what's on in your local area as there are often free public events or fun community festivals going on. Melbourne's 'White Night' and Sydney's 'Vivid' are fabulous examples of large events which celebrate art and culture in the community. Be sure to look out for smaller gems too, from a niche Halloumi festival, to a dog show in the local park.
You are never too far away from a local market; many smaller towns have outdoor markets on the weekend, and bigger cities have night markets and indoor markets open in the week.
2. Learning new lingo
When I first moved, I had many confusing conversations and miscommunications as I learnt to grapple with new Australian words and phrases. Does "yeah nah" mean yes? Does "nah yeah" mean no? And what does "yeah nah dunno" really mean? Even a food shop can become surprisingly tricky when you are left looking for certain items, e.g. a pepper is called a capsicum, and a butternut squash is called a pumpkin! Before too long, you will soon pick up the lingo, and embrace the chilled nature of life by saying these popular phrases; "Too easy!" "Cruisey!" and "No dramas!". Don't be shocked by swearing on the radio, advertising and packaging; "Don't be a tosser!" is still my favourite sign about littering. Bid farewell to British formalities and say "G'day mate," to life in 'Straya.
3. Brilliantly multi-cultural cities
At the heart of Australia lies vibrant, richly diverse communities. Almost one in four Australians were born overseas (2011 census), and 20 percent of Australians speak a language other than English at home. The states of New South Wales and Victoria have the highest population of migrants, especially in urban areas such as Sydney and Melbourne.
Get your free Australia Buying Guide to have everything that you need to know about buying Down Under in one place.
4. Weather changes
I imagined Australia as a country where the sun always shines. However, depending on where you live, the climate can be varied and changeable. Southern areas of the country (such as the states of Victoria and Tasmania) experience cold winters with rainy days, and even snow in places. Whilst it never gets too cold in Northern regions, tropical areas such as North Queensland have wet and dry seasons, with extreme weather conditions such as cyclones, flooding and intense humidity. Having said this, the weather is still far better than in the UK.
5. Fabulous food and drink
You are spoilt for choice living in Australia in terms of food and drink. Although small rural towns may be limited to pubs with pies, parmas and potatoes, most larger towns have a great selection of food and drink options. Reflecting the diversity of Australia's population, there is a huge variety of cuisines on offer, from European and Asian, to Modern Australian. Melbourne has an extremely exciting culinary scene with a phenomenal range of high-end restaurants, hipster cafes, and buzzing bars. As plus, there's plenty of fantastic local produce to choose from if you're not eating out.
Australia is also home to beautiful wine regions, such as the Hunter Valley, which produces award-winning wines, craft beers and local farm produce. As a nation of coffee drinkers, you can usually find a smooth, single-origin cappuccino in any cafe along the coast.
6. Indigenous reconciliation
Although I had an awareness of the mistreatment of Indigenous Australians, it was only by living in Australia that I realised the ongoing impact of these prominent issues. In recent years, there have been many significant positive advances in the reconciliation of Aboriginal peoples, Torres Strait Islanders, and the wider Australian community. However, many issues are still deep rooted within society, and more steps need to be taken towards the reconciliation movement. When you first arrive in Australia, take the time to go to a cultural centre or museum exhibition to learn more about the history of the country.
7. Size
I knew Australia was big but I didn't realise how big. Even within one state, the distances between towns can be staggering. For example, the driving distance between Brisbane and Cairns (Queensland's two largest cities) is roughly 1700kms; 300km longer than Land's End to John O'Groats! As a result of the sheer size of Australia, air travel is a popular way of moving from place to place. However, journey times can still be long; a flight across the country (from the West Coast to the East Coast) can take nearly 6 hours! Indeed, if you live in Perth, it is often quicker and cheaper to go on holiday to Bali than Brisbane.
The driving distance between Brisbane and Cairns (Queensland's two largest cities) is roughly 1700km; 300km longer than Land's End to John O'Groats!
8. Road trippin'
Before moving to Australia, the idea of driving for hours on a day trip would have worried me. Travelling on roads like the M25 could be horrendous, with potential queues making a three-hour trip into a six-hour slog. In Australia, fewer cars, wider roads and greater space make driving more leisurely and enjoyable. On the weekend, go on shorter scenic trips around the state you live in. For a longer holiday, drive into the Outback or choose from several classic road trips which take you along the country's most stunning coastlines. The country is made for road trips.
9. Peculiar politics
Forget about the House of Cards, recent politics in Australia has been filled with internal coups and infighting. Over the past decade, five different Prime Ministers have tried their hand at serving the country. However, they had all failed to see out their three-year term due to leadership challenges. Scott Morrison, Leader of the Liberal Party, has been the current Prime Minister of Australia since August 2018. Let's see how long he manages to survive and stay in office for…
10. Australia's most deadly creatures
A stereotypical image of Australia is of a terrifying place full of deadly snakes, monstrous spiders, poisonous jellyfish, blood-thirsty sharks and killer crocs all ready to attack. In reality, your average croc isn't strolling down the street in Sydney. Unless you are living near the bush or the outback, you are very unlikely to come across any dangerous critters. Even if you do stumble across a snake or spider, the chances of being bitten are very low, and the chance of fatality is even lower. Use a little bit of common sense in the water: read the signs and do your research about which beaches are safe to swim in. My advice is to avoid the water where you see a big fin!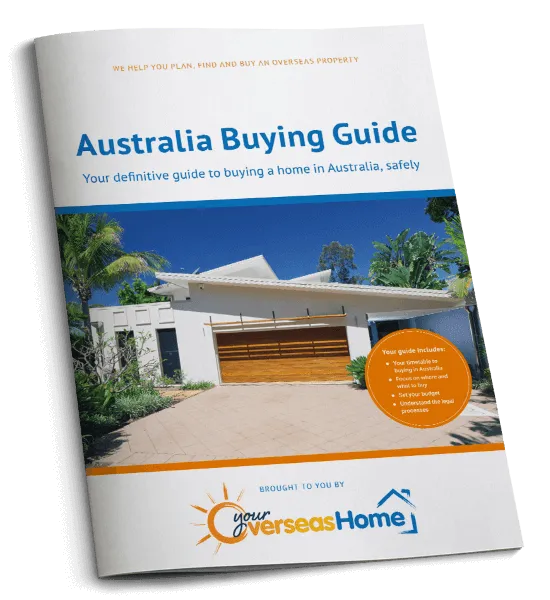 The Australia Buying Guide takes you through each stage of the property buying process, with practical recommendations from our experts who have been through the process themselves. The guide will help you to:
✔

  Ask the right questions
✔

  Avoid the legal pitfalls
Download your free guide to buying in Australia