I wrote this time last month that Portugal's property market is booming and that's certainly showing no signs of slowing down. The golden visas programme continues apace, attracting more and more investment into the country. Likewise, we're seeing more results of the building boom, with luxury developments in Lisbon nearing completion. Plus, lest you think the Algarve's just for holidays, an innovative solar facility's opened near Martim Longo.
Golden visas a golden nest-egg for Portugal
The Ministry of the Interior published figures at the end of September showing the enormous impact of the sometimes-controversial golden visa programme. It allows residency in Portugal for people who purchase a property worth €500,000. The development of the scheme was deeply opposed by some political quarters, including the Communists and Left Bloc.
Nonetheless, it has succeeded in contributing to a building boom and bringing money to the country. It's made over $4.7 billion since inception – a sum not to be sniffed at! The vast majority of investors are Chinese. The next biggest groups are Brazilians, South Africans, Turks and Russians.
Better Living in Portugal (BLiP) returns to Portimão
Portimão is hosting the 18th edition of the Better Living in Portugal (BLiP) show, with contributions from experts in property and our Portuguese lifestyle. Being held this weekend, it'll have explanations of the 365 Algarve Programme, as well as non-property contributions, such as local artwork for sale. And if you're on the house hunt, one of our trusted partners, Clementina from IAD Portugal, will be there to help would-be buyers.
Thinking of buying in Portugal? Do check out the 2,000+ properties on our free Property Portal.
Can't make it over to sunny Portugal? I'll be making the journey back over to the UK, where I'll be attending the Your Overseas Home show in Birmingham. It's specially designed for serious buyers looking at Spain, Portugal, Italy and France, and connects them with agents, property experts, financial specialists and solicitors. There's another show in Epsom on Nov 11th, so make sure to get your free tickets.
Promenade development nears completion
Lisbon's getting another swanky new development, with the Promenade confirmed for completion by 2019. Located on Avenida 24 Julho (that long road that ends at the Praça do Comércio), it's being built around mixed-use principles.
Get the most of your time when viewing properties with our free guide, Your Viewing Trip.
There'll be 40 one- to six-bedroom flats, shops and plenty of facilities. Residents will have access to a gym, swimming pool, hobby workshop, mechanics garage, boatyard, sound studio and lobby bar. They'll never need to leave! As if that wasn't enough, the four penthouses apartments will have their own swimming pool and roof terrace with views over the river.
Algarve blazes a solar trail in the green energy stakes
We all know the Algarve as a top holiday destination (and great place to live – speaking from personal experience!), but it's also striking out in innovative sectors of the workforce and industry. Near Martim Longo, the Solar Demonstration Platform is working to support and develop renewable energy projects. It's already won over €16 million of investment. The focus is on what founder Marc Rechter says are the 'four D's' – decentralisation, decarbonisation, democratisation, digitalisation and deregulation.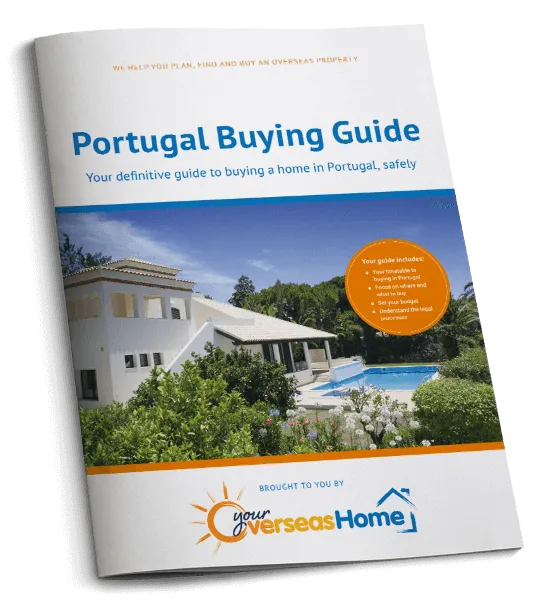 The Portugal Buying Guide is designed to support you through each stage of buying property in Portugal, providing relevant, up-to-date information and tips from Portugal property experts and expats who have been through the process themselves. It helps you to:
✔

  Ask the right questions
✔

  Avoid the legal pitfalls
Download your free guide to buying abroad