If you're thinking about moving with children to Portugal, you have plenty to think about. Making such a move will definitely be a serious life change. However, there's a good chance it could prove to be a change for the better. This article will help you understand all of the realities of moving with children to Portugal. It should also assist you in making the right decisions.
What's it like moving with children to Portugal?
Portugal is a wonderful place to bring up children. Children are loved and (often quite literally) embraced in the country! Kids of all ages are frequently seen out and about late at night – at restaurants and town festivals. Designating a restaurant as a "child-free zone" is practically unthinkable in Portugal. The culture is the polar opposite of one where youngsters are "seen and not heard."
This largely results in children who are mature and well rounded as they grow up. Due to the fact they're treated like adults, they tend to behave more like them too. This doesn't mean there aren't some social problems in inner-city areas, or that children in Portugal are immune to obsessions with Snapchat and Instagram. However, it's often refreshing to see how kids and young adults behave in Portugal.
If you're buying a family home in Portugal, make sure you get the most for your money with our guide, How to Negotiate Abroad.
I often share an anecdote about moving with children to Portugal from shortly after I relocated to the Algarve, I noticed a group of "youths" around a large, upended recycling bin on a roadside. Jaded by years of UK city life, I was interested to know what they were up to. My heart was immediately warmed when I realised they'd teamed up to carefully put the receptacle back up the correct way!
Why Portugal is great for children
As previously mentioned, moving with children to Portugal doesn't mean they'll become immune to the attractions of social media and Love Island. However, the overall lifestyle of kids in Portugal is more "outdoorsy" and undoubtedly more like the life parents remember, and often wish their children had.
The climate obviously helps with this. For much of the year, children have access to beaches and outdoor spaces. Furthermore, there are actually facilities for them. This ranges from loads of playgrounds for toddlers to skate parks and floodlit football pitches for teenagers.
As children grow into teenagers and beyond, it would – again – be unrealistic to say that they're completely immune to temptations and experimentation. However, binge drinking, for example, tends to be what tourists do in Portugal, not locals. Obviously, it's best not to generalise too much. However, it's certainly fair to say you may find yourself less worried about your children in Portugal than you would be elsewhere!
Statistics from Unicef back this up. Portugal ranks just above the UK for general child wellbeing. Furthermore, Portugal scores particularly well in the 'risks and behaviours' category.
Another area where you can relax a little is in regard to your child not being alone. Although Portugal may be viewed as a retirement destination, fewer than 40% of the people who move from the UK are over 65. In addition, just over 5% are under the age of 15, so plenty of people do believe that moving with children to Portugal is a good choice.
(As an aside, it's worth noting that one famous person who's chosen to do this recently is "Queen of Pop," Madonna!)
Education in Portugal
Obviously, a key concern about moving with children to Portugal is their education. Thankfully, there are plenty of options, including international schools. These are often "top-end" institutions that rival the UK's public schools (both for facilities and fees). However, there are also some private education options that are slightly more affordable.
An important thing to remember, obvious though it may sound, is that English isn't Portugal's first language. While English is taught in schools, Portuguese is the main language in use. This will have a significant impact on the decisions you make for your children's future.
Learning the language
Anecdotally, toddlers and very young children absorb language very quickly. If you place a toddler in a Portuguese pre-school (or even a primary school), the chances are they'll pick up Portuguese quickly. They probably won't struggle as they move up into "big" school. By the time they're five or six, they'll be correcting you on your faltering attempts at Portuguese!
However, things can get far more complicated with older children. It is very important to put them first when it comes to key decisions. For example, placing older kids in a Portuguese school takes away their sense of familiarity and their established groups of friends. Add in the fact that they won't understand what's going on, and you're placing an awful lot of pressure on them.
International schools can fill in the gap here. Some teach primarily in English, so going to one will feel little different to moving schools within the UK.
Ultimately, it's all about finding a careful balance. The age of the children is highly significant here. Young children may well find success within Portugal's state education system and integrate beautifully into local life. In the case of older children, you may have to trade off some of that integration by placing them somewhere where (initially at least) they're primarily mixing with other expat children. Out of school clubs can help them to still get involved in local life.
Often, if you move with children to Portugal before the start of the school year, it is a worthwhile expense to have a tutor use the summer holidays to help them learn the basics in advance. That way, when they start school, they'll at least be able to ask for the toilet and read their timetable.
Preschool in Portugal
Preschool in Portugal could end up costing you far less than you might expect. Undoubtedly, there's some luck involved in what facilities you have near you. However, plenty of towns have council-run facilities that are modern and well subsided.
Fees are often means-tested. This means families with higher incomes pay more. However, putting a toddler in full-time childcare will rarely cost anywhere near as much as it would in the UK, even if you have a high income.
Longer days are common as well, with children remaining at school until around 16.45 once they've finished their primary years. This is another way in which it can prove easier to juggle work and childcare in Portugal than in Britain. These longer hours are commonly available in preschool settings.
The Portuguese school system
Many people who move with children to Portugal take advantage of the local state schools. They accept children through to the age of 18. Remaining in school until then is usually compulsory.
Basic education begins at six years old. It's divided into three cycles, 1º, 2º and 3º Ciclo, and lasts nine years. Secondary education begins at 15. At this secondary point, pupils can choose to branch out into academic specialisations such as social science, visual arts, or science and technology. Alternatively, they can move into learning paths suited to vocational careers, in subjects like sports, marketing or civil construction.
If you're purchasing in the next six months, apply for your free tickets to the next Your Overseas Home shows in Harrogate, Birmingham and Epsom – designed especially for serious buyers to speak to the experts. 
English lessons are taught throughout and are compulsory up until 10th Year and, in practice, fills the 'foreign language' requirement in 11th and 12th Years. Combined with plenty of exposure to British and American TV shows, a fair proportion of Portuguese youngsters can speak decent English by the time they finish school.
If you choose to send your children to an international school, the curriculum may differ. Some teach the UK curriculum (including IGCSEs), or even offer a choice of the Portuguese or British curriculum.
International schools in Portugal
Here are a few examples of the kind of international schools you will find if you move with children to Portugal:
Nobel International School Algarve
The Nobel International School is located in Lagoa, in the West Algarve. Its impressive site is along the EN125 Algarve road.
The school has been in operation since 1972, and offers education to pupils aged from three to 18. There are also summer school options available on campus.
The Nobel school has the feel of a British public school, right down to the fact that it accepts boarders. Fees are at the high end of the scale, ranging from just over €4,000 per year for preschoolers, up to over €15,000 per year for A-Level students. These are day school fees, not including boarding. There are also additional costs for school meals, transport and special needs classes.
Perhaps unsurprisingly, results from the Nobel International School are great. Most students go on to their favoured university. It's a great option for those that can afford it. However, it's obviously somewhat removed from the reality of life in Portugal.
Aljezur International School
Aljezuer International School, in the inland west Algarve, is an example of a slightly more affordable international school option. Fees at the time of writing are at a fixed cost of €6,000 per year. Like many international schools, this one offers transportation from nearby towns, including the popular expat destination of Lagos.
Aljezeur International School follows the UK curriculum, with students taking international GCSEs and A-Levels. Class sizes are small, and the school advertises solid exam results. For those without the budget or desire for a "big name" school, this could fit the bill.
St. Julian's, Lisbon
Lisbon boasts several top-end international schools. Plenty are dotted along the coast between the capital city and the prestigious resorts of Cascais and Estoril. These schools are popular with families from America and other nations, as well as Brits.
St. Julian's fees begin at just under €10,000 per year, and exceed €20,000 for older students studying for the International Baccalaureate. There are over 1000 students and unsurprisingly, for the price, the facilities are world-class. These include sports pitches of all descriptions and an art gallery in an historic building.
Moving with children to Portugal certainly requires some detailed planning. However, life in the sun can prove just as alluring for the younger ones!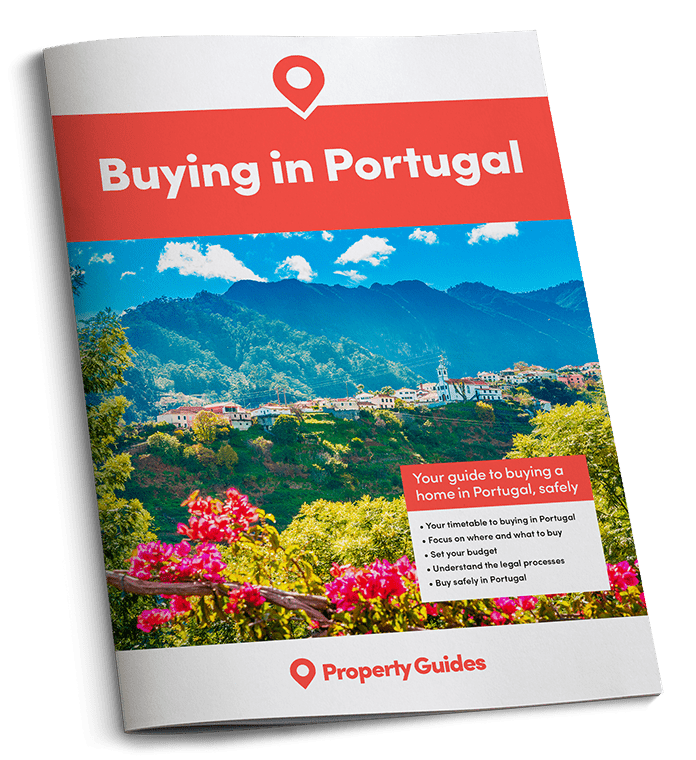 The Portugal Buying Guide is designed to support you through each stage of buying property in Portugal, providing relevant, up-to-date information and tips from Portugal property experts and expats who have been through the process themselves. It helps you to:
✔

  Ask the right questions
✔

  Avoid the legal pitfalls
Download your free guide to buying abroad