Is it all getting a bit too much in the UK? The weather may be unseasonably lovely but not much else is right now! If you're ready to bail out for a year or two, or for ever, today we're running through the 10 best places to move to if you are well and truly fed up with living in Britain.
Don't agree with our choice? Then email chris.nye@propertyguides.com and tell us your favourite, and why!
1. Ireland = Free healthcare
Long before the EU was a thing, the UK and Ireland created the Common Travel Area (CTA). This allows Irish and British citizens to move freely, live, work and (most importantly) receive free healthcare within each other's countries. This agreement should not be affected by Brexit (phew!), which makes a move to Ireland easy as pie. There are a whole host of additional perks to moving to the Emerald Isle. If you are eligible for a passport the application process is simple.
If you're savvy, flights back to the UK should only cost £25, which makes visiting friends and family nice and easy. Additionally, Ireland's economy is booming. There are exciting and challenging job opportunities to be snapped up across the country, in tech, construction and real estate, pharmaceuticals and education. Ireland is also five whole places ahead of the UK in terms of quality and satisfaction with life in the OECD's Better Living Survey. Maybe this has something to do with the fact that you can still find property from as little at €60,000 (£52,270).
Get your free Buying Guide to find out everything you need to know about moving to Ireland.
2. Spain = Live longer
It's official – the Spanish live longer! According to the Institute for Health Metrics and Evaluation, by 2040 the life expectancy in Spain will hit 85.8 years. This means Spaniards will be outliving the Japanese, who are known for their longevity. The Spanish lifestyle is a real winner. Not only can you enjoy a guilt-free afternoon nap (everyone is doing it!), but there's the Mediterranean diet, almost 3,000 hours of sunshine per year, and 5,000km of gorgeous coastline to enjoy.
Living here also allows you to remain within the Schengen Area. If you hold a passport you are able to move freely within the 26 Schengen countries. Also, if you can work remotely, Spain offers super-fast internet and is excellent for digital nomads, particularly Valencia. The city was voted the 7th best city in the world for those able to work remotely. Furthermore, you'll enjoy a great sense of community, a whole range of affordable property choices, and Spain's cost of living is considerably lower. Renting is some 40% cheaper in Spain than in the UK.
But which country has the best healthcare? Read our guide,

Healt

hcare Abroad, to find out!
3. Portugal = Affordable Golden Visa
From next month, this might become all-too relevant for British people who are prevented from moving there by Brexit. A "golden visa" means obtaining legal residency in return for buying a property in Portugal. You will need to spend €350,000 (£304,800) on a home. You can convert this temporary residence into permanent residence after five years of ownership.
Additionally, Portugal offers a lot to those a little tired of life in the UK right now. The cost of living is considerably lower. In our survey of the cheapest property for the most sunshine, the Algarve was the most affordable resort area in western Europe. Renting will set you back 40% less than it will in the UK, according to Numbeo, and restaurant prices are 73% cheaper.
Lisbon and Porto are fast becoming two of the most vibrant expat hubs in Europe. In fact, in PwC's Emerging Trends in Real Estate Report for Europe in 2019, Lisbon just knocked Berlin off the top spot. Tourists can't get enough of the city, and international companies are moving in fast. To top it all off, Portugal offers a rich history, incredible natural beauty, and an all-important 280 days of sunshine per year. Also, Portugal is another country located within the Schengen Area.
4. Bahamas = Virtually no taxes
If you're fed up of being taxed to the eyeballs, perhaps life in a former British colony where there are virtually no taxes appeals? The Bahamas is positively idyllic. It's made up of 29 islands and 661 keys (i.e. sand banks/ coral reefs), many of which are large enough to build your dream home on. While you once only required $500,000 (£384,000) to secure a Golden Visa, the government are looking to increase this to $1,000,000 (£768,000). So act fast! Additional perks to moving to the Bahamas include easy access to Miami in just 55 minutes. From there you can catch affordable flights to the rest of the world.
5. New Zealand = Space!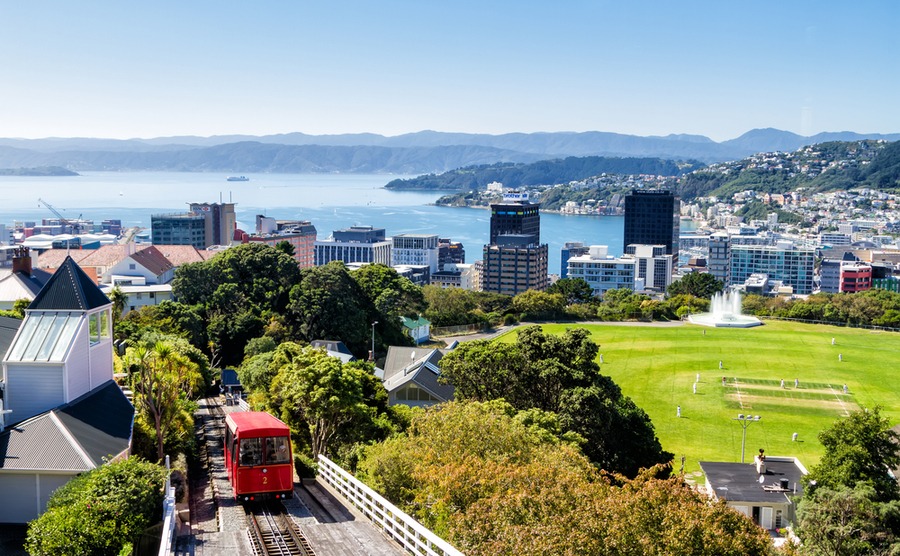 Cable cars, cricket and just look at all that space! It's Wellington, New Zealand
Fed up with shoehorning yourself into an overcrowded tube carriage every morning? We don't blame you. If it's space you're after, New Zealand is without a doubt the country for you. There are fewer than a tenth of the UK's population living in New Zealand, yet they have 10% more land than we do in the UK. Even the nation's biggest cities have manageable populations. Just over 1.5 million people live in Auckland, and despite being the country's capital, Wellington is only home to just over 200,000. That's about the size of Brighton.
New Zealand is also an insanely beautiful nation. You can spend weekends at the beach, exploring national parks, hiking, swimming, skiing, bungee jumping… In fact, if it is adrenaline-inducing, New Zealand has it by the bucket load. Furthermore, New Zealand is the second safest country in the world according to the Global Peace Index, plus they average around 2,000 sunshine hours per year. Nelson for example, one of the sunniest spots, enjoys an average of nearly 2,500 annual hours of sunshine. That's about twice (TWICE!) the UK average. No wonder people in the UK are so much more likely to suffer diseases like rickets!
Get your free copy of the New Zealand Buying Guide – it covers everything you need to know about buying in this country.
6. The Cayman Islands = Welcoming foreigners
A hundred different nationalities live in the Cayman Islands. Not bad when you consider its population is a thousandth that of the UK, at under 60,000! One huge bonus of the Cayman Islands is that as a British citizen, you don't require a visa to live there. And if you're tempted to bail out with the kids to enjoy some of the world's best beaches, it is home to some of the best schools in the region, most of which follow either the British or American curriculum. The crime rate is far lower than most other Caribbean islands and the island's tropical climate means temperatures rarely dip below 28 degrees. Oh, and it's a tax haven…
7. Iceland = Equality
If you've been enjoying the new series of Trapped, on BBC4, maybe you fancy a move to this incredibly beautiful island nation. Iceland is just a three-hour flight from the UK and most people speak at least a little Englsh. It is also one of the most forward-thinking nations on Earth. Last year it became the first country in the world to make it illegal for men to earn more for doing the same job as women. Additionally, the World Economic Forum ranks Iceland as number one for gender equality in regards to health, economics, education and politics.
The 2018 World Happiness Report ranked Icelanders the 2nd happiest nation on Earth.
Okay, so the women are happy, but what about the men! Yes, them too: the 2018 World Happiness Report ranked Icelanders the 2nd happiest nation on Earth. Maybe that's why violent crime is virtually non-existent (don't believe what you see in Trapped!). They are one of the most sustainable countries on the planet, generating 25% of their national power via geothermal energy.
8. Australia = Liveability
Australia's cities are repeatedly voted the most liveable in the world. The Economist conducts an annual survey – The Global Liveability Index – which delves into factors like healthcare, culture, environment, infrastructure, stability and education to determine where are the most liveable spots on the planet. Spoiler – Australian cities always dominate. Melbourne has a liveability score of 97.5 out of 100, and was number one in the world for seven years before Vienna defeated it in 2018.
Weather, food, incredible natural scenery, an active lifestyle and friendly people make Australia a great choice. Plus, there is no language barrier, and there are plenty of job opportunities available, which will help you to secure the visa you need to live and work Down Under. Living here allows you to access excellent subsidised healthcare, you can hop on cheap flights to Asia, and the coffee is sublime.
Get your free Australia Buying Guide to have everything that you need to know about buying Down Under in one place.
9. Singapore = Low crime rates
For big city life without the big city crime stats, head to Singapore, the city with the world's second lowest crime rate after Tokyo. Also, the official language is English, which will allow you to settle in quickly and to easily find employment in one of many job opportunities that exist here, many of which are incredibly highly paid. Plus, income tax here is just 12%, which will leave you with a lot more of your salary to play with.
Being close to the Equator means days are long and sunny. The average temperature throughout the year is 29 degrees. Also, Singapore ranks highly for cleanliness, education and for having a life expectancy of over 85 years. One massive bonus is Singapore's location (and its airport) which allows easy, affordable access back to Europe or to the rest of Asia.
10. Costa Rica = Island Life
How do you fancy life surrounded by jungle, ocean, beaches and volcanoes? It's undeniable – Costa Rica is paradise. Watch the monkeys frolic in your garden as you sip you locally-grown coffee upon a morning. Then go for a surf or take a dip with the dolphins, turtles and whales that visit the country's coastline. Additionally, healthcare in Costa Rica is excellent and affordable. Private plans start from $50 (£38) per month.
You'll be welcomed into a friendly and established expat community. Many people have made the move specifically to enjoy the 'Pura Vida' – the Costa Rican way of life. This focuses on relaxing, letting things go and being grateful for what you have. Sign us up!