It is always important to remember that some of the main reasons why British property buyers choose to begin a new life in Europe is down to the more favourable cost of living in these countries, and the better quality of life compared to the UK.
While there is uncertainty in some quarters over the result of last month's EU Referendum result and what this means for those living overseas, it is unlikely that either of these two elements will change.
Food and drink is an important part of your new home, but how much will it cost you?
As part of our annual Cost of Living survey, our expert writers in France, Spain and Portugal compared the price of an average basket of groceries in their country and the UK. The full list of the items used to measure these are available at the end of this article.
We were also able to compare the cost of this basket to the results we saw in 2014 and 2015.
It soon became apparent that Spain currently offers the most value on grocery shopping, closely followed by Portugal. This was the second year in a row that Spain offered the cheapest basket of groceries. The cost of bread, eggs, tomatoes and chicken are particularly better value in Spain compared to France, Portugal and the UK.
Despite France's reputation as an expensive country, this year costs were only slightly more expensive than in Portugal, especially considering the significant hike up to French prices in 2014 and 2015 – showing that quality of life is improving for Brits in France too. It also offered the best value for fresh fish, chocolate, instant coffee and, perhaps surprisingly, coca-cola!
Portugal's reputation as one of the cheapest places to live overseas has continued, and the country was only slightly more expensive than Spain in 2015 and 2016, and quite strongly the cheapest in 2014. Even in 2016, the country offers better value than the other countries for apples, beef, potatoes and red wine.
Looking at everyday essentials, it's certainly interesting to see that in some cases the price is actually less than last year when sterling was much stronger against the euro. This shows that, certainly for smaller payments, the fluctuating exchange rates do not always have a significant effect on living expenses.
Wine
Turning to the REALLY important essentials – it's clear that a bottle of red wine in Portugal is significantly cheaper France, Spain and the UK. France may have the reputation of cheap wine thanks to its intense production, but while wine here is dramatically cheaper than what you would pay for the same wine in the UK, it's actually 76% better value in Portugal!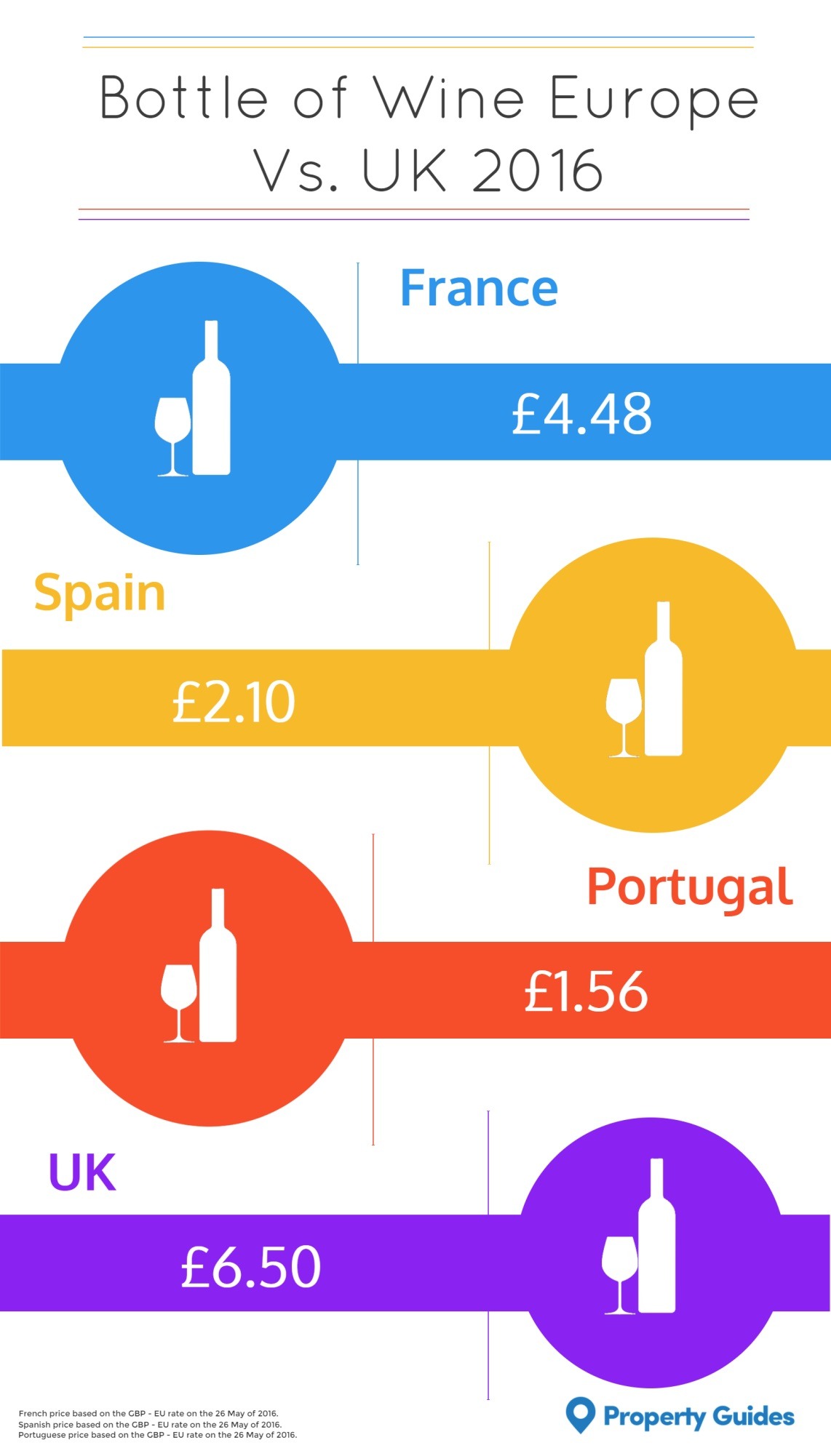 Summary of the results of our cost of living survey
| | | | | |
| --- | --- | --- | --- | --- |
| Grocery basket in the average supermarket | France | Portugal | Spain | Cost in UK |
| Loaf of bread | £0.96 | £1.01 | £0.54 | £0.89 |
| 12 medium eggs | £2.07 | £1.48 | £0.94 | £1.75 |
| 2 pints of milk | £0.97 | £0.51 | £0.47 | £1.00 |
| 1kg of apples | £1.38 | £1.01 | £1.16 | £2.00 |
| 1kg bananas | £1.31 | £0.73 | £1.01 | £0.68 |
| 500g tomatoes | £1.10 | £0.66 | £0.36 | £0.69 |
| 500g cheese | £3.45 | £3.13 | £4.04 | £2.50 |
| 500g chicken | £1.90 | £2.34 | £0.85 | £3.50 |
| 500g beef | £4.83 | £3.13 | £5.04 | £4.00 |
| 500g fresh fish | £3.45 | £4.30 | £3.51 | £6.75 |
| 1kg potatoes | £0.69 | £0.43 | £0.62 | £0.80 |
| 500g pasta | £2.07 | £0.58 | £0.47 | £0.59 |
| 500g standard cornflakes | £1.24 | £1.16 | £1.55 | £0.99 |
| 40g chocolate bar | £0.52 | £0.77 | £1.09 | £0.60 |
| 200g Instant coffee | £2.76 | £4.91 | £3.87 | £2.80 |
| 20 teabags | £1.03 | £1.01 | £1.29 | £0.75 |
| Bottle of red wine | £4.48 | £1.56 | £2.10 | £6.50 |
| Domestic beer | £1.72 | £0.39 | £0.38 | £1.20 |
| 1.75l Coca-Cola | £1.03 | £1.29 | £1.10 | £1.84 |
| 500ml washing up liquid | £1.38 | £0.53 | £0.77 | £0.59 |
| 100ml toothpaste | £1.03 | £1.55 | £0.74 | £1.50 |
| 40 wash laundry detergent | £4.14 | £3.90 | £3.87 | £9.00 |
| 12 x 400g dog food | £4.14 | £6.94 | £1.09 | £4.75 |
| Full Grocery basket | £47.65 | £43.32 | £36.86 | £55.67 |
Exchange rates correct at 26th May 2016.
Exchange rates from www.smartcurrencyexchange.com