Download your free copy of the Viewing Trip Guide
A successful trip to view properties is crucial in finding your perfect property overseas. The Viewing Trip Guide has been written to help you get the very best from your viewing trip, detailing the key steps to take throughout the process and providing advice and pointers on the expert professionals you will need to help you along the way.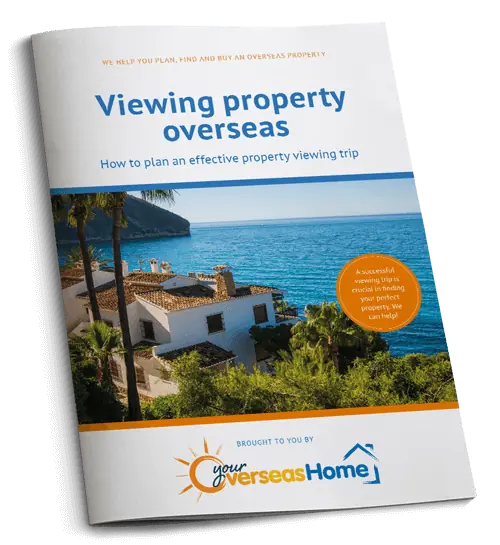 The Viewing Trip Guide is designed to support you through the process of a successful property viewing trip, with tips and information on the most important steps to take. The guide will help you to:
✔

  Find out what makes a successful trip
✔

  Choose the right estate agent to meet your needs
✔

  Get the right legal advice before and after your trip
✔

  Understand the important financial considerations
Download your free guide to viewing trips
I got the keys to my villa at the start of December 2015, after viewing properties in the September. I found a reliable estate agent and currency specialist in advance of my viewing trip, thanks to help from the guide and Resource Centre. I arranged to view six properties with a local agent – it was actually my first time ever in this part of the country! The second property I viewed was a villa that I'd already spotted online – I decided I wanted it as soon as I viewed it. Not long after, the sale of my three bedroom semi-detached property in Warwickshire went through, so everything fell into place for my move abroad.
Paul Essex
We partner with some of the most trusted names in the industry



Your free resources when buying overseas
We provide a number of free resources to help you before, during and after your property viewing trip. From a range of dedicated country buying and property guides, to connecting you to reputable professionals in advance of your trip to view properties, we have the experience and knowledge to support you as you make the journey to buy your home abroad. When you have downloaded and made use of the Viewing Trip Guide, we will continue to keep you updated with regular news and information on buying property overseas, as well as relevant updates on your country of choice. For readers of our dedicated Viewing Trip Guide, we also offer detailed worksheets that you can complete during your viewing trip.
The Resource Centre
The UK Resource Centre team are here to help throughout the whole process of buying your overseas property, from sharing tips and advice from others who have moved abroad, to answering the most commonly asked questions, to connecting you to recommended financial and property experts, who can help you achieve the dream of buying your perfect property.