From My Family and Other Animals, to A Year in Provence and Under The Tuscan Sun, many of us have been inspired to move abroad by wonderful words. So take a dip into our reading list of inspirational books. Why not push one or two towards a significant other who's proving reluctant to follow your own dreams of life in the sun too!
Spain
Every 23rd April the Catalonians mark the death of their greatest writer, Cervantes,with a gift of a book and a rose to a loved one. How romantic! If your own significant other is proving resistant to the charms of Spain while you're desperate to make the move, try passing one of these inspirational "new life in Spain" books…
An inspiration for the generations of Hispanophiles that followed him, poet Laurie Lee's classic As I walked out one Midsummer Morning recounts how he busks his way from rural Gloucestershire to southern Spain, which he crosses on foot. He reaches the fishing village of Almuñecar in the Costa Tropical, where he becomes the sole foreign resident until leaving at the outbreak of the Civil War. It's set in the mid-1930s, and gives a historic glimpse of old Spain before English was ever heard on the Costas.
Sixty-odd years later, Chris Stewart brought us Driving over Lemons, which quickly became a must-read for expats seeking 'the good life' in Spain. Based in the Alpujarras beneath the Sierra Nevada mountains, it tells of Chris and wife Ana's rustic new existence at their isolated – and primitive – sheep farm, including the colourful characters they meet along the way. Chris, the original drummer with band Genesis, followed up with equally popular sequels.
Along similar lines is 'Seriously Mum, what's an Alpaca?' by Alan Parks, who left Sussex with wife Lorna to breed alpacas in rural Andalucía. Their chirpy tale recalls their endeavours buying a home, dealing with rogue builders and managing alpacas during the region's worst weather for 100 years!
Less romantic but perhaps more stereotypical is Joe Cawley's humorous account of buying and running a bar with girlfriend Joy in Tenerife. In More Ketchup than Salsa, Joe describes the trials than come with being a bar-owner in a lively holiday destination, as well as the personalities that make up an expat community.
If you're inspired, read the Buyers' Guide to Spain for all the information you need about purchasing a property.
France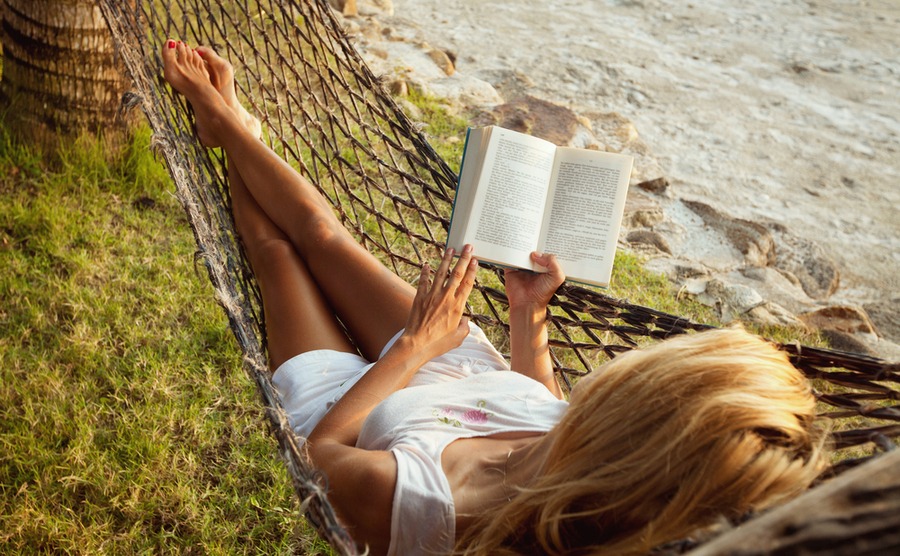 If you're thinking of buying across the Channel, chances are you've either read or seen the TV adaption of Peter Mayle's best-selling A Year in Provence, which this year celebrates its 30th anniversary. Pioneer of the modern style of expat story-telling, Mayle's trailblazing first book describes month-by-month the joys and quirks of moving with wife Jennie to the unspoilt Luberon area of Provence. Three sequels followed.
On a similar theme is The Olive Farm by actress and writer Carol Drinkwater. Carol and partner Michel buy a run-down farmhouse overlooking the Med on the Bay of Cannes, complete with 10 acres of olive groves. Her inaugural book details their new Mediterranean lifestyle, with a particular focus on the thrill of harvesting their own olives, the source of exceptional oil!
Further north into France's interior, fashion journalist Karen Wheeler's decision to escape London and buy a fixer-upper village house in rural Poitou-Charentes resulted in her engaging book Tout Sweet: Hanging up my High Heels for a New Life in France. In it she reveals the ups and downs of renovating an old French property but also makes time to reveal how under-rated the Poitevin countryside is, especially when exploring by bike or on foot.
Download your comprehensive France Buying Guide for everything you need to know about purchasing a property
Greece
More than 60 years after the publication of My Family and Other Animals, zoologist Gerald Durrell's magical account of his carefree and often bohemian childhood in Corfu remains a timeless classic. It has been successfully adapted for TV as The Durrells. Its tantalising portrayal of the island's idyllic lifestyle, quirky locals and colourful flora and fauna is complemented beautifully by Durrell's eccentric family. It might be set in the 1930s, but many will argue the island's appeal has changed little.
Meanwhile, Jennifer Barclay offers a modern woman's insight into life as an expat on a small, sparsely populated Greek island in her two books, Falling in Honey and An Octopus in my Ouzo. Manchester-born Barclay first visited Tilos in 2011 to take some time out alone from her busy UK life. Spellbound by the culture, landscape and lifestyle, she ended up staying, meeting a fisherman and starting a new life there!
An alternative take on Greece is a book by veteran BBC broadcaster John Humphrys and his musician son Christopher, who together bought a plot with a semi-derelict cottage and foundations for a villa. In Blues Skies & Black Olives the Humphrys talk us through the highs and lows of creating their perfect villa, which is located in the Peloponnese overlooking the Aegean Sea, punctuated with anecdotes about the local community.
Get your free copy of the Greece Buying Guide, with all the information you need about buying from overseas.
Ireland
Closer to home, when Nick and Lesley Albert decided to quit the UK rat race, they headed to rural Ireland, where they could tap into a more earthy, rustic lifestyle. Fresh Eggs and Dog Beds: Living the Dream in Rural Ireland recounts the couple's experiences finding and buying a dilapidated farmhouse, and with the aid of a second-hand DIY manual, setting up their new home, complete with chickens!
Get your free Ireland Buying Guide to find out everything you need to know about moving to Ireland.
North America
Anyone with their sights set on a new life across the pond should put A Slice of Apple Pie: Your One-Stop Guide to Living in America on their reading list. Written by Dorset-born Julie Musk during her family's two-year stint as British expats in Ohio, this book mixes autobiographical anecdotes with practical information. It offers an invaluable warts-and-all guide to navigating family life in the USA, from how to board the yellow school bus to getting a drive-through flu jab!
For inspiration to move to Canada, try The Shipping News by Annie Proulx. The Pulitzer-prize winning novel is about a man who finds a new lease of life when he moves to Newfoundland with his two daughters.
Will Ferguson has followed up his successful Why I Hate Canadians (don't worry, he's Canadian himself) with How to be a Canadian. It includes such entries as Canadian Cuisine – and How to Avoid It, and Regional Harmony (Who to Hate and Why). You definitely need this book!
Download your free, comprehensive USA Buying Guide to find out everything you need to know about purchasing property in the USA.
Italy
The village of Cortona in Tuscany gets a steady stream of visitors looking for the house that features in Under The Tuscan Sun. It's the memoir of Frances Mayes who bought and restored an abandoned villa in the Tuscan countryside. It was turned into a movie in 2003, but much better, we think, to lie back on your hammock with the original!