With Christmas (and the end of the year) currently winking at us from behind that bumper bottle of Baileys, it's only natural to start reflecting on 2018, and where we might like to be this time next year. If Ireland is that special twinkle in your eye – either to buy property in Ireland, or to make the move permanently, it's important to weigh up if it's the right place for you and whether life there will leave you more fulfilled.
Recently, the OECD Better Life Index found that Irish people are more satisfied with their lives than most people within other OECD nations. But that's not the only reason you might want in on the Irish action! To help you decide whether it's the right move for you, today we're running through 10 great reasons to buy in, or move to Ireland in 2019.
1 – Exciting job opportunities
If you're looking to spice up your life with a new job opportunity, Ireland is an excellent choice right now. Across the country, there are exciting, well-paid opportunities to be found in HR, funds and finance, marketing, language jobs and tech, with companies like Facebook, Google and Amazon all setting up shop here. The country is also home to 24 of the world's top bio tech and pharmaceutical companies. In fact, $10 billion has been invested into the industry in the last 10 years.
The Irish government is also piling money into research funding to stay ahead of the curve and to keep this lucrative business ball rolling. If it's enjoying the freelance lifestyle that you have in mind when you move to Ireland, there are welcoming pockets of freelance communities and digital nomads all around the country, but particularly in County Donegal, County Cork and County Galway. You needn't worry about a shoddy internet connection any longer – Ireland currently has the same internet speed as the UK.   

2 – Tax deductions for landlords
Good news is on the horizon for those planning to buy property in Ireland to rent out. In the recently-announced 2019 Budget, it was stated that as of 1 January 2019, there will be a full restoration of a 100% tax deduction for interest expenses incurred on loans used to purchase, repair or restore residential property for rental purposes. Team this win for landlords with the fact that interest rates are already low, property prices are down and rents have just risen again for the 25th consecutive quarter, and it seems that to buy property in Ireland to rent out will be a very astute investment in 2019.
Interest rates are already low, property prices are down and rents have just risen again for the 25th consecutive quarter, and it seems that to buy property in Ireland to rent out will be a very astute investment in 2019.
3 – Great for foreign direct investment
Ireland is currently one of the best countries in Western Europe for direct investment. In fact, it's ranked first for inward investment by quality and value and for the incentives offered to those investing. This means that money is piling in to the country and suggests an even more exciting future for the nation lies ahead.
Coming to Ireland to view properties? Get your free copy of the Viewing Trip Guide, covering everything you need to know and look out for.
Recently, U.S. News ranked Ireland the 21st Best Country in the world. Furthermore, Ireland scored particularly high in terms of entrepreneurship, having a favourable tax environment, skilled labour, dynamism and technological expertise. Therefore, if you want to move to Ireland to start a business, you could be onto a winner. Ireland is also a world leader in innovation, which makes it an exciting place to be in 2019 and beyond. The Global Innovation Index ranked the nation 10th in the world, and the Bloomberg Innovation Index ranked Ireland 13th.
4 – Liveability
Besides a healthy love of the craic, Ireland is known for its friendly people and exceptional countryside. These are just two of the factors that mean it ranks highly for liveability. The Economist Intelligence Unit recently released its annual Global Liveability Index, which ranks the world's most liveable cities according to crime rates, healthcare, levels of corruption, infrastructure and more. Dublin came in with a perfect score out of 100 for its educational institutions and 92.8 out of 100 for culture and environment.
5 – Safety
A move to Ireland in 2019 means a move to the 10th safest country in the world, according to the Global Peace Index 2018. To give that ranking a little perspective, the UK is currently ranked 57th, the USA is 121st and Spain is 30th. To gauge the safety of each country, the Global Peace Index considers important factors such as societal safety and security, ongoing domestic and international conflict, crime rates and the degree of militarisation. Living in Ireland means the chance to get outside and explore the glorious countryside in safe surroundings – what more could your family ask for!
6 – Forward-thinking and tolerant society
Irish people are infamous the world over for being welcoming to new people, but that doesn't just mean when you're down the local pub enjoying live music and a lock in. Surveys have found that Irish people are more tolerant than the European Union average towards ethnic minorities and the LGBTQ community. The OECD Better Life Index highlights Ireland's strong sense of community as one of its best qualities, where an incredible 96 percent of the population state that they have someone that they could rely on in a time of need. Furthermore, the latest Social Progress Index, which considers personal and political rights and civil liberties, listed Ireland at the 12th most socially-progressive country in the world. Additionally, Same-same sex marriage is legal and Ireland ranks 8th best in the world in terms of the Global Gender Gap.
7 – To keep EU citizenship
Throughout all of the chaos that's surrounding Brexit – Ireland has always stressed its passionate commitment to staying within the EU. Should you have Irish heritage, and be keen to retain your right to free movement for you and your children, securing your passport is a relatively straightforward process. It's simply a matter of obtaining documents, and filling in the correct forms. You can read all about the process, and the steps involved, here. While you might feel the pressure mounting to secure this pre-March 2019, there's actually no real rush. If you have proof of your Irish heritage, you will be able to secure a passport later down the line, even after whatever's going to happen with Brexit happens.
8 – Good for your health
Imagine being able to spend your days hiking around some of the world's most beautiful scenery. We're talking the Cliffs of Moher, The Burren, on any one of the spectacular beaches that characterise the west coast. Maybe you're a touch more competitive and fancy ticking off the most challenging walks when you move to Ireland, on the Wild Atlantic Way, The Wicklow Way or The Causeway Coast. Or perhaps a brisk afternoon stroll followed by a hearty bowl of Irish stew or colcannon is more your style.
Imagine being able to spend your days hiking around some of the world's most beautiful scenery. We're talking the Cliffs of Moher, The Burren, on any one of the spectacular beaches that characterise the west coast.
Whichever your preference, life in Ireland with all that fresh air, is undeniably good for your health. The OECD have found that the life expectancy in Ireland of 82 is two years higher than the OECD average. Also, the air and water quality is significantly better than the UK, and Irish healthcare is excellent.
9 – Great place to retire
If you want to spend your retirement exploring beautiful countryside, charming fishing villages and feasting upon some of the world's best seafood – Ireland is an excellent place to move to in 2019. In addition to the exceptional healthcare and the opportunities for outdoor pursuits, it's possible to snap up affordable property that won't mean you have to deal with hefty mortgage payments every month. Furthermore, U.S. News created a list of the best countries in the world for a comfortable retirement, and Ireland secured the number 8 spot.
10 – Tourism set to grow
If your grand plan is to buy property in Ireland to rent out and make a little income, Ireland is an excellent choice. In their latest trends report, Failte Ireland – Ireland's National Tourism Development Authority – stated that they are anticipating 9.6 million overseas tourists visiting Ireland over the course of 2019. Additionally, they expect 9.8 million domestic tourists to take trips within the country too. If they are correct, tourism in Ireland will drive an estimated €7.8 billion into the country's economy. Employment within the sector will increase by an incredible 20,000 jobs to reach 160,000 paid positions. Failte Ireland highlighted that while visits from the UK may dwindle as a result of Brexit, visits from North America and Europe are set to go up. This is good news as tourist hailing from these regions are said to be the ones that enjoy longer holidays and spend more cash while they're here!
Speak to your friendly Ireland property experts on 
020 7898 0549 or send an email to 

[email protected]

.
Therefore, if you're thinking of investing in a holiday rental when you buy in Ireland in 2019, remember to choose your spot wisely to capitalise on that tourist income all year round. This growth in tourism to Ireland doesn't look to be slowing down any time soon. A second runway is currently under construction at Dublin Airport, which is due to be completed by 2021. Furthermore, there are talks underway to determine whether the same airport requires a third terminal to account for all of the air traffic. It seems people just can't get enough of the Emerald Isle – and there's no reason why you shouldn't cash in on that action!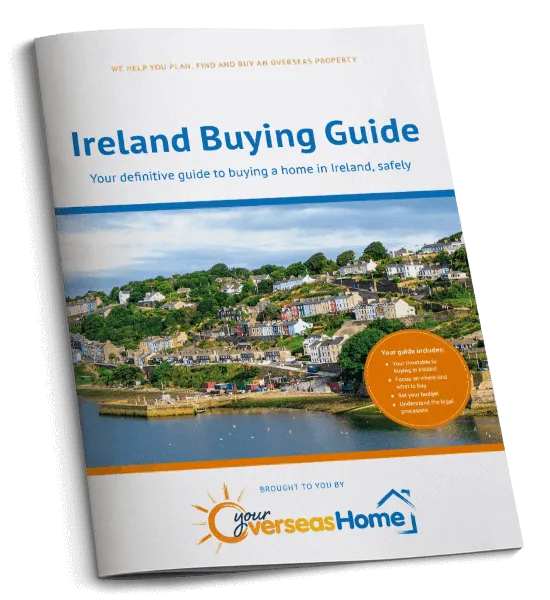 The Ireland Buying Guide takes you through each stage of the property buying process, with practical recommendations from our experts who have been through the process themselves. The guide will help you to:
✔

  Ask the right questions
✔

  Avoid the legal pitfalls
Download your free guide to buying in Ireland