In the aftermath of Storm Ophelia, we take a look at how often Ireland is hit by adverse weather of this kind, and how it copes.
This week we saw parts of Ireland very badly affected by Storm Ophelia. Gusts of up to 118mph were recorded off the coast and three people tragically lost their lives. If you're planning a move to Ireland, you might be wondering how regular an occurrence this kind of weather is, and how the country copes when it does get hit. Today we're taking a look at Ireland's climate, the weather you can expect and the types of weather that are a possibility.
In Ireland, the average temperature tends to sit around 10°C, but there are between 25 and 50 days of frost each year.
An Irishman might tell you that there's no such thing as bad weather, just the wrong clothes. But if you're making a new life in Ireland, you might want to invest in some wet weather gear. Ireland's climate is heavily influenced by the Atlantic Ocean, especially along its rugged west coast. It gets around one to 1.25 metres of rain per year, which is about twice as much as London. It's a similar amount to New York City, but the difference is that Ireland is much warmer. Although much further north, in New York three-fifths of the precipitation falls as snow, whereas in Ireland virtually none of it does, thanks to the Atlantic Gulf Stream.
Other countries sitting at a similar latitude are subject to much greater extremes of temperature. Lithuania, for example, sits on the same latitude and has warm summers but freezing cold winters. In Ireland, the average temperature tends to sit around 10°C, but there are between 25 and 50 days of frost each year.
The North Atlantic Drift – a major warm ocean current – keeps the waters around Ireland relatively mild, in comparison to other spots similarly north at least. Sea temperatures on the warmer southern coasts vary between around 10°C and 16°C through the year. If you get that wetsuit on, the West Coast has some sensational surfing and kayaking adventure on offer.
Irish weather is very changeable, but very rarely extreme. While it does rain often, long bouts of heavy rain are unusual. This means that you can often avoid being caught out in the rain by timing things nicely, or by dipping into a local pub to keep dry!
If you're making the move, you should speak to a currency and payments specialist about how to get money sent to you in Ireland. We recommend Smart, ranked highest on Trustpilot for money transfer and currency exchange.
Locations along the coast are the most susceptible to blizzards, hurricanes, flash flooding and hail, which are the major adverse weather that the country experiences. The country's hills and mountains tend to offer shelter from strong winds, which is why coastal areas are most affected by storm damage. If you're looking to live on Ireland's coastline, before you buy, always make sure that you have a building survey conducted to ensure the structural integrity of your property and to ensure protective measures have been put in place.
Ireland's biggest storms
The last big storm to hit Ireland prior to Ophelia was Hurricane Katia back in 2011. As a result of the storm, which saw winds of up to 110kph, around 4,000 people were left without power due to fallen trees and damaged overhead powerlines. Prior to this, Ireland was hit during Hurricane Charley in 1986, which also caused damage across the UK. Wicklow and Dublin were particularly badly hit, as both the River Dodder and River Dargle broke their banks.
The worst weather to ever hit Ireland was dubbed the Night of the Big Wind, which happened back in 1839. Over 300 people were killed and tens of thousands were left homless when a category three hurricane hit the country, with heavy rain followed by heavy snowfall.
When storms of this nature do hit Ireland, the major problem likely to affect you if you make the move is how quickly the country gets back on its feet. It's often the more rural locations that end up worse off – with power lines down and roads blocked, it can take a little longer than you might like to get things up and running again. One thing that you can count on is communities coming together to help those in need. The Irish are known for their community spirit after all!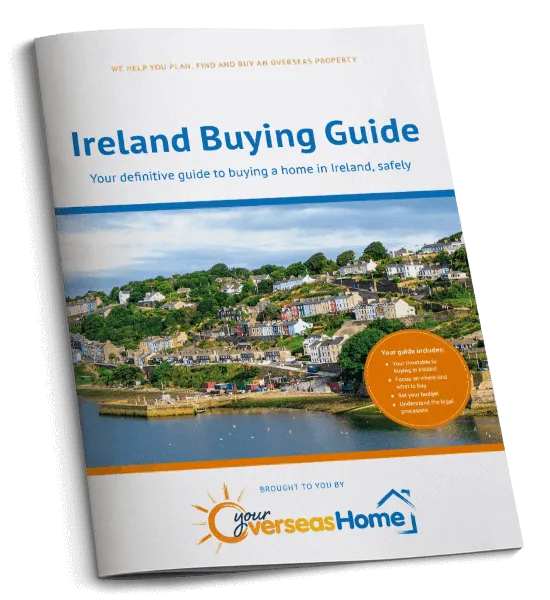 The Ireland Buying Guide takes you through each stage of the property buying process, with practical recommendations from our experts who have been through the process themselves. The guide will help you to:
✔

  Ask the right questions
✔

  Avoid the legal pitfalls
Download your free guide to buying in Ireland