If 2020 is going to be the year you move to or buy property in Ireland, there are a few things you can do now to prepare yourself for the January rush. Today, we're running through what you can expect from the Irish property market in 2020, discussing whether Brexit will affect you, and outlining which professionals you can get onside now to ease you through your purchase of Irish property. 
Ireland's property market
At time of writing, the average cost of property in Ireland stands at €257,114. In the recent Global Housing and Mortgage Outlook report released by Fitch Ratings, which considers how property prices look set to move over the course of 2020 around the world, Ireland is expected to see prices rise by nine percent. That is, as long as we don't see a no-deal Brexit, which does seem increasingly unlikely. While Dublin's property prices remain higher than the rest of Ireland, recently we've seen prices in the capital take a dip, and with more properties set to be released onto the market to ease housing demand, we could see prices fall further in 2020. Also, there are still some serious bargains to be found across Ireland. In Sligo for example, the average property costs just €144,894.
Find out what to look out for when viewing an Irish property with your free Viewing Trip Guide, written by industry insiders.
What about Brexit?
No matter what does (or doesn't) happen with Brexit, you will still be able to buy property in Ireland, and relocate there in 2020 – and beyond! The reason that your right to do so remains unaffected is because the UK is a member of the Common Trade Area (CTA), alongside Ireland, the Channel Islands and the Isle of Man. This was established long before the UK and Ireland joined the European Union. All reciprocal rights currently in place allowing British citizens to live and work in Ireland, will remain so moving forward. This means that you can proceed with your Irish property purchase as planned.
The Golden Three
Before you set off for the Emerald Isle, we recommend you have the following professionals in place so that you are ready to rock in the event that you find the Irish property of your dreams. These guys are so vital to the success of your Irish property purchase that we've nicknamed them the 'The Golden Three'.
1 – Estate agent
If you're planning to head over to Ireland to view potential properties to purchase, there are a couple of essential things to establish in advance. Firstly, your budget – knowing how much you have to spend and where those funds are coming from is an essential first step. Secondly, you must know the location you want to buy in, and exactly what you want from a property. Establishing these essential facts will allow you to find an estate agent who can help you find the perfect property for you. In fact, the more information you can give them in advance, and the more detailed that information is, the better. That way, they can hone your viewing trip to Ireland to ensure every property you visit is a potential winner.
Choose an estate agent who knows the area, the market and the buying process like the back of their hand. They will be an invaluable source of information for you; make sure you find someone best placed to help you achieve success. Also, it's important to choose someone who listens and understands you, and who is an effective and efficient communicator. The last thing you want is an estate agent incapable of answering calls or emails, especially when time is of the essence – as it often is with property purchases.
2 – A currency specialist
By the time you hop on the plane to go and look at the properties your estate agent has shortlisted, your finances should be in place and ready to go. Even though there are still bargains to be found in Ireland, there is always competition for the best properties – you need to be able to transfer funds quickly from the UK to Ireland, to secure the property. When buying property in Ireland, you will obviously be buying in euros. This means the cost of currency exchange needs to be factored into your planning.
Exchange rates fluctuate every second, particularly at the moment when so much is up in the air with Brexit and the upcoming general election, and that's a big risk to your purchase.
Exchange rates fluctuate every second, particularly at the moment when so much is up in the air with Brexit and the upcoming general election. To ensure you get the most out of your hard-earned Irish property budget, you should get a currency specialist like Smart Currency Exchange on side. They can help you to lock in the same exchange rate for up to twelve months to protect you from the vulnerability of the currency market, which can effectively help you to lock in the price of your Irish property. Additionally, they can have your deposit ready to send, at your say so, should you find that perfect property and need to act fast. Smart Currency Exchange are experts in helping people to buy property abroad and have been doing so for more than 20 years. They understand the challenges involved, and know what steps to take to ensure your currency transfer is smooth and cost effective.
3 – A solicitor
Buying property is a big undertaking, and doing so in another country presents its own unique set of challenges. Having an independent Irish solicitor on side prior to your viewing trip, guarantees you have someone in your corner guiding you through the all-important legalities of the process. Your solicitor can run the necessary title checks, check the contracts and guide you through every step of the process. One point to note is that Irish solicitors vary wildly in cost. It's worth shopping around to find someone that both comes highly recommended, and that offers a competitive price for their services.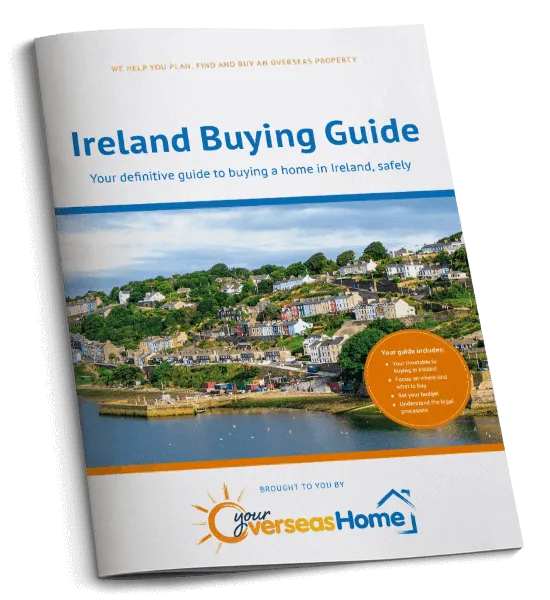 The Ireland Buying Guide takes you through each stage of the property buying process, with practical recommendations from our experts who have been through the process themselves. The guide will help you to:
✔

  Ask the right questions
✔

  Avoid the legal pitfalls
Download your free guide to buying in Ireland