Finding the right estate agent in Ireland
It can take a considerable amount of work to find an Irish property that makes your heart sing. Therefore, having an excellent specialist in your corner, scouring the property market on your behalf, can make a real difference to the success (and efficiency) of your buying journey. But how do you find the right estate agent in Ireland?
Where can I find an Irish estate agent?
There are a number of ways to source a decent estate agent in Ireland. Firstly, visit the Property Services Regulatory Authority (PSRA) website, and check out their public register of auctioneers and estate agents. Secondly, you can take the old-fashioned route and check out the Golden Pages, Ireland's version of the Yellow Pages. Thirdly, you can consult the Internet to locate and register with agents that cover your area of interest. Your property search will likely begin online, on the major Irish property websites, such as Daft.ie, Property.ie and MyHome.ie. Via the listings you find online, you will discover more estate agents in Ireland, who can help you to source your dream home. It's worth creating alerts on these websites, so that you will be notified when a home that suits your needs comes on the market. Also, reach out to your contacts – has anyone you know successfully bought in Ireland? If so, ask for a referral to their agent.
We can also provide you with recommendations of Independent Financial Advisors, who can give you professional, impartial advice on your budget.
You will notice from internet property adverts that some homes are registered with multiple estate agents in Ireland. Generally, the more agents the property is listed with, the more desperate the seller is to get it off their hands. Some listings will instruct you to get in touch with the estate agent to find out the price, others might quote different asking prices. If the asking prices differ from estate agent to estate agent, use this intel to your advantage. All of the prices are good guidelines for your offer. Stay close to the lowest price if you decide to make an offer. Additionally, if the home you're considering has been purchased since 2010, you can see how much the previous buyer/s paid for it on the PSRA's Residential Property Price Register. Knowing this can be handy when it comes to making an offer.
Additionally, when conducting your search, don't rule out commercial property with the potential to be converted into a residential home. Planning legislation has been relaxed around this in Ireland, so you could find a real winner of a property via a commercial agent, that you can then work your magic on. Check out the Living Cities Initiative and BidX1 for commercial listings.
What qualifications should they have?
To be legally allowed to sell property, estate agents in Ireland must be licensed by the PSRA. A good agent will have their PSRA license to hand, be willing to show it upon request, or have it clearly displayed in their office. Also, it's advised to opt for an estate agent who is a paid-up member of a professional association. For example, the Institute of Professional Auctioneers and Valuers (IPAV). Finding someone who is a member ensures they've completed the necessary training, and that they uphold industry standards. All members must follow a strict disciplinary code, and – importantly, they all must have professional indemnity insurance, which helps to protect your interests. Similarly, many estate agents in Ireland are members of the Society of Chartered Surveyors Ireland (SCSI). Again, they follow the rules and best practice guidelines that ensure a proficient service.
What rates do estate agents charge?
Although there are no government controls on how much estate agents in Ireland can charge, commission is generally between 2-2.5 percent of the property price. This fee will be included in the price of the property, which means it is covered by the buyer. Before signing anything, make sure you understand and question any additions to the sale price that aren't just the normal fees and taxes associated with buying property in Ireland.
Commission is generally between 2-2.5 percent of the property price
Knowing the lingo
Estate agents are typically referred to as 'auctioneers' in Ireland, although if you say estate agent, they won't stare at you blankly. Additionally, be aware of the Building Energy Rating (BER). All homes on the market should possess a BER certificate, which records how energy efficient a property is. Each property will be given a rating from A (very efficient) to G (very inefficient). This is a handy resource which can help you establish how much the property will cost to run. Furthermore, the BER should come with a recommendation report. This will outline cost effective suggestions on how to improve the home's energy rating. Also, when buying property in Ireland it's important to establish whether the property is located in a High Radon Area, and whether the property itself has been tested for radon. You can do so on the Environmental Protection Agency's website.
Get your copy of the Negotiation Guide to make sure you get the best deal possible from your estate agent.
How do I proceed when I want to view properties?
As a general rule, estate agents in Ireland who provide detailed online listings are the top option. Also, featuring good images and clear descriptions suggests that these agents have experience working with foreign buyers. However, after a browse through some of Ireland's leading property websites, you'll see that some agents barely include any details at all. Images can be poor and descriptions can be insufficient. Therefore, you should always visit a property to get the whole picture before you decide to buy it.
Always make appointments to see properties. Agents don't typically enjoy people showing up without warning demanding to be shown properties, so the more advanced notice, the better. If you're travelling to Ireland specifically to view properties, make sure they fit your requirements to the letter. Outline your requirements and your deal breakers to your agent right off the bat. That way, they have all the key information to source a home you might actually buy. If they show you any properties that don't match your specifications, tell them right away to ensure you don't waste time. The more info they have, the better. Use the 3D satellite view option on Google Maps to view the house and garden from a range of angles. Also, check out Eircode.ie, which allows you to enter a postcode and see clear plot outlines for the properties you're interested in.
Don't miss your free copy of the Viewing Trip Guide for everything you need to know about making your trip a success.
Once you have an area identified and a shortlist of properties that meet your specifications, it's time to go and see them. Those visiting Ireland to view properties will need to be well organised. Make appointments to see a number of properties each day. Around six to eight is perfect for not getting overwhelmed, or confused! Allow for travel time, lunch breaks, and pack a camera and notebook so you can diligently record details of each property without getting them muddled. Also, you might want to mark the properties on a map so you can return later to check out local amenities and so on.
Making a bid
Use the agent for their knowledge. Ask whether there are any other bidders in the race. If so, are the other bidders cash buyers, or is the sale dependent on them being granted a mortgage? Who is the vendor and what's their situation? I.e. are they desperate to sell? How long has the property been on the market? Are they moving to Siberia in a month and need to make a decision now?
Before you buy
It's important to note that the seller is under no legal obligation to disclose the property's defects. Therefore, you should always have a survey of the property conducted. Find a reputable surveyor via the Society of Chartered Surveyors Ireland (SCSI). You can make an offer before the survey is conducted, just make sure the sale is contingent on the survey coming back clear. Plus, always have formal mortgage approval before you sign the contract, because if approval doesn't come through, you risk losing your entire deposit. Finally, remember that the estate agent (or auctioneer) works for the seller. Therefore, they are always acting with the seller's best interests in mind.
Find this information helpful? Share with your friends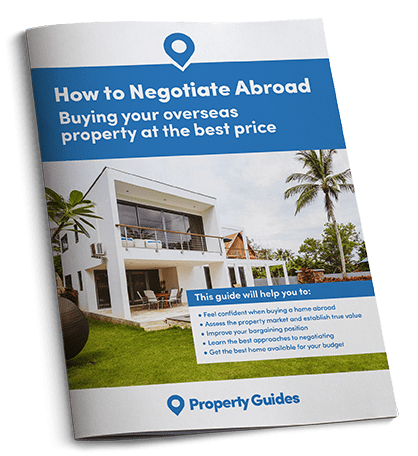 How to negotiate abroad is the guide to put you back in control:
✔

  Feel confident when buying a home abroad
✔

  Assess the local property market
✔

  Improve your bargaining position
✔

  Learn the best negotiating tactics
Download your free Negotiation Guide