Are you craving open, green spaces, friendly village life and unrivalled craic? If this, or anything else from our list, sounds like you, then it could be that you should move to Ireland in 2020!
1. You're craving wide open spaces
Ireland has some of the world's best countryside, we say without a hint of bias. Whether you're looking for a holiday home on the rugged Atlantic coast – imagine waking up with a panoramic view over Donegal Bay – or even an apartment in Dublin, just a short drive from the Wicklow Mountains, you're spoilt for choice in Ireland.
Don't spend any money on your move abroad until you've read

The Currency Guide to Emigration,

 free to download.
2. You're feeling cabin fever coming on
If your New Year's resolution is to get a bit more active or find a new hobby, you're in the right place. Ireland is perfect for anyone looking to get outside, keep fit and pick up a new sport or activity.
As local property expert Sarah Monaghan tells us, 'You'll find me surfing in Bundoran, hiking the trails of the Comeragh Mountains and practising my golf in Lahinch – the list really is endless. It's no wonder that our holiday home market is booming here, with so much to do around the country. From the hills and lakes of Glendalough, to the austere landscape of the Burren and the dramatic scenery of the West Coast, Ireland is surprisingly diverse, and there's nothing I love more than getting out and about and exploring the best of what it has to offer.'
'Fill those lungs with fresh air as you try out world-class golf courses, spectacular hikes and biking, or – if icy water doesn't put you off – surf some of the best waves in Europe on the Atlantic coastline.'
Fill those lungs with fresh air as you try out world-class golf courses, spectacular hikes and biking, or – if icy water doesn't put you off – surf some of the best waves in Europe
3. You want more house for your money
According to the end of year report from Daft.ie, the average cost of an Irish home now stands at €250,766. This clocks in at just slightly less than the current UK average of £215,282. There are huge bargains to be found in some of the most scenic corners of the country including Donegal, where the average property price is €138,869, and Leitrim, where the average price is just €125,603. With the property sales market in balance and new homes being completed all the time, you can expect good things from the property market in 2020.
4. You want more time for yourself
As the Irish are fond of saying, 'When God made time, he made plenty of it,' – and if you move to Ireland in 2020, you'll get more chance to enjoy it. Ireland has a healthy work-life balance, better than much of Europe according to the OECD Better Life Index. Average working hours tend to be 9-5 or a perfectly-reasonable 35-40 hours a week. Furthermore, holiday allowance clocks in at a wonderfully healthy four weeks of paid holiday per year. When you add that to nine annual public holidays, that's a lovely amount of time off.
5. You'd quite like to keep your EU rights
With Boris Johnson secure in Downing Street for the next four years, it looks like Brexit is finally going to happen. If you're keen to cement your space within the European Union, a move to Ireland in 2020 will guarantee your spot. As a Brit, your right to live and work in Ireland won't be affected by Brexit, but if you have Irish heritage and want to make things official with an Irish passport, you'll be pleased to hear it's a relatively straight-forward process. Additionally, being the home of Ryanair, from Ireland it's nice to easy to grab cheap flights to more than 190 European destinations without breaking the bank.
If you have questions about moving to Ireland, don't hesitate to speak to your friendly property experts on +44(

0)20 7898 0549 or send an email to ireland@propertyguides.com.
6. You're a bit of a culture vulture
If you've always been a sucker for the Irish arts, 2020 is a brilliant year to dive in head first – especially in the west of Ireland, given this year Galway has been appointed the European Capital of Culture. There are 1,900 seriously exciting events on the city's cultural calendar including an appearance by Margaret Atwood at the Wild Atlantic Women literary event in March and Galway International Arts Festival, featuring the Pixies, in July. Furthermore, Galway was also voted one of Lonely Planet's Best Cities to Visit in 2020. However, it's not just Galway that knows how to culture-it-up – across Ireland, you'll be treated to poetry, literature, dance, opera and film festivals every month of the year, giving you plenty of high-brow reasons to move to Ireland in 2020.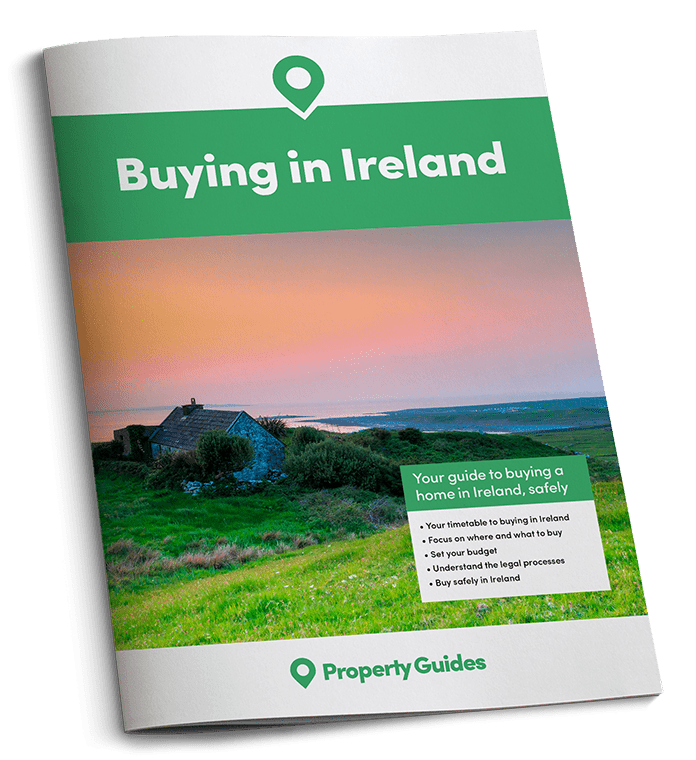 The Ireland Buying Guide takes you through each stage of the property buying process, with practical recommendations from our experts who have been through the process themselves. The guide will help you to:
✔

  Ask the right questions
✔

  Avoid the legal pitfalls
Download your free guide to buying in Ireland