Getting to grips with the Irish lifestyle
Although you will encounter subtle differences, everyday life in Ireland doesn't differ too much from life in the UK. How different things are will depend on whether you're located in a city, or in a completely rural location. We consider all you need to know about the typical Irish lifestyle.
Relocating to Ireland is an enormous upheaval, meaning that there are a lot of factors you will need to consider. The Ireland Property Guide team are on hand to help guide you through every aspect of your journey, with expert advice on matters ranging from transporting your belongings, all the way through to where you meet likeminded people. Here are some key matters to consider about the Irish lifestyle…
Irish culture and customs
Irish people are friendly, and place a lot of emphasis on the family. They're also fiercely patriotic and St Patrick's Day is a raucous affair that has everyone, no matter their location, raising a glass or two. Ireland is a Catholic country, and although tensions have calmed down considerably between Protestants (who tend to live in the north of Ireland, and Northern Ireland) and Catholics (traditionally in the south) it pays to be respectful, and not to be too vocal about these issues.
Everyday life in Ireland doesn't differ too much from life in the UK.
Food and drink
Drinking is a big part of Irish culture, and much of their socialising focuses on live music and a couple of pints (usually Guinness) down the pub. If you're located in a bigger town or city, there will be ample options for food and drink, whereas in smaller towns and villages, there's likely to be just fewer or even just one restaurant or pub option. In Dublin, Galway, and Cork, you should really be able to find any cuisine that takes your fancy. Remember to try some traditional Irish dishes, such as Irish stew served with soda bread, colcannon, boxty, and coddle, and fill your boots with the country's fresh seafood and shellfish.
Sport and leisure
Sport plays a big role in the lifestyle of Irish people, which means there are a huge number of opportunities to watch or participate in the national obsession. Arguably the most popular are Gaelic football, rugby, hurling, football, golf, and horse racing, but you'll find that pretty much all sports can be found somewhere.
With its incredible scenery and countryside, it's no surprise that all types of outdoor pursuits are also incredibly popular, including hiking, cycling, horse trekking, rock climbing, abseiling, kayaking – the list goes on!
Shopping in Ireland
Your opportunities for shopping will really depend on where you're located. The bigger cities have everything you can hope for, from high street favourites, to designer threads. If you're living rurally, you may have to plan your shopping trips a little more carefully, or of course you can always just buy what you need online.
The bigger cities have everything you can hope for, from high street favourites, to designer threads.
You'll find that most shops are open from 9am until 5:30pm, Monday to Saturday. Stores in bigger cities may be open on Sundays, but it's worth checking, as it's not uncommon for things to be closed. Banks, pharmacies, post offices and some shops, may even close for an hour at lunchtime.
Having more than a decade of experience under our belts, we've successfully built a fantastic network of expats who've made the move, and experts that have helped make it possible. We can offer guidance and advice for every step of your buying journey. To read more about how to make a success of your move, or purchase, in Ireland, download your free copy of the Ireland Buying Guide today or contact the Resource Centre on 0207 898 0549.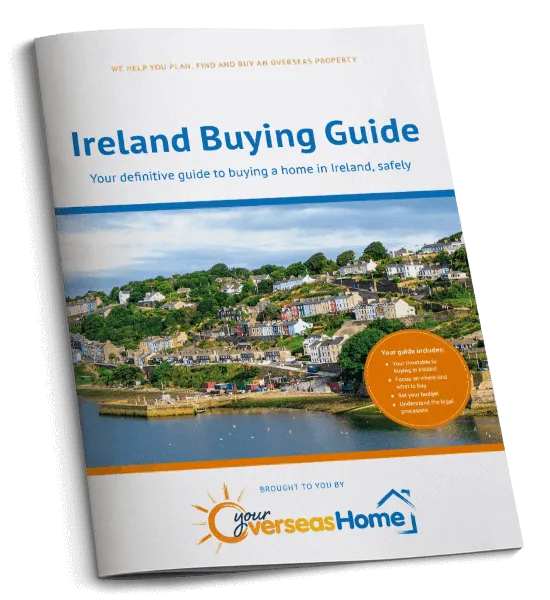 The Ireland Buying Guide takes you through each stage of the property buying process, with practical recommendations from our experts who have been through the process themselves. The guide will help you to:
✔

  Ask the right questions
✔

  Avoid the legal pitfalls
Download your free guide to buying in Ireland