Greece's affordable property and nascent economic recovery is encouraging international investors, says the website Tranio.com. With authorities targeting the year-round tourism market, can property owners look forward to four-season rentals?
With Greece's GDP projected to rise by 2.6% in 2018, almost double that of the UK, according to the IMF, there is a real feeling that the country is turning the corner.
For property investors – both large-scale investors buying apartments by the dozen and those of us looking for a holiday home with a bit of rental appeal and capital growth – there are real opportunities. The evidence is growing that international buyers are beginning to take advantage of them.
International buyers in Greece
According to data collected between 2005 and 2015 by the Greek Statistical Service (Elstat), the number of Greek real estate transactions increased for the first time in 2015, growing by 25% compared to the year before.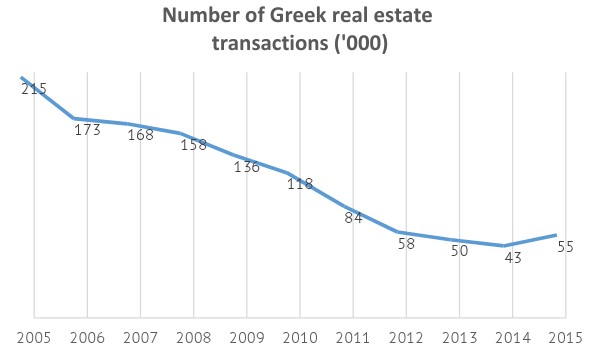 Although British buyers have traditionally favoured Greece – due to long historical ties and the fact that with 2.3million British tourists we are second only to Germany in numbers – there has also been interest from Germany, Italy, America and China, accounting for about 20% of all real estate transactions in the country. What is attracting them all?
If you are ready to buy in Greece you'll have a few financial matters to sort out. For advice on getting the best currency deal download the Property Buyer's Guide to Currency.
Firstly, affordability. According to Statista, property in Greece is several times cheaper than most countries in the European Union (EU). It is 1.5 times cheaper than in Portugal, Germany and Spain, three times cheaper than in Italy, four times cheaper than in Austria and France and seven times cheaper than in the United Kingdom.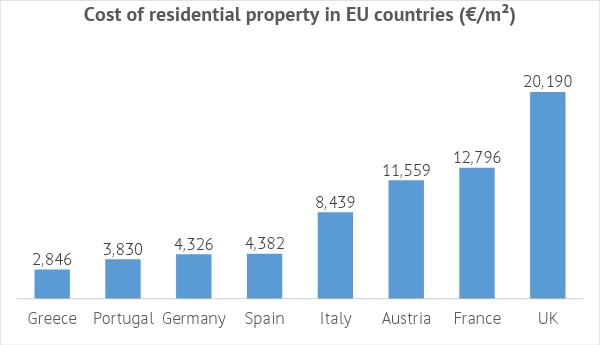 Western Europeans see the Athens property market as an investment opportunity. According to the Bank of Greece, in Q3 2017 property prices were 42% lower compared to pre-crisis levels, and many analysts expect a significant increase in the cost per square meter over the next three to five years. There are two reasons for this optimism:
1. Tourism is booming in Greece: the number of international tourist arrivals grew between from nearly 15 million in 2009 to 25 million in 2016. According to the World Tourism and Travel Council (WTTC), when the final tally comes there will have been 25 million international tourist arrivals in 2017. They expect this to nearly double to 47 million in 2027.
2. The country's economy is recovering. The International Monetary Fund expects GDP growth to be 2.6% in 2018. The unemployment rate in Greece fell from 27.8% in 2013 to 20.6% in 2017. The Greek government expects an increase in foreign direct investment to €4 billion in 2017, which is 42% more than in 2016.
According to Mr. Papaspyrou, founder of the hotel property specialist Modus & Amplio, foreign buyers used to focus on resort real estate but now they are looking at the Athens real estate market. In 2015 about half of all transactions involving so-called Greek summer cottages were transactions involving foreign buyers, but now cheap property is the main driver for 80% of the Europeans who buy real estate in Greece. Foreigners can now consider property they could not afford to purchase before the crisis, including apartments in the ancient city of Athens and property along the coast.
Year-round tourism
According to the World Travel and Tourism Council (WTTC), the contribution of tourism to Greece's GDP amounted to 18.6% in 2016, and is expected to grow to 22.4% by 2026. The growth in tourism is also driving the demand for property in Greece, and Athens real estate in particular. As such, the development of tourism is of paramount importance to the Greek economy.
Greece is traditionally considered a beach holiday destination. Tourist arrivals are highest during the warm months of the year (from April through November), but authorities are hoping to make the country popular all year round.
"What most visitors do not know – and this is part of our new tourism policy and our promotional plan abroad, – is that many destinations are ideal to visit 12 months a year, and each period have to offer different experiences", said the Greek tourism minister Ms Kountoura in an interview with TUI Group.
An important feature of the policy is the development of new types of tourism that would not only attract beach holiday lovers, and offer opportunities to owners of rental apartments or tourism businesses.
1. Medical tourism
According to a survey by the European Commission among EU citizens, almost 50% of respondents were considering receiving medical treatment abroad, with popular treatments including orthopaedic surgery, cosmetic surgery, prenatal care and in-vitro fertilisation. The Association of Hellenic Tourism Enterprises (SETE) has included medical tourism in its list of strategic development priorities up to 2021. The main advantage of Greece compared to other popular destinations is the relatively low cost of treatment. For instance, according to Greek media outlet Ekathimerini, carcinoma treatment in the United States costs about €420,000, while in Greece it does not exceed €30,000.
Greece's average of 300 sunny days per year, lack of frost and low pollution levels (the per-square-metre concentration of fine particulate matter in Greece is half as much as in Thailand and almost 1.5 times lower than in Italy) also appeal. Large medical centres are located on the islands of Corfu and Crete, as well as in Thessaloniki, Kalamata, Alexandroupoli and Athens.
In autumn 2017, Athens Medical Association president George Patoulis announced the creation of the International Medical Tourism Centre. Ekathimerini reported, citing Medical School of the University of Athens professor Yiannis Tountas, that in the next decade Greece could bring in some €2 billion from medical tourism with the arrival of 400,000 patients.
2. Religious tourism
Although the Greek Orthodox may seem like a mystery to Anglicans, church pilgrimage tourism is a reliable market for hospitality businesses in Greece, and one which the government is actively promoting. Annually, about 330 million people visit sacred sites in the country, making Greece one of the most popular pilgrimage destinations. Six cultural sites are on the UNESCO list and there are traditional pilgrimage routes, such as the one taken by Paul the Apostle, which starts on the Island of Samothrace and runs through the cities of Kavala, Philippi, Amphipolis, Thessaloniki, Veroia, Athens and Corinth.
3. Culinary tourism
According to UNWTO, tourists spend more than one-third of their travel budgets on meals. Food is one of the crucial factors that determine the quality of tourist holidays. Culinary tourism includes excursions, gastronomic festivals, fairs, produce markets, culinary workshops and food-sampling tours. A popular activity among tourists is to hunt for truffles in Crete – participants search for the valuable fungus with a trained dog.
Greek cuisine is popular worldwide for its simple and healthy nature. The country is also known for its fresh and high-quality local produce. The Mediterranean diet, based on the traditional cuisine of Crete and Southern Italy, is part of UNESCO's Representative List of the Intangible Cultural Heritage. Its staples include fruits, vegetables, potatoes, whole grains, rice, beans, nuts, chickpeas, lentils, herbs and olive oil. This diet is rich in nutrients and fibres that are good for health.
Elena Izyumova, real estate writer and content strategist at Tranio.com.