Greece's Colourful Festivals
The Greeks might not be big on Halloween, but that's probably because their calendar is already chock-a-block with colourful festivals throughout the year. We get fifteen public holidays a year (give or take a local patron saint's day) and the locals certainly know how to celebrate in style. Here are some of the top festivals in Greece.
It seems like barely two months go past without a big celebration here in Greece, and that usually means delicious food, music, parades and good company, whether you're in a small village or a large town. For anyone moving from overseas, throwing yourself into the whirl of Greek festivals is the perfect way to get to know your neighbours, learn a bit more about Greek life and culture, and feel more at home.
If you look at my list of the top festivals, you'll see that Halloween is missing. That's because it isn't generally celebrated in Greece, although some children have adopted the American custom of 'trick or treat'. Similarly, Valentine's Day is an adopted festival, which becomes more popular every year. However, Greeks, if asked, probably wouldn't be able to say which day it is celebrated on. The cards in the shops are reminders of it.
With a Brexit extension just agreed, now's the perfect time to get your move underway. Find out how to raise finance for your dream home in our newly updated guide, How to Pay for It.
This year Orthodox and Catholic Easter fall on different days, with Easter Sunday being on April 12th in the UK and the 19th here, for example. It's worth noting this disparity if you are thinking of viewing a property in Greece in April 2020. Do remember, too, that ferries between the islands need to be booked in advance on holy days if your route stops at an island with a popular shrine (this includes popular routes like Athens-Mykonos). Easter is technically more important to Greek Orthodox believers than Christmas, and they throw themselves wholeheartedly into the festivities.
What are the main festivals in Greece?
New Year's Eve
New Year's Eve is when Greeks eat together. After the evening meal they go clubbing, although they tend to go to bouzoukia rather than to discos. These places feature live Greek music and singers. In the past you could throw plates in appreciation of the singing and music, but this has been banned for health and safety reasons. Now you throw flower heads, which is not quite the same. Women go around the tables encouraging customers to buy the flower heads. Tables must be booked well in advance.
You will hear χρόνια πολλα a lot as a greeting or farewell. It means 'many years' and is said at Christmas and other holidays, as well as name days and birthdays.
New Year's Day
New Year's Day is the day for exchanging gifts and eating Vasilopita, St. Basil's cake, a kind of cake with a coin hidden inside it.  Everyone wants the lucky coin. This is similar to the British Christmas pudding tradition, although these 'cakes' are cakes, not steamed puddings.
You will hear χρόνια πολλα a lot as a greeting or farewell. It means 'many years' and is said at Christmas and other holidays, as well as name days and birthdays.
Pomegranates are symbols of good luck and prosperity in Greece, and one is smashed on doorsteps throughout Greece on New Year's Day, so that the family will have good health, wealth and luck throughout the year. You might be given a pomegranate by Greek friends, or they might smash one on your doorstep, so have a broom handy. Chill. It's a friendly gesture.
You may be woken up early by the children from the neighbourhood singing καλεντα, the traditional seasonal songs. Sometimes they just bang their triangles. You are expected to give them money, so it's wise to have coins to give them.
Don't forget to say χρόνια πολλα!
Epiphany
Epiphany is the next holiday and people go to the sea, lakes, rivers and so on. A priest blesses the water and throws a cross into it. People [usually men] dive in to retrieve it. Epiphany celebrates the baptising of Christ by John the Baptist in the river Jordan. The person who gets the cross is blessed by the priest.
In Greece, Epiphany is called 'Fota' or 'lights', and also, Theofania, the 'vision of God'.
Once again, the neighbourhood kids will wake you with their triangles. After this day, it's all over until Christmas Eve.
During the 12 days of Christmas, Greek tradition has it that the mischievous kallikantzari come up from the Underworld to wreak havoc in people's homes. All year they have worked to cut down the tree that imprisons them. These goblin-like creatures are banished to their underground lair at Epiphany [when the priest blesses houses], only to return once again at Christmas time when they have once more succeeded in cutting down the tree.
Carnival
Carnival or Apokreas is celebrated in Greece between February 9th and March 2nd in 2020. Some cities, notably Patras, have parades, and food is very much to the fore. People dress in fancy dress and carry large plastic hammers, so don't be surprised if you are hit with one. There are different carnival traditions in various Greek towns, so ask what's happening in your area.
Smoky Thursdays
February 20th – Tsiknopempti [Smoky Thursday], is 11 days before the start of Lent. This is a celebration of meat, particularly of grilled lamb chops, but any meat will do. Tavernas and restaurants are very busy, so book well in advance to be sure of getting a table.
Make sure that any property you're buying is legally registered and has the title deeds. We can provide you with recommendations and introductions to legal specialists. Simply fill in our enquiry form with your requirements and we'll be in touch.
Independence Day
25th March is Greek Independence Day. It was on this date in 1821 when the revolution against the Ottomans was declared officially. There are street parades all over Greece and tavernas are full to overflowing. Again, book a table in advance. People traditionally eat salt cod with garlic sauce.
Clean Monday
Clean Monday [a national holiday] marks the first day of Lent and is a day when families get together, have picnics and fly kites. These symbolise our attempts to get closer to God. As Clean Monday is the beginning of Lent and fasting, no meat is eaten. Seafood is served, [but not fish as this is 'meat'], with the usual salads and vegetables.
Lent and Easter
Few Greeks fast during Lent these days, although some will not eat meat on a Friday during this period. Consider this if you invite Greek friends to eat with you.
During the last week of Lent, Holy Week, more people fast, and go to church on Good [Holy] Friday. Once again say χρονια πολλα.
On Good Friday there will be processions in the streets, starting and finishing at the local church. The priest leads the procession and is followed by pall bearers carrying the bier of Christ [επιφάνεια] which was decorated in the church. You are expected to stand and bow your head while men should remove their hats as it passes. Silence is observed.
You should buy an Easter candle if you are intending to participate in the church celebrations on Easter Saturday/Sunday.
Nothing much seems to occur on Easter Saturday, although the faithful will spend quite some hours in church. At midnight the vigil is over the priest lights the assembled peoples' candles with the Holy Flame, brought from Jerusalem for Easter. When your candle is lit, you need to get it home without letting it go out. When you get home, make the sign of the cross on the lintel. This will protect your house during the coming year.
After this, people eat magaritsa soup, a clear soup made from offal This is also when you smash red eggs while saying χριστος ανέστη [Christ has risen]. The response is [Αληθώς ανέστη [Risen indeed]. And don't forget to say χρόνια πολλα.
On Easter Sunday there is a big lunch, often with spit-roasted lamb and kokoretsi, spit-roasted offal, which is not as bad as it sounds. You'll probably get more red eggs too. I particularly like Easter as people seem to be more friendly at this time of year. Cracking red eggs together with the appropriate responses is a great way of breaking the ice.
May Day
May Day is celebrated with parades and people go to have picnics and pick wildflowers to make into wreaths to hang on their doors. These stay in place until the following year. Kite-flying also happens if it is windy enough.
Pentecost and Whit Monday
Pentecost [Agios Pnevmatosv – Holy Spirit] and Whit Monday, is basically a three-day holiday when Greeks take advantage of the long weekend to visit their family homes. It's fifty days after Easter, and time for more feasting. Friday is the first day of this festival and it ends on Monday night.
Find out how to follow in my footsteps and move abroad by downloading your free Emigration Guide.
You'll see Loukoumades, which are small doughnuts drenched in honey, and various other sweet dishes. Feasts are held around the churches, and the whole neighbourhood attends.
Assumption
Another church-centred celebration is held on August 15th- the Assumption, or Feast of the Virgin Mary. Greeks fast from 1st August in preparation for this feast.
If your Greek property is on the islands of Tinos, or Patmos, then you will have a real feast in store. As at Easter there will be spit-roasted lamb as well as other meat dishes. This feast day is celebrated throughout Greece, and is second only in importance to Easter. There's no special food, but lots of what you have become familiar with over the year.
'No' day
October 28th is a secular holiday which celebrates the Greeks saying Oχι [No] to Mussolini's offer of a peaceful annexation of Greece by the Axis powers. This marks the day Greece entered the Second World War. There are military parades in the streets and the air force flies planes overhead. You can usually avoid the parades, but do go to a taverna in the evening.
Christmas
25th December is a day primarily for families to eat together. Traditionally pork was eaten, but now the ubiquitous turkey is consumed more often in cities at least. The sweets, Melomakarona [semolina honey cakes] and kourabiedes [soft shortbread drenched in icing sugar] are everywhere. – even your local butcher will probably have them for customers.
Boats are decorated rather than Christmas trees, although the latter may also now be found in homes. Christmas trees are a 19th century 'innovation'.
At night adults go to bouzoukia and dance on the 25th and 26th of December, and they will go again on New Year's Eve. Presents may not be given on these days, but will be exchanged on Epiphany.
What's coming up over the next year?
These are the main public holidays coming up for 2020:
| | |
| --- | --- |
| Date | Holiday |
| 31st December | New Year's Eve |
| 1st January | New Year's Day |
| 6th January | Epiphany |
| 2nd March | Clean Monday |
| 25th March | Greek Independence Day |
| 17th April | Good Friday |
| 19th April | Easter Sunday |
| 20th April | Easter Monday |
| 1st May | May Day/Labour Day |
| Pentecost | Pentecost |
| Whit Monday | Wit Monday |
| Dormition of the Virgin Mary | 15th August |
| 'No' (Oχι) day | 28th October |
| Christmas | 25th December |
| Synaxis of the Virgin Mary | 26th December |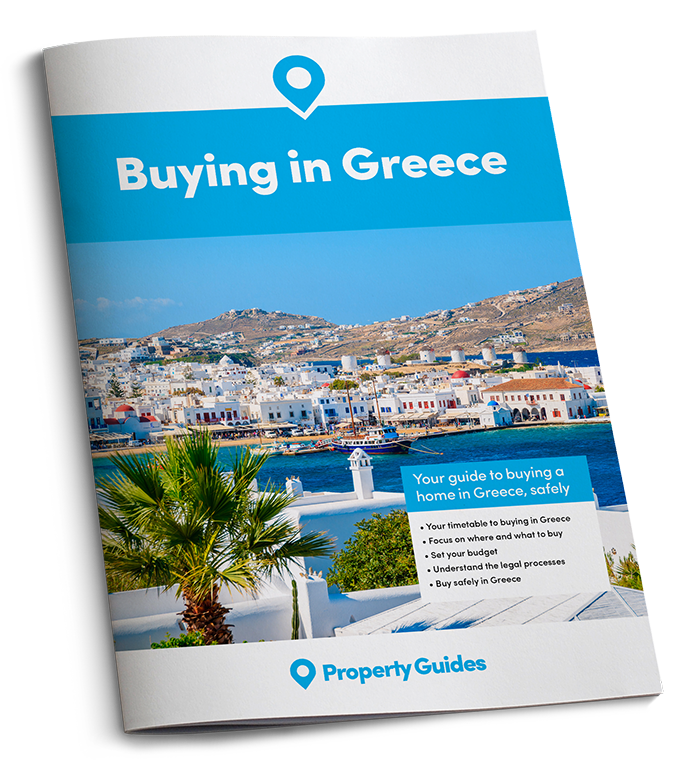 The Greece Buying Guide takes you through each stage of the property buying process.The guide will help you to:
✔

  Ask the right questions
✔

  Avoid the legal pitfalls