When it comes to emigration, Australia is a country with many suitors so it can be picky whose advances it accepts. But trust us, if you're accepted as resident its charms are well worth the effort! With Valentine's Day around the corner here are six super-romantic Australian experiences.
Australia is full of romantics. No, really. Australia is a canvass for romantic experiences and as we approach Valentine's Day we highlight the most romantic indulgences across the country. From experiencing sweeping landscapes from the sky via a hot air balloon or helicopter, sailing across tranquil blue waters, staying in quaint cottages amongst stunning scenery or wining and dining in Australia's famous wine country, there is an experience available for all types of romantics. Here at the Australia Buying Guide we strive to paint the picture of life in Australia for Britons considering a move across the globe. The romantic experiences available in Australia are as diverse as the country itself. Here are six to entice you.
Hot air ballooning over Uluru
Set sail at sunrise or sunset and watch the magnificent Uluru (Ayres Rock) turn a myriad of colours as the sun moves over the horizon. Toast your loved one with a glass of champagne as you are mesmerized by nature's greatest show of creativity and wonder. For an ultimate romantic experience hire a private hot air balloon and enjoy an intimate meal, hundreds of meters up in the sky, with the world's biggest monolith rock as your muse.
The Whitsundays are everything you drool about while watching travel documentaries of paradise
Sailing on the Whitsundays
Sailing on the Whitsundays is everything you drool about while watching travel documentaries of paradise. Think pristine, clear blue seas, tropical fish and marine life in abundance, kilometres of palm-fringed sandy white beaches and islands all around. Adventure seekers can hire their own boat. Little boating experience is required and you can navigate your sailboat wherever you please along the glorious strand of islands. Join a sunset sail or an overnight voyage; however you choose to sail the Whitsundays you will not be disappointed.
Staying in a cottage in the Blue Mountains
Escape to the romantic Blue Mountains to a secluded cottage amidst thousands of acres of World Heritage Blue Mountain's bushland. Spot koalas, kookaburras and kangaroos from your private balcony. Explore vast networks of trails or relax and indulge in the comfort of your tucked-away cottage. The Blue Mountains are just over an hour outside of Sydney and offer plenty of romantic experiences for nature lovers of all types.
Spot koalas, kookaburras and kangaroos from your private balcony.
Wining and dining in the Barossa Valley
Head to Australia's Barossa Valley for a romantic getaway filled with fine wine and mouth-watering food. The Barossa produces worldly acclaimed Shiraz wines and the food scene also does not disappoint. Visit whimsical wineries, trendy eateries and stop at road side stands to taste the fresh produce grown locally in the area. The Barossa Valley is a must-experience romantic retreat for those who believe a romantic weekend is not complete without good food and wine.
Helicopter and picnic on the Great Barrier Reef
Can you imagine anything more romantic than flying over The Great Barrier Reef, one of the seven wonders of the world, and landing on a remote and isolated sand-cay that is all yours for the day? Snorkel the untouched coral reef with your loved one, enjoy a champagne meal with nothing but fish, dolphins and mantra rays for company. Gawk at the intricate and expansive reef network alive with colours and sea-life. A truly memorable and once in a lifetime experience to spend with your special someone.
Bed and breakfast in Tasmania
Tasmania's capital Hobart is a fascinating city to explore, full of romantic experiences. The colonial streetscapes, bountiful gardens and easy to walk streets make it a natural place to fall in love with. Stay in a bed and breakfast in the heart of the city and you'll have tantalizing restaurants, captivating galleries and historical monuments on your doorstep. Be as adventurous or reclusive as you'd like during your romantic escape to Tasmania.
Have you been thinking about moving to Australia and are waiting for the perfect time? Talk to the Team at Australia Buying Guide and let us help you take the first steps to living your dream life in Australia.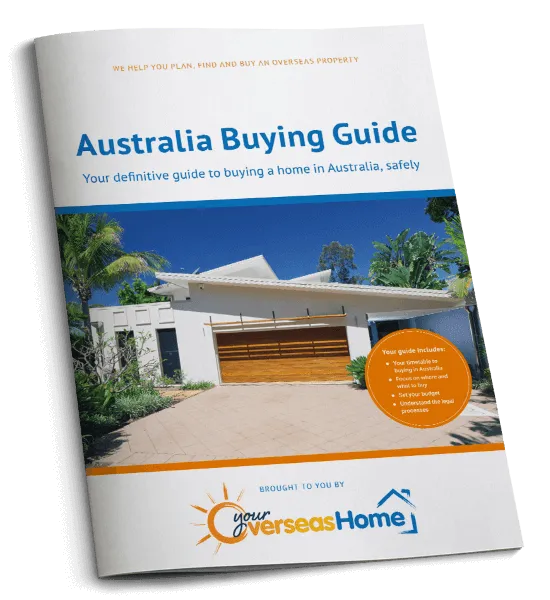 The Australia Buying Guide takes you through each stage of the property buying process, with practical recommendations from our experts who have been through the process themselves. The guide will help you to:
✔

  Ask the right questions
✔

  Avoid the legal pitfalls
Download your free guide to buying in Australia