How does year-round summer sound to you? That's what you'd have if you spent the UK winter in Australia each year. Holiday homes are a popular purchase in southern Spain, Italy and Greece – but there's no reason you can't purchase further afield. Australia's English-speaking, has more or less the same legal system as the UK and is welcoming to temporary residents. Plus, spending December in 30ºC is hard to beat! Today, we're looking at spending the British winter in Australia: the legalities, how to purchase a holiday home and what to do when you're over here.
Spending the British winter in Australia
If you're not sold, consider this. In December, London gets 37 hours of sunshine. Glasgow gets just 33 hours. In the same month, Sydney gets 239 hours, Adelaide, 295, and Perth, 360. Plus, temperatures are consistently in the high twenties or low thirties.
Rather than spending all your time stuck indoors, you could be out on the beach every day. Many people find that almost-guaranteed great weather makes them much more likely to make plans, whether it's for a short break away exploring another part of Australia, lounging by the sea or discovering the outback on a bush trek.
Isn't flying to Australia expensive?
If you know your dates in advance, you can get a good deal. Try signing up to various airlines for rate alerts, so you'll know as soon as new flights are released. Plus, since you won't be rushed, you can easily fly into a different airport to your usual and drive. Scenic routes like the Great Ocean Road could end up being a highlight of your stay!
One thing that can be expensive is sending money overseas. If the exchange rate suddenly changes, such as between putting in an offer on a property and paying the deposit, you can find yourself looking for thousands of pounds. Find out how to completely avoid this by locking in a fixed exchange rate with the Property Buyer's Guide to Currency.
Contrary to what people think, booking direct with an airline isn't always cheapest, so have a hunt around comparison sites like Skyscanner and Kayak. For example, at the moment, you could get return flights to Adelaide for 01/12/2018 – 02/03/2019 for just over £500. Book much further in advance than a week before departure and you could expect to pay in the £300s. When you consider that a ferry ticket from Calais to Dover can cost £100, it's really not that bad value.
The legalities
What are my visa options for spending the British winter in Australia?
As Australia doesn't have freedom of movement with the UK, you will need a visa – even if you purchase property. However, the good news is that these are easy to get. You'll be applying as a tourist, as you'll be spending a temporary stay in the country. This means that you have two options.
| | | | | |
| --- | --- | --- | --- | --- |
| Visa name | Length of stay | Purpose | Processing time | Cost |
| eVisitor | Up to 3 months | To visit, study, train or carry out business visitor activities in Australia | 24 hours | Free |
| Visitor visa (subclass 600) | Up to 12 months | To visit Australia, but not to work or have medical treatment | 17-29 days | AUD140 |
The eVisitor visa is valid for a shorter period of time, but, if you exit and re-enter Australia, you can restart the three-month period. You can do this as many times as you want within 12 months.
Can non-residents purchase homes?
Yes! Even if you never live in Australia, you can still purchase property. However, there are a couple of important conditions. Firstly, you can only buy new property – not resale. For a holiday home for spending the British winter in Australia, that's likely not an issue. A new-build should be much easier to maintain than a resale.
Secondly, you will need to apply for permission from the Foreign Investment Review Board. Normally, it's granted quite swiftly. You can apply to buy a resale home too, but it'll generally have certain conditions. Usually, this is to live in it during your stay in the country and then sell within three months of leaving.
A new-build has to be a property that adds to Australia's housing stock. If someone knocks down an old home and builds a new home that they immediately sell, it won't be a 'new-build'. That's because it hasn't actually increased the number of homes in the country.
Are there any further requirements?
Most temporary visas aren't covered by Medicare. That means you'll need to purchase health insurance for the duration of your stay. Any treatment you'll have will be as a private patient.
Normally, you'll also need to declare that you have enough funds to support yourself during your stay.
Where are the best places to buy a holiday home?
Now for the fun bit! Australia's blessed with endless good choices for a holiday home, but here are some of the best.
Gold Coast
Gold Coast, just south of Brisbane, is one of the country's beach hotspots. It can seem a little touristed for year-round living, but it's perfect for part-time residents. You'll have over 52km of golden beaches directly on your doorstep, and easy access to leisure facilities set up for visitors. The city has excellent public transport, so, if you don't want to hire a car, you're in luck. The G:link, or tram system, runs from Helensvale through Surfers Paradise to Broadbeach almost 24 hours a day.
There are also lots of daily tours to the hinterland. Nicknamed the 'green behind the gold', it really is a stunning region. The Lamington National Park and Numinbah Valley are great for walking, horse-riding, bird-watching and fishing in the creeks. Unlike the arid stereotype of Australia, it's jungle around here. In fact, they were used in WWII to train soldiers for fighting in Papua New Guinea.
Another advantage for spending the British winter in Australia here is that there are many apartments. Most Australia cities are dominated by detached homes, which can require more maintenance. A condo can be an excellent 'lock up and go' option to return to year after year. According to the Queensland Statistician's Office, apartments cost on average $450,000. A house costs $644,000.
There is an airport in Gold Coast, but the main one is located in Brisbane for long-haul flights.
Cairns
Another tourist favourite, Cairns has access to both the Great Barrier Reef and tropical rainforest on its doorstep. This small city of 145,000 is extremely green, with a range of largely modern properties. There are over 200 walking tracks in the surrounding rainforest, which even enjoys UNESCO World Heritage protection. Although not a beach city as such, as the artificial lagoon is an extremely popular spot for swimming. Of course, the surrounding area is great for scuba enthusiasts. The Tully River is one of the country's best spots for white-water rafting. Time to take up a new hobby?
Being in a rainforest climate, it does rain a fair bit in Cairns. You can expect rain about half of the days of each month, but it's normally a short, heavy burst. If you're spending the British winter in Australia, it's still a much better option than day-long drizzle!
Cairns is a surprisingly affordable place for property. The average unit price is just $300,000. Access is relatively easy, with a lot of international connections to the local airport from Singapore, Hong Kong and Australian flight hubs.
Yorke Peninsula
The Yorke Peninsula is one of the most popular parts of South Australia for locals to holiday and own second homes. Its seaside towns, farming communities and national parks offer a quiet pace of life, while being just two hours' drive from Adelaide. For wildlife enthusiasts, Innes National Park is a great area for whale-, dolphin- and bird-watching. Salmon fishing is also a popular pasttime, as are surfing and snorkelling.
According to Mayor Ray Agnew, the area is "extremely well situated for retirement". There's a strong sense of community in the small towns and plenty of leisure and medical facilities available. Easiest to access is Ardrossan, the gateway to the region. It's known for its natural beauty, with striking red cliffs. Moonta Bay and Hardwicke Bay have white sandy beaches. Sheltered Port Rickaby is another favourite for beaches, particularly among families.
The nearest airport is, of course, in Adelaide. A house on the peninsula costs just $175,000. Apartments are much rarer, so there isn't any collated data.
Sydney
Many people looking to be in the thick of it head immediately to Sydney. The city is expensive, but the quality of life is excellent. You've got endless options for shopping, dining out, theatre, cinemas and more. All of this is within the natural beauty of its surroundings, from the harbour to the Blue Mountains.
You'll find a wide variety of property here. Areas like Paddington boast Victorian terraces, while, further out, you'll find detached single-family homes. The average price for a one-bedroom property is $750,000. If you want a second bedroom for the family to stay, it'll average $1.2 million. Cheaper suburbs include Campbelltown, away from the centre and shoreline, but right next to national parks. Entry-level three-bedroom houses go for $390,000. Another option is Kellyville, but public transport is not great. If you drive, however, you can be in central Sydney in 40 minutes. A two-bedroom house costs $490,000.
Can you rent your holiday home out while you're not there?
If you're spending the British winter in Australia, you might consider using your property to generate an income. As a non-resident, you can still let your home. You will need to pay Australian income tax, however. You can find out more about Australian rental rules in our dedicated article.
Buying in Australia
If you're buying in Australia, don't miss your free Buying Guide below. And, if you have any questions, don't hesitate to call your Australia Property Specialists in the Resource Centre on 020 7898 0549 or email us at [email protected].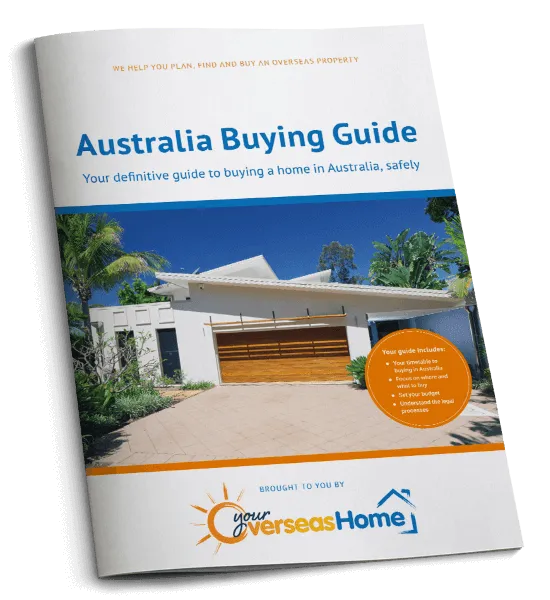 The Australia Buying Guide takes you through each stage of the property buying process, with practical recommendations from our experts who have been through the process themselves. The guide will help you to:
✔

  Ask the right questions
✔

  Avoid the legal pitfalls
Download your free guide to buying in Australia