Looking to invest in a rental property in Australia? Here is everything you need to know about renting out a home in Australia.
If you've bought an Australian property, or are thinking of buying one and would like to rent it out, keep reading. The system, process and regulations surrounding letting a property in Australia are different than the UK so it's important to be well informed before making a decision to buy and rent. The Residential Tenancy Act is the piece of legislation (which differs among each state) that home owners should familiarize themselves with before renting out a property. Other things to consider include: Will you be hands-on in the process or would you prefer to hire a property manager to manage your investment property? What rent should you charge and how will you find tenants? What fees and cost will you incur and should you fix up the property before you rent?
In Australia there are two types of tenancies, a fixed and a periodic term tenancy.
Here is everything you need to know about renting out your Australian property.
Do it yourself or hire a property manager? Many people choose to rent a property out themselves to save on costs, but end up with more stress and headaches then they imagined. Hiring a property manager simplifies the process of renting out an investment property and is the recommended way to do this, especially if you are time poor or living long distance. Property managers will perform the following duties:
• Market your home and screen potential tenants
• Organize the before and after property condition reports
• Perform routine inspections of the property
• Facilitate the payment of rent
• Deal with maintenance and repair issues
• Correspond with tenants, and take care of any complaints or evictions
Expect to pay 5-7% of annual rent revenue to your Australian property manager. Sometimes there are nominal additional monthly fees for administration. To find a property manager in Australia Local Agent Finder is an excellent source.
The process of finding tenants and types of tenancies
If you hire a property manager they will market your property in your region to find suitable tenants. Marketing a property could involve listing it on online rental property sites, adverts in the local newspaper, or posting on rental property social media groups and online classifieds. The type of tenants attracted to a particular property will depend on location, price point, pet-friendly (or not) and proximity to amenities and services.
Once a pool of tenants have expressed interest in a property they will fill out a rental application. You or the property manager will then screen tenants, check references and often interview the tenants in person until a suitable tenant is determined. In Australia there are two types of tenancies, a fixed and a periodic term tenancy. Fixed term tenancies start and end on a specified date and the rent can only be increased during the tenancy if set out in the tenancy agreement. A periodic tenancy can last for an indefinite amount of time and can end when proper notice is given. This type of tenancy is less secure for the property owner, however gives greater flexibility.
An ideal rent provides a return on investment, yet is aligned with market rental rates to attract and retain tenants
How much rent should you charge?
An ideal rent provides a return on investment, yet is aligned with market rental rates to attract and retain tenants. An experienced property manager will be able to recommend market rental rates factoring in location, property size, property features, number of rooms, parking and proximity to attractions and amenities. Looking at competition is also important to understand what other similar properties are charging in your area.
Along with rent, new tenants will need to pay a security deposit called a bond, this covers any outstanding amounts a tenant may be liable for such as unpaid rents or utility charges. Generally a bond is four weeks rent in advance. In most cases the home owner pays for the water while the tenant is responsible for other utility charges such as electricity, television and internet. In some cases rental rates will include utilities, but this is something home owners can decide or discuss with their property manager.
Other costs incurred with a rental property
There are additional fees that property owners should consider when renting out a home in Australia. Landlord insurance will protect you against repairs, contents and rental income. Other costs that may be incurred depend on whether the property is a home, apartment unit or town home. These include:
• Body corporate fees (for apartment units)
• Council rates
• Land tax
• Water rates
• Repairs and maintenance
• Interest and bank fees
• Renovations
Many of the costs associated with a rental property are tax deductions. Investment property owners can claim the following expenses:
• Advertising for tenants
• Cleaning
• Borrowing expenses
• Decline in property assets
• Gardening and landscaping
• Pest control
• Travel to property to maintain the property and/ or collect rents
Preparing the house for rent
The decision to renovate a home before renting it out depends on a range of factors including the age/ condition of the property, the rental market and the intent of the rental property. Renovating a property does have the potential to increase the value, but in some markets with low vacancy or price sensitivity this may not be possible.
As a general rule of thumb, anything that's broken should be fixed before a tenant moves in for insurance and safety reasons. All aspects of the property should meet regulations such as fences, railings, staircases, windows etc. A property manager or real estate agent will be able to provide insight if the home meets current standards or requires upgrades or renovations. Insurance providers will also have stipulations and guidelines which a property will need to conform to in order to meet insurance requirements.
It is important to understand the regulations and legislation about renting out a property in the state you are investing. Every state varies with regards to legal obligations surrounding the rental of a property. Property managers and real estate agents will again be able to connect you with the relevant sources in your area.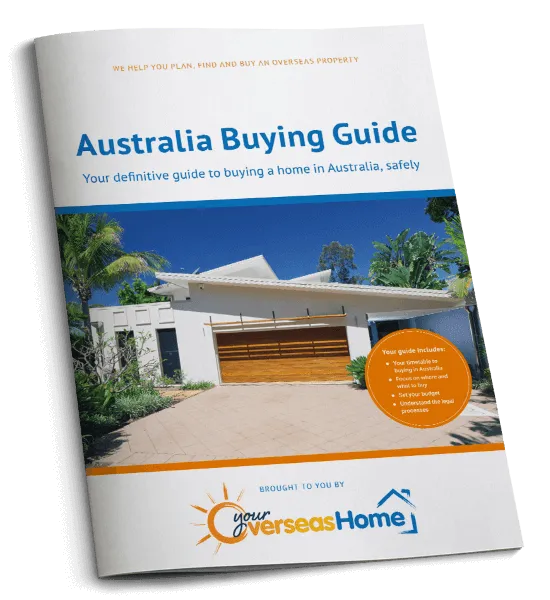 The Australia Buying Guide takes you through each stage of the property buying process, with practical recommendations from our experts who have been through the process themselves. The guide will help you to:
✔

  Ask the right questions
✔

  Avoid the legal pitfalls
Download your free guide to buying in Australia