Australian healthcare is among the best in the world, from local doctors' offices to hospital and specialist care. What's more, you'll rarely see a bill. We take a look at how the system works.
A 2017 study by The Commonwealth Fund rated Australia as having the second-best healthcare system when compared to eleven high-income countries. Australia ranked high on healthcare process, access and outcomes.
How does public healthcare work?
Medicare is Australia's universal healthcare system, which subsidises medical costs to all Australian citizens and permanent residents. Medicare is financed by a Medicare levy, which is administered by the tax system.
It covers all the costs of public hospital services and some or all services covered by GPs and community nurses. Other costs usually covered include basic dental treatment for children, and you may also get coverage for treatments like physiotherapy,
The PBS, or Pharmaceutical Benefits Scheme, means you only pay a small fee for most medicines. If you are eligible for a concession card, or you need a lot of medicine and you reach the 'Safety Net Threshold', then costs will be lower still.
Do you need private healthcare in Australia?
Many people in Australia choose private medical cover as an alternative to Medicare, which is also subsidised by the federal government. This, however, requires a tax deductible out-of-pocket expense in order to access private hospitals, shorter waiting times and extended medical services. High-income earners who don't opt for private medical insurance are penalised with an additional 1 to 1.5% levy surcharge. The rationale behind this is encouraging high-income earners to pay to use the private system, freeing up resources in the public systems for those who rely on it.
Learn more about the process of moving your life over to Australia without incurring extra costs in 

The Currency Guide to Emigration,

 free to download.
Currently a surcharge is applicable to individuals without private healthcare making over $90,000, or a family or couple making over $180,000. The Medical Levy Surcharge threshold changes annually and is also dependent on the number of children in the family. The second child means the threshold when you start paying is raised by $1,500, and likewise for each child after that.
Do UK citizens have access to Medicare?
As a UK citizen moving to Australia you have access to Australia's Medicare system under a reciprocal health agreement. By showing proof of citizenship within the UK, travellers and temporary residents are eligible for Medicare benefits for medically necessary out of hospital treatments, medically necessary treatments as a public patient in a public hospital and prescription medicine under the Pharmaceutical Benefits Scheme at a general rate. Once residency is established in Australia, these medical benefits continue.
British citizens in Australia can also opt for private medical insurance. This is ideal if a higher level of service is required or to avoid the additional tax levy for high income earners. The typical monthly medical insurance rate for a 55-60 year old is about $98 (£60) a month depending on level of coverage.
If you have further questions, email our free Resource Centre team on

[email protected]

 or call them on 020 7898 0549.
According to the OECD Better Life Index, Australia has some of the healthiest people on the planet. Average life expectancy in Australia is 82 years old, the fourth highest in the world. Water and air quality are some of the cleanest around, and the year-round sunshine encourages an active outdoor lifestyle.
Average life expectancy in Australia is 82 years old, the fourth highest in the world.
A state of the art healthcare system is an important factor for those considering a move overseas. Australia's top Medicare and private health system, and the reciprocal health agreement between Australia and the UK make Australia's healthcare system accessible, cost-effective and convenient for those moving to Australia from the UK.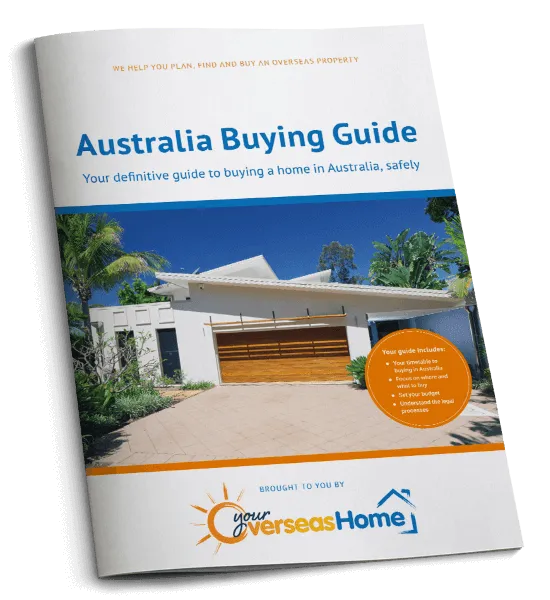 The Australia Buying Guide takes you through each stage of the property buying process, with practical recommendations from our experts who have been through the process themselves. The guide will help you to:
✔

  Ask the right questions
✔

  Avoid the legal pitfalls
Download your free guide to buying in Australia