Beautiful beaches, affordable homes and a direct flight to the UK. Perth is a great place to live and buy property.
Why Perth?
If you're looking to move to Australia from the UK, make sure to consider Perth. The Western Australian capital has everything anyone would want from a life in Australia, plus its property market presents a real opportunity. Perth is a state-of-the-art and immaculately clean city with an impressive dining and cultural scene and beaches that are second to none. It also has an idyllic climate with warm temperatures year-round and the "Fremantle doctor", a sea breeze that cools the summer heat. Perth came 21st in Mercer's "Most Liveable Cities" survey (no British city came above 39th).
As the first port of call for British ships it attracted many British families, who presumably couldn't wait to get off the boat
As the first port of call for British ships in the early days of colonisation it attracted many British families, who presumably couldn't wait to get off the boat, and from next year a new Qantas flight will fly you direct to London in 17 hours. This should cement its place as the most "British" of Australia's cities, with one in three of the population born in Britain.
Although Perth is one of the most isolated cities in the world, it's just a three-hour flight from both Sydney and Bali.
Perth's Property Market
Perth features some of the most affordable homes compared to other Australian capital cities. According to the local real estate institute, REIWA, the average home in this city of over two million people is A$510,000 (£292,000).  As you would expect in Australia's fourth largest city, however, there are big variations between areas. The median price in downtown Perth, based on Australia's largest property website realestate.com.au, is currently A$850,000 (£487,000) for houses and A$471,500 (£270,000) for units (flats). There are plenty of more affordable yet still attractive suburbs. Buzzy, bohemian Fremantle is less expensive for houses, if not apartments. Kingsley is popular for families and the average three-bedroom house is under A$500,000, to rent at around A$1,600 (£915) per month.
If you want to pay extra to be more central, Subiaco is an attractive suburb, popular with yuppies, within walking distance of most of Perth's city attractions and its Central Business District. Houses average at about A$1.1million and two-bedroom flats for half that.
For all these properties you will be paying the same or less than in recent years. Perth's economy had been strong, riding on the wave of a mining boom, its property prices on a par with Sydney and Melbourne. Perth's property market has struggled, however, since the mining boom in Western Australia ended. It is now facing rising unemployment, people are struggling to pay mortgages or leaving the state to seek work in other parts of the country. Undersupply used to be a signature of the Perth property market but since the turnaround in the economy there is now an oversupply of housing which is seeing both housing and rental prices declining.
For anyone looking to buy a property as a long-term investment, timing doesn't get any better than now.
For those looking to move to Perth, get a job and seek short-term gains on a property, now is a challenging time. It isn't impossible though, unemployment in Western Australia is 6%, which is only fractionally above the national rate and that of the UK and US. For those looking to move to Perth but not needing to work, or buying an investment property that they can live in while visiting family, timing doesn't get any better than now.
Is now the time to invest in Perth?
Property experts are not predicting a quick turnaround for property prices in Perth. However, they are also not expecting prices to drop much more. For those looking to live in an Australian capital city for a medium to long term, Perth presents excellent investment opportunity. Home prices in Perth are expected to stay subdued until the state's economy begins to turn around. That depends on the prices it can get for its mining commodities such as iron ore and lithium. The price of iron ore dropped by half since 2012 but is now recovering slowly, while the price of lithium – essential for phone batteries – is rocketing. So there is hope, but not sustained enough yet to lift consumer confidence. Interest rates in Australia remain low, making the lending environment attractive, especially if buyers are able to find that perfect property in close proximity to public transportation, the beach, schools or shopping.
Western Australia's economy and Perth's property market will turn around. Those who buy now will benefit from historically low prices, low interest rates and plenty to choose from on the market. If Sydney and Melbourne are out of reach, or if you'd prefer a laid-back city which still features all of the big city amenities and the only direct flight from Australia to the UK, Perth could be the perfect place for your new life in Australia.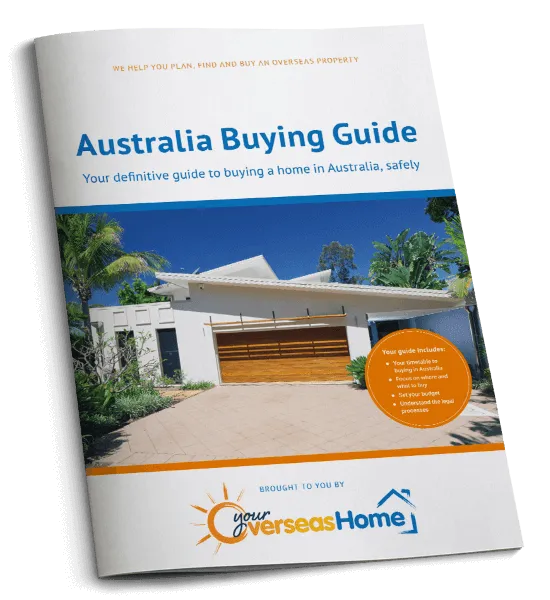 The Australia Buying Guide takes you through each stage of the property buying process, with practical recommendations from our experts who have been through the process themselves. The guide will help you to:
✔

  Ask the right questions
✔

  Avoid the legal pitfalls
Download your free guide to buying in Australia