Even the hardiest of DIY enthusiasts will probably need to call in a tradesperson at some time – and a good one is worth their weight in gold. You'll often find yourself with new challenges in Australia, from how to maintain your pool through to looking after your garden in the Aussie climate. So, here's how to find a tradesperson in Australia you can trust.
How to find a tradesperson in Australia
As anywhere in the world, your first port of call will of course be your neighbours and colleagues – ask around if anyone comes recommended. If not, Australia has a number of sites to connect people with 'tradies'. It's usually recommended to only use those who have gone through a verification process and display their ABN (Australian Business Number). Sites that offer this include Service Seeking, Airtasker and Service.com.au.
We'd generally advise getting three quotes for larger jobs so you can get an idea of whether you're getting a fair price or not.
We'd generally advise getting three quotes for larger jobs so you can get an idea of whether you're getting a fair price or not.
Prices obviously vary based on location. You'll often find work costs more in New South Wales and Victoria, and a bit below the average in Tasmania.
Carrying out major work
If you're carrying out major work, you may need a 'certifier' builder/engineer (and so on – depending on the type of work) who can certify that it's been done to legal standards. Check with your local government for their own requirements.
Air conditioning installers
Getting your A/C sorted will be an important part of setting up your new home, if it's not been done already. An A/C specialist will need to be licensed both by their state/territory and need a national ARC licence. Depending on the work they're doing, it can be worth checking if they have a restricted electrician's licence too.
You can normally expect to pay around A$60-110 an hour installation.
Builders
Builders should be licensed under your local state or territory's law. Remember that there will be differences between different licenses – most states/territories have a restricted licence (for work on single- or two-storey buildings) and unrestricted licence (for larger structures).
Carpenters
Carpenters don't need to be licensed, unless it's high-value work. Generally, finding recommendations from your network is enough to find a good quality one – have a look at the quality of the work they've done previously. Depending on where you are and their own experience, a carpenter will normally charge A$30-50 an hour.
Electricians
Electricians, on the other hand, absolutely have to have a licence. It's different depending on where you are, but make sure that they specify what class they hold and the expiry date. If you're got a bit of a fiddly job, an electrician could charge up to A$85. For something more simple, like installing downlights or fixing power points, you'll be looking at around A$50, and likewise for a call-out.
Gas fitters
Here's one you definitely don't want to DIY! Your gas fitter will need a licence from their particular state or territory. Check the difference categories they have. Remember that although plumbers can hold some gas fitting licences, a gas fitter is conversely not automatically a plumber. If you need someone who will also do pipe installation, disconnection, or fitting, make sure they have the right experience.
Don't let worries about healthcare put you off buying overseas – find out how to access medical attention abroad in our Healthcare Guide.
If you don't have any local recommendations, a good idea can be to give a ring to your neighbourhood's gas appliance retailer and ask if they have anyone they recommend. Australian Gas Networks also have a directory you can consult. You'll be looking at around $80 an hour.
Gardeners
Again, you can normally easily find gardeners within your local area – with the advantage that you can see how well they work, too. It can be relatively expensive to hire someone from a gardening company, with prices ranging from A$40-50 an hour, usually. Individual, self-employed gardeners may go as low as A$17 an hour.
Plumbers
Either ask around your local network or check Master Plumbers Australia's website. Generally, you'll just need to find a plumber with a basic licence, unless it's something to do with drainage or water tanks. It's really important too to make sure they have a gas-fitting licence if there's anything to do with gas. Once they've finished their work, they should give you a compliance certificate to certify everything's done according to the rules.
Basic jobs like leaking taps will be around A$60-150. At the other end of the scale, putting in a solar heating system can cost A$12,000. For medium-level jobs like putting in a toilet, look for around A$250-550. An emergency plumber will cost around A$65-95 an hour. Mainly, it will be towards the upper end of the scale.
Pool cleaner
Australia's got the highest number of swimming pools per capita in the world – no surprise with the sunny climate! That means pool cleaners are pretty plentiful, so, again, it's a case of asking around.
It doesn't cost the earth, either. The annual fee would be around A$1,400. Generally, you'd expect to have your pool cleaner over every month to month and a half, paying A$100 per visit. If you need to buy the chemicals yourself, it'll be around $200 a year.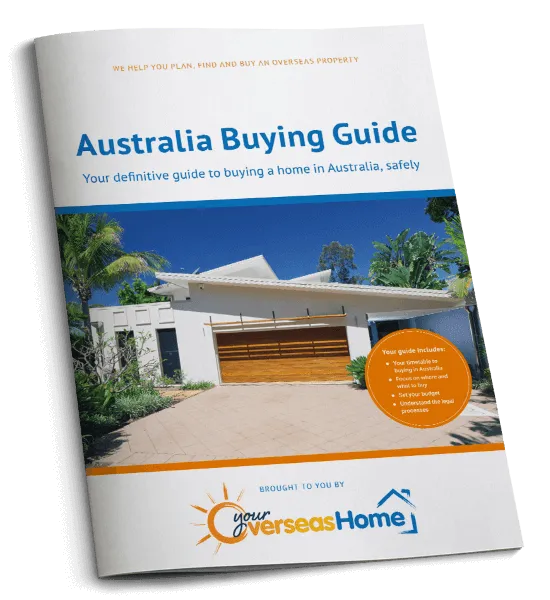 The Australia Buying Guide takes you through each stage of the property buying process, with practical recommendations from our experts who have been through the process themselves. The guide will help you to:
✔

  Ask the right questions
✔

  Avoid the legal pitfalls
Download your free guide to buying in Australia