While Australia's economy is strong and stable, throughout 2018 we watched on as Australian property prices fell for twelve months in a row. While these price drops are some of the most significant Australia has experienced since the Eighties, it's important to remember that they followed a period of extraordinarily rapid growth. Market conditions were tricky for buyers in Australia in 2018. Tighter lending restrictions imposed by the Australian Prudential Regulation Authority and Royal Commission recommendations made banks more cautious with lending than usual. Consequently, house auction prices dropped, new construction slowed and clearance rates fell below 50%.
All this means the property market in Australia in 2019 is likely to be more stable – with some great opportunities for buyers. Today, we're providing an Australian property market update and offering a glimpse into what you can expect from the year to come…
Australian property prices: now and moving into 2019
2018 has seen a lot of 'tidying up' going on in the market, putting in place stricter rules, especially around lending. It's no surprise, then, that there has been a little bit of a slow-down in some parts of the market, but that only means great opportunities for buyers. Prices are slightly lower in some parts of the country, so buyers have much more of an advantage than even just three or four years ago. However, it is important to get in ahead of the curve – wages and population numbers are both forecast to grow, while unemployment will shrink. All great news for the economy, but it could mean a return to higher prices in the future.
So, what can we expect from the property market in Australia in 2019?
Sydney, New South Wales
As of November, the median property price in Sydney according to Realestate.com.au, was $821,438. This is considerably lower than the city's 2017 peak of AU$1.2 million. Domain predict that house prices in Sydney will fall by 12% in 2019. However, unit prices in the New South Wales city are expected to perform slightly better, with growth of 3-5% expected over the next two years.
If you've had the pleasure of visiting Sydney in the last few years, you'll know that it is currently undergoing a record amount of new apartment construction. In the city, it's hard to see the sunset for all the construction cranes! As these building projects are completed, their presence will have a stabilising effect on both purchase prices and rents in the city for the next few years.
Sydney's northern beaches and locations dotted along the forthcoming Metro Northwest trainline are good areas to buy. Properties here are more affordable, spacious and are most likely to appreciate in value in the coming years. Also, elsewhere in New South Wales, Newcastle and Orange are set to enjoy a strong year in 2019.
Sydney's northern beaches and locations dotted along the forthcoming Metro Northwest trainline are good areas to buy. Properties here are more affordable, spacious and are most likely to appreciate in value in the coming years.
Melbourne, Victoria
In 2018, Melbourne's property market was affected by a decline in foreign investment and new rules on bank lending. Therefore, as of November 2018, the median price for a property in the city stood at $800,000. For a unit, the median price was $552,250. Considering that during the 2017 peak, Melbourne's median property price was $910,000, this is quite the drop. Over the next couple of years, Domain predict that unit prices will rise by 1%, and house prices by 6%.
Suburbs like Malvern East, Brighton and Brunswick present great options. Elsewhere in Victoria, Geelong's property market is performing well.
Brisbane, Queensland
It's not just the weather that's sunny in Queensland's capital city, the property market is going great guns too! Currently, the median house price in the city is $539,374 and the median unit price is $380,866. Properties here are being snapped up fast, in part due to the affordability of the city enticing Sydney-siders, Melburnians and foreign investors. The city has a great climate and easy access to some of Australia's best coastline. With migration and property development set to continue, the future looks very bright for 'Brisvegas' in 2019. In the next three years, BIS Oxford Economics predict that Brisbane will experience the strongest growth in all the property market in Australia in 2019, with prices expected to rise by 13% to a median price of $620,000.
Perth, Western Australia
At present, the median house price in Perth is $475,774 and the median unit price $390,326. Domain predict that along with Brisbane, Perth is set to experience the fastest property price growth in the country, with prices set to increase by 3-5% in 2019-2020. Currently, Western Australia is experiencing improved economic activity, particularly in the mining sector. Furthermore, fast population growth, rising consumer confidence and improved affordability are likely to all have a positive impact on the city's market.
In terms of investment, rental income has averaged $350 per week in Perth since April 2017 – but 2019 could see this finally increase if leasing volumes stay healthy and property listings continue to decrease. The current vacant property rate in Perth is just 4%, making it a very attractive prospect for investors. Form an orderly queue!
Adelaide, South Australia
As a result of South Australia's automotive manufacturing industry shutting down, the property market in Adelaide ended 2018 relatively subdued. It is expected to stay this way for much of 2019. At present, the median price in the city for a unit is $324,932 and for a house, $466,636. Moving forward, expect to see Adelaide's property market brought back to life by its thriving shipbuilding industry, which is starting to drive population growth as people arrive to snap up job opportunities. If you work in the field, we urge you to check out what jobs are available, as many are listed on Australia's skills shortage list.
Hobart, Tasmania
If you fancy a quieter lifestyle, Tasmania's capital is currently the strongest performing property market in Australia in 2019. House prices have increased by 35% in the city over the last few years. Interest in Hobart has undoubtedly been fuelled by its natural beauty, and the fact that the median house price is the lower of all Australian capital cities at $485,000. Additionally, the city's rental market is strong, providing investors with around 4.9% return on investment. In the next few years, expect prices in the city to increase by 8%.
Canberra, ACT
Median prices in Australia's capital currently sit at $686,580 for a house and $443,790. The city presents excellent value for money – particularly for those moving to Australia for well paid jobs in the capital. Canberra boasts the highest household income of any Australian state. Additionally, the city's economy is stable, which translates into high employment and above average population growth of 1.8% per annum. Over the next few years, house prices are expected to rise by 10% to $770,000 by 2021.  
Where to buy in 2019
If you're still deciding where to buy Australian property, we suggest choosing your city first and then your suburb. When making your decision, factor in as many growth drivers as possible. For example, areas experiencing population and employment growth and major infrastructure improvements. The best performers tend to be suburbs close to the CBD, undergoing gentrification that have good employment hubs and access to public transport. To discover the 2019 housing hotspots of Australia's leading property experts, click here.
Other factors that could affect the market on 2019
While Domain is currently predicting moderate growth in the Australia property market, things could change fast if for example mortgage rates were to rise earlier and faster than expected. Or, if population growth slowed, banks tightened lending further and the Chinese economy – the source of much of Australia's foreign investment – were to drop off. Alternatively, prices could also rise rapidly if housing construction were to unexpectedly slow down, the economy strengthen or if the government were to step in to support the housing market. Your best bet is to keep monitoring the situation, via checking in with our updates, as well as Australian news sites.
Make sure exchange rate movements don't add thousands to the cost of your house between making an offer and paying. Our partner,Smart Currency Exchange, the UK's only property-specialist currency business, has had over 1,000 5* reviews from our readers for their help protecting budgets from market movements by locking in today's exchange rate for no extra money.
Will Labor be elected?
Currently, it seems there's a new Australian Prime Minister elected every other week! However, hopefully some stability will be brought to the government following the Federal Election, which takes place in May 2019. At present, Labor are favourites to get into power. Should they be successful, their policies towards negative gearing could have an impact on the Australian property market. Negative gearing is when the interest you pay on a loan and all costs associated with an investment property are more than the income you earn from it, resulting in a loss. This loss can be offset against other income, ultimately reducing the amount of tax you have to pay.
Many blame negative gearing for high property prices, blocking first time buyers from the market and everything in between. If Labor do get into power, and do move to implement their new policy, Australian property prices could fall further, or they could encourage more investors to buy property in the country in 2019 and 2020.
Watch this space.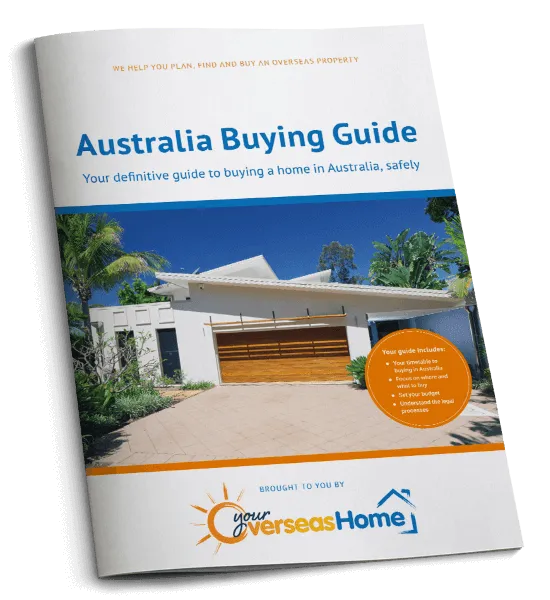 The Australia Buying Guide takes you through each stage of the property buying process, with practical recommendations from our experts who have been through the process themselves. The guide will help you to:
✔

  Ask the right questions
✔

  Avoid the legal pitfalls
Download your free guide to buying in Australia