It's been a busy week for me, as I swapped the sunny skies of the Algarve for the more inclement climes of Chester to help Portugal Property Guides readers take the next step to buying their dream property at Your Overseas Home. Meanwhile, summer festival season is in full swing and Portuguese sardines are finally back on the menu!
Your Overseas Home helps buyers take the next step to a new life in Portugal
I'm just back from a successful Your Overseas Home event in Chester, where we helped hundreds finding their dream home abroad. With estate agents from the Algarve, the north of Portugal and the islands, as well as expert bilingual lawyers and Smart Currency Exchange, we had specialists from every part of the purchase process under one roof.
It was a fantastic chance for all to get face-to-face advice and attend our seminars on the property market, the legalities of purchasing and more. With the summer season coming up, everyone is now in a fantastic position to come out on their viewing trips, armed with the knowledge and contacts to make it a roaring success! If you could make it this time, don't miss your free tickets to the next events in Harrogate and Epsom later this year.
We have just released our latest Portugal How to Pay for It Guide, covering all your possible avenues to raising finance for and buying a property. Don't miss out – download your free copy today.
Six blue flags awarded to Lagos beaches
Life's a beach here in the Algarve! The popular town of Lagos can continue to boast of the quality of its beautiful sands, as the town has been awarded a total of six blue flags. Vale Olival, Vale Centeanes, Carvoeiro, N. S. da Rocha, Caneiros and Praia Grande have all won the status for their cleanliness, environmental standards, safety and quality of their services. Carvoeiro and N.S. da Rocha have both also won awards for their accessibility.
Voting rights treaty signed between UK and Portugal
The UK and Portuguese governments announced this morning that they have signed a treaty guaranteeing the voting rights of Portuguese and British citizens in each other's countries after Brexit, in another positive sign of the spirit of cooperation that we expect to continue even after Britain leaves the EU. Lord Callanan, Brexit Secretary, told journalists, 'The oldest diplomatic agreement was signed between the UK and Portugal in 1386, now, over 600 years later, we've signed a treaty to secure the rights of our citizens in each other's countries after the UK leaves the EU.'
Portuguese sardines back on the menu
After an eight-month pause to let stocks recover, Portugal's fishermen are finally allowed to return to the sea for sardines. The first fleets are already back in, with excellent catches. Time to celebrate with some very Portuguese sardinhas assadas? In fact, so beloved is the humble sardine in this country, that it is still a popular tradition on St Anthony's Day (the patron saint of Lisbon) to eat sardines, remembering the story that the fish listened to his sermon. No wonder that the director of canning company Pinhas calls the fish 'the third wonder of Portugal, after football and sunlight'!
You wouldn't agree to purchase a home where the price might change by thousands of pounds in the UK, so don't let the exchange rates do the same to you in Portugal. Get in touch with our tried-and-tested currency partner, Smart Currency Exchange, to learn how to protect your budget against risk.
Summer festival season kicks off in earnest
The sixth Black & White night of free entertainment returns to Carvoeiro on Saturday. The popular event, which usually sees around 30,000 guests in the town's streets and squares enjoying performances, processions and good food, is set to kick off at 8:30pm with live music. Later on, attendees can look forward to a synchronised fireworks show, jazz performances, DJ sessions and more. The council's getting in the spirit too, putting on free buses for anyone coming. And if you're adding the date to your diary, don't forget to get in the spirit by coming wearing black and white!
Meanwhile, on the 13th, the annual BPCC summer party, a free cocktail evening, will return to the Praia Dourada Beach Restaurant & Lounge, offering the chance to network with other professionals working in the Algarve and meet members of the Chamber of Commerce.
Buying in Portugal can be daunting, with a different language and legal system, so get in touch with one of our carefully selected legal partners today to make sure your purchase is smooth and hassle-free.
And, if you can't quite tear yourself away from the beach to attend, the Maré Beach Bar and Restaurant has introduced a 'beach butler' service to go with its new menu! Head Chef João Alves
Heatwave settles as pleasant temperatures return
The recent heatwave we've been enjoying seem to have finished, with a return to pleasantly warm temperatures over the country – around 27ºC here in the south, 22ºC up in Lisbon and 21ºC in the north. Perfect weather for sitting out with a glass of wine over lunch or of an evening!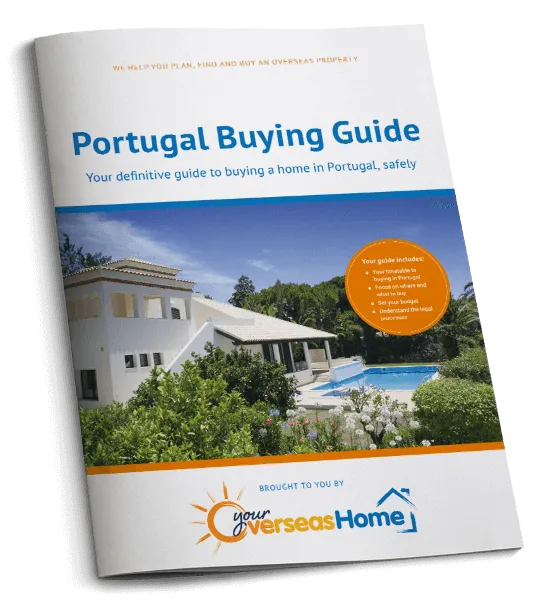 The Portugal Buying Guide is designed to support you through each stage of buying property in Portugal, providing relevant, up-to-date information and tips from Portugal property experts and expats who have been through the process themselves. It helps you to:
✔

  Ask the right questions
✔

  Avoid the legal pitfalls
Download your free guide to buying abroad