With over 300 days of sunshine each year, miles of sandy beaches and lots of world-class golf courses, it's easy to see why the Algarve is one of Portugal's most attractive places for foreign buyers.
Why you should buy property in the Algarve
Like the rest of Portugal, property prices in the Algarve are booming – and savvy buyers have already made a great return on investment. Today, Portugal's southern coast is home to some of the country's most expensive regions. Loulé, Lagos, Albufeira, Tavira and Lagoa all made the top ten last year.
That said, prices are still attractive. The average home price in the Algarve is €1,500 per square meter, compared with €3,753 in the United Kingdom. And despite Brexit fears, tourism is holding steady with more people visiting the region during the low season – great news if you're looking for a little investment property in the sunny south.
As for the bubble, it's unlikely to burst in the near future. Standard & Poor's recently predicted that prices across Portugal will rise by a whopping 9.5% in 2020. The agency reckons that the property market will "remain dynamic over the next few years, supported by job creation and increased incomes, as well as by external demand".
So, it's worth moving fast if you're planning on buying in the Algarve. The region is studded with lots of charming towns, cities and villages but these six sought-after spots are your top pick, based on data from our own property portal.
Albufeira
Most people make a beeline for Albufeira after landing at Faro Airport – just 30 miles away. Once a peaceful fishing village, it's now one of the most bustling places on the coast. Fantastic beaches, restaurants catering to tourist tastes and a huge range of bars and clubs ensure a lively atmosphere during the summer.
Homes in the Praia dos Pescadores area are mostly one- or two-bedroom apartments, many of which have sweeping sea views
Properties in Albufeira old town put you steps away from the Praia dos Pescadores (Fisherman's beach) as well as the famous bars, restaurants and shops. Homes in this area are mostly one- or two-bedroom apartments, many of which have sweeping sea views.
To the west of the city centre you'll find the modern Albufeira Marina complex, which has a mix of modern apartments, villas and townhouses. Meanwhile the east side of town is Praia da Oura (Golden Beach) and the infamous Montechoro strip. Properties here include a mix of villas and apartments which would be perfect holiday lets.
Lagos
Nearly one hour's drive from Faro Airport, Lagos is the laid-back gateway to the wild west coast. The city has a relaxed, hippie-dippy feel with outdoor market stalls lined up along the waterfront selling beads, cork products and beachwear. Trendy bars and shops selling artisan goods draw a hipster crowd, with a low-key party scene tailored towards surfers and backpackers.
The historic centre of Lagos feels like Lisbon wrought miniature, with hilly cobbled streets lined with beautifully tiled mansions. Properties in this part of Lagos include apartments inside the iconic buildings, as well as multi-storey townhouses with roof terraces overlooking the sea. There are lots of old buildings, so look out for renovation projects.
If you prefer modern apartments, head just outside the centre to Meia Praia. This area has a huge amount of new one, two and three-bedroom apartments. Many have access to communal swimming pools, and some have balconies with built-in barbecues. As well as being tucked away from the nightlife, another benefit is that they are walking distance from a massive sandy beach. They're also an easy stroll to Lagos Marina, where you can sip a coffee as you watch the yachts come in.
Tavira
With its Roman bridges spanning the Rio Gilão and winding streets leading past Moorish ruins and family owned tascas, Tavira is one of the Algarve's most charming towns. Avid explorers will enjoy the fact that it's halfway between Faro Airport and Spain – both are about 25 miles away. Most tourists head west when leaving the airport, so the atmosphere in Tavira is more relaxed than the central and western Algarve.
Tavira is full of historic appeal, so it's an ideal place to look for renovation projects.
Tavira is full of historic appeal, so it's an ideal place to look for renovation projects. Old fisherman's cottages, townhouses and one- to two-bedroom apartments make up the majority of the property in the heart of Tavira.
To the south is Santa Catarina, Tavira's gateway to the Ria Formosa Nature Park and its unspoiled sandbar beach, Ilha de Tavira. Most properties are one and two bedroom apartments, but there are a few refurbished villas and modern townhouses too.
Another popular area is Santiago to the west of Tavira, which has a good range of modern properties. As well as newly built condominiums with on-site swimming pools you'll also find larger homes such as five bedroom villas.
Alvor
Back on the western Algarve, the fishing town of Alvor packs plenty of Portuguese charm. The 16th Century Igreja Matriz sits at the top of the hill, with cobblestone lanes winding down past bars and restaurants to a waterfront lined with seafood restaurant and fishermen's huts. Alvor is a convenient place to live, too – it's only four miles from the city of Portimão with its large shopping malls, supermarkets and famous fish market, and just 45 miles from Faro Airport.
Make sure you get the best possible deal for your mortgage; a specialist can often help you get rates that are not available to the general public. Get in touch today with our trusted partners for a no-obligation quote – they have over 20 years' experience helping people like you to get the best mortgage possible.
Most of the properties available in Alvor are just outside the compact centre. It's an ideal place to look if you want to buy a villa, with plenty of four and five bedroom detached homes usually with their own swimming pools. If you're looking for something smaller, there are also apartment buildings and complexes in Alvor. Most have a mix of one and two bedroom flats spread around a communal swimming pool.
Olhos de Água
With its peaceful streets and relaxing atmosphere, it's hard to believe that the fishing village of Olhos de Água is less than five miles from the centre of buzzing Albufeira. Instead of neon-lit pubs and international takeaways, you'll find traditional restaurants serving up chargrilled sardines and small bars with sun-trap terraces.
Over the past few years the village has caught the attention of tourists and expats looking for a more peaceful place to stay in the central Algarve, so although it's not as famous as Albufeira it's still a wise investment.
Property prices are higher near the beach, and this is where you'll find older apartments – usually with one, two or three bedrooms. As the town has grown, more modern properties are cropping up on the outskirts – again these include purpose-built apartment complexes as well as detached homes with plenty of space for friends and family.
Carvoeiro
Perched on iconic sandstone cliffs, Carvoeiro's whitewashed villas and townhouses offer some of the region's most breathtaking sunset views. The small beach was voted best in Europe in 2018, and truly is the heart of the town. It's where the family-friendly Black & White Night festival takes place, with DJ's and street performers marking the summer solstice. The town's one road curves past it, and is lined with plenty of low-key places to eat, drink and shop.
Thinking about doubling or tripling your budget by buying together with family members? Explore our guide, Buying Abroad with Family, to find out how it works.
While there are a few apartments in downtown Carvoeiro, most of the properties are self-contained units. Properties are a mix of classic one-storey fisherman's houses, new townhouses with large barbecue terraces for barbecues and private villas with their own swimming pools. As you head out of town you'll find small housing complexes – urbanisations – where you can find great bargains on townhouses and apartments.
So whether you're looking for a holiday rental in a buzzing beach resort or a brand new home with a view of the Atlantic, the Algarve is set to be an exciting spot for buyers this year. Make sure to download your guide below to find out everything you need to know about purchasing safely in Portugal, and, if you do have further questions, don't hesitate to ring our free Resource Centre on 020 7898 0549 or email [email protected].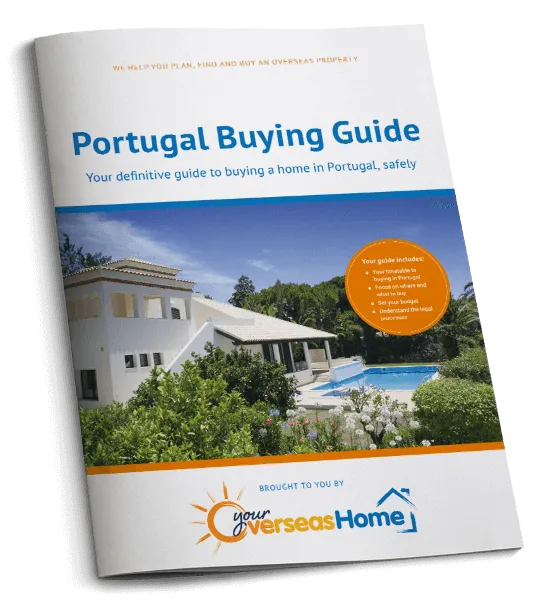 The Portugal Buying Guide is designed to support you through each stage of buying property in Portugal, providing relevant, up-to-date information and tips from Portugal property experts and expats who have been through the process themselves. It helps you to:
✔

Ask the right questions
✔

Avoid the legal pitfalls
Download your free guide to buying abroad