When Dave and Aly Sheldrake retired from their busy UK careers, the last thing they were looking for was a quiet retirement – so they swapped the UK for a new adventure in the western Algarve, pursuing their dreams as a photographer and artist. Eight years on, they know it was the right decision, saying they've 'never felt happier or more relaxed about life'.
You made quite a career swap, from the public sector in the UK to setting up your own art and photography businesses in Portugal. How did it come about?
When we left the UK, I'm not sure we had a plan at all, just ideas and a sense of adventure. We had both worked in the public sector in the UK and wanted the freedom to let things develop. It just grew organically in our first year here. I went out and photographed every single day for a year, and posted my project online. Aly experimented with different painting styles until she hit on her 'New Wave' style which has endured and sold well.
To find out how to finance and pay for a home in Portugal, read our new Portugal Finance Guide.
We did our first exhibition in a local hotel about six months later and agreed to say yes to all new opportunities for the next year. That is how our businesses grew – we didn't advertise, we just worked on recommendations and reputation, and it has served us well.
We left the UK with just ideas and a sense of adventure
And what about finding your Portuguese home? Tell us a little about the property you've bought and the buying process.
We currently live in a three-bedroom townhouse on the outskirts of Aljezur, a rural town just a few kilometres from the west coast of the Algarve. It's our full-time home and very spacious. One of our three bedrooms, a room on the ground floor, has been converted to a full-time office space. We were very lucky – we found it within three months, having searched online and come by chance across this one. It had been on the market for less than a week.
How did you decide on the area you moved to? How would you describe the west coast of the Algarve to somebody who was unfamiliar with it?
 We have always loved the west coast, and wanted a more rural and traditional Portuguese lifestyle – away from too many ex-pats!
We feel part of a proper Portuguese community.
The west coast is very unlike the rest of tourist Algarve. It's much less commercialised, quieter, and with a surfing/hippy feel to it. The coastline is much more dramatic – big Atlantic surf, wide beaches and tall sheer cliffs, very different to the south. The local people are much more friendly here too. We finally feel part of a proper Portuguese community.
What does your lifestyle look like now?
To be honest, I never expected it to be this good. I thought I would get bored, but I have never felt happier or more relaxed about life. The pace of life can be busy at times, but we are becoming more Portuguese with longer lunches! The summers are our busy times and the winters are much quieter, that's when we enjoy the Algarve the most, and, with about 300 days of sunshine a year, it's fab.
I never expected it to be this good….I have never felt happier or more relaxed about life!
Can you paint a picture of a typical day?
For Aly it is usually painting and for me doing whatever photography assignment comes along. In between we enjoy the beautiful beaches and cheap eating out in Portuguese restaurants.
You were living in Portugal prior to the EU referendum. What impacts has the Brexit vote had on your lives there?
The effect has been quite profound. You can plan and cater for most things in life, but the uncertainty has been quite unsettling and still it rumbles on. The Portuguese government has been very quick to say nothing will change for us, so that has helped.
 Have currency fluctuations had an impact on you? Do you worry about the exchange rate?
Yes, very much so, when we bought here in 2011 the exchange rate was €1.48 euros to the pound. Now it's around €1.10. My pension is paid and taxed in the UK, so I worry that the pound may fall much further in the event of a hard Brexit.
The exchange rate moving while you're in the middle of buying could change the price by thousands of pounds. Find out how to protect your money in the Property Buyer's Guide to Currency.
You've been in Portugal a while now. What do you know now that you wish you'd know when you first moved out?
You have to learn to be patient and above all make sure you are legal. So many people here aren't, and will find Brexit that bit harder. Things run by the government here are very bureaucratic, so try to be patient and always research things before charging in!
Would you do anything differently?
I'm not saying we haven't made mistakes but there isn't much. We did come out with a British car…Don't do that, buy Portuguese but accept that they are expensive!
What advice would you give to someone contemplating a move to Portugal?
Decide what kind of lifestyle you want and remember you are not on holiday!
If you buy a property, get a proper survey. Building standards vary in Portugal.
Get a good and honest accountant – that's not always easy!
Avoid ex-pat crowds, integrate and try and speak at least a bit of Portuguese, they will love you for it.
Finally, relax and enjoy the country, its people are mostly friendly and welcoming. Our Portuguese neighbours are so generous – it really is a fantastic country.
Dave Sheldrake works as a professional photographer on assignments across the Algarve. Aly's art website can be found here.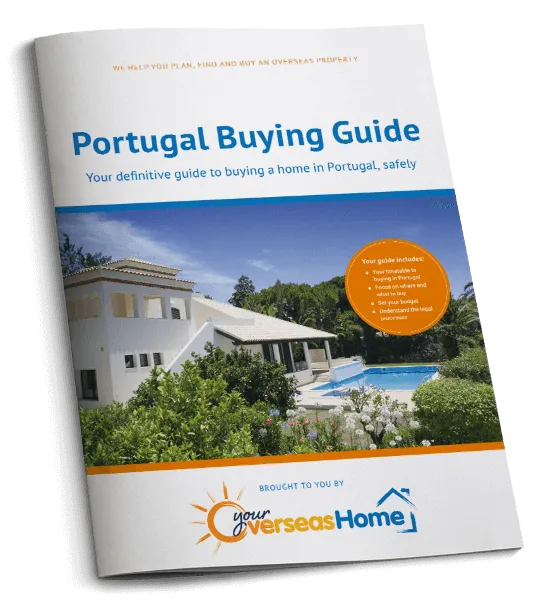 The Portugal Buying Guide is designed to support you through each stage of buying property in Portugal, providing relevant, up-to-date information and tips from Portugal property experts and expats who have been through the process themselves. It helps you to:
✔

  Ask the right questions
✔

  Avoid the legal pitfalls
Download your free guide to buying abroad